Pray-A-Thon 2021 - Середа 21 Квітня У цій рапсодії цієї середи нам закликають знати Святе Письмо Духом. Вивчіть його та поділіться Словом. 1 Тимофію 2:8 каже, 'Отож, хочу я, щоб мужі чинили молитви на кожному місці, підіймаючи чисті руки без гніву та сумніву'. У наш час молитви сьогодні ми будемо ревно молитися мовами Духа, також проголошуючи справедливість для пригноблених та порятунок для тих, хто несправедливо ув'язнений; моліться також за дітей служителів євангелії у всьому світі, щоб вони міцно стояли у вірі Христа, виконуючи Божу мету у своєму житті. Амінь. Не забудьте відвідати сьогодні середину тижня у церкві на місці чи в Інтернеті. Нехай Бог благословить вас.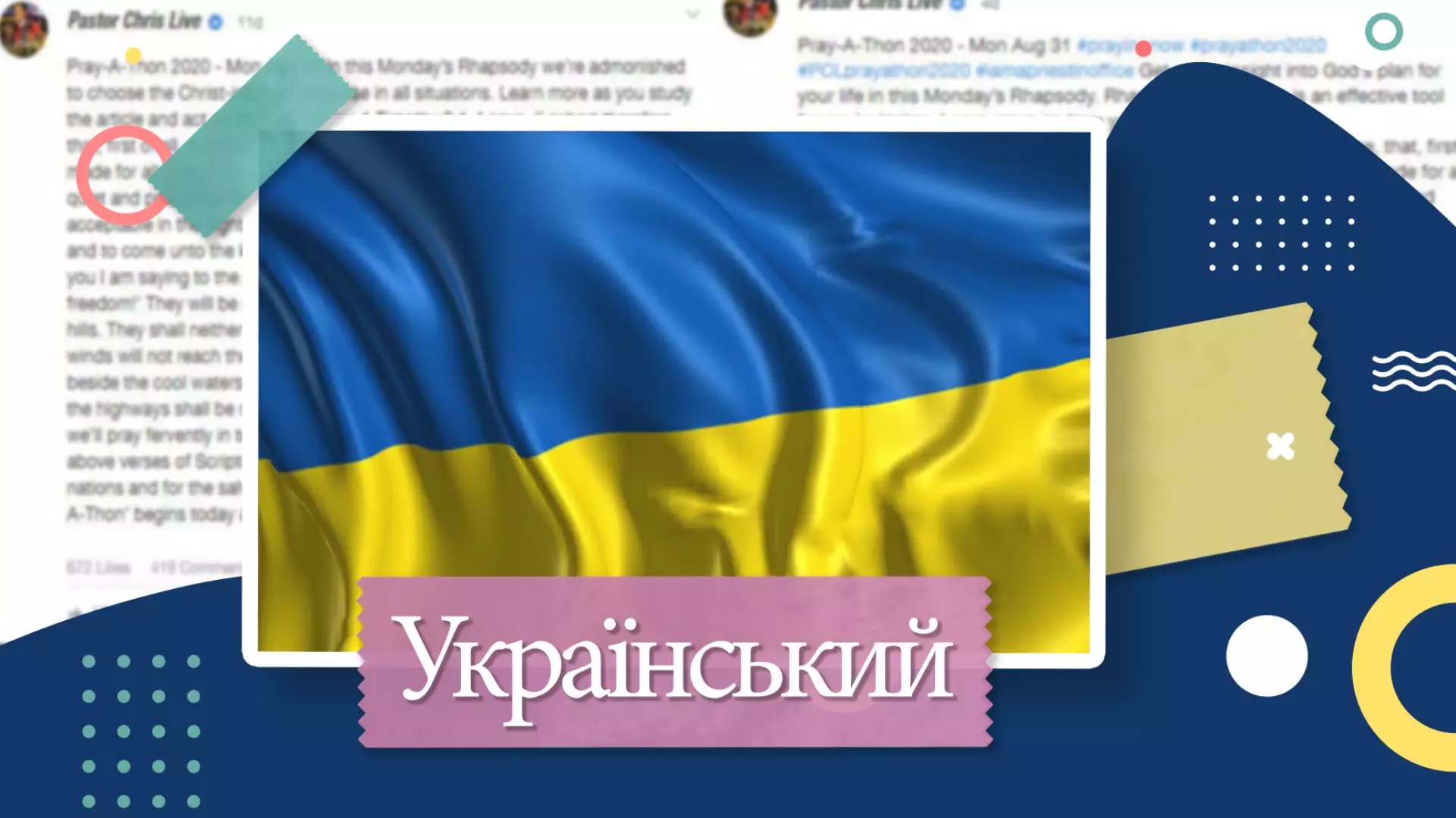 Hallelujah! 2 DAYS TO GO #TOTALEXPERINCE2021 #POO #PSZ #CEMAIDUGURI #NNWZ2 #NNR
It's sizzling hot🔥, it's fresh as always. Get ready for another inspiring and fun-filled edition of the vibest youth show ever - Inside GYLF and 'How to Be a Success for Jesus' show this weekend, showing only on GYTV. Watch live on www.gytv.tv or on the GYLF Mobile app by 12pm (GMT +1) from Friday. Come ready with your dancing shoes 🕴️🕺🤸‍♀️🕵️‍♀️🕵️‍♂️👨‍🎤  You can alter the destinies of young people as you sponsor a GYTV live show; kindly call, +2348025013854, +2348033882790. #GYLF #gytv
Always be thankful & give thanks for all that God has done for u, through u, in you and with you! Have a great day😘
🌟🌟Thank you Lord for the gift of righteousness I received when I got born again. I declare that I walk in the light of my vital salvation and produces/manifest your rightness in & around me!🌟🌟 #ExposeonTruth #HappeninginApril #A21DayStudy #watchonpcdltv #cemcabuja #pcdl
Watch LOVEWORLD EXTRA Highlights airing now on www.pcdl.tv with Esteemed Pastor Biodun Lawal PCDL.TV - Building lives through God's Eternal Word #LoveWorldExtra #watchonpcdltv
You have to come to a point in your life where you shut the world and it's cares out; you lock the door of your senses and focus on God and His Word alone! - Excerpt from When God visits you by our man of God. #Worldno1author #Worldgreatestauthor #Imaworldchanger #blwzonek
Thank you ma for leading us always in a victory parade. #worldsno1author #wbdcelebration #worldchanger
Pray-A-Thon 2021 - Miércoles 21 de abril En la Rapsodia de este miércoles, se nos exhorta a conocer las Escrituras por el Espíritu. Estúdialo y comparte la Palabra. 1 Timoteo 2: 8 dice: "Quiero, pues, que los hombres oren en todo lugar, levantando manos santas, sin ira ni contienda". En nuestros momentos de oración de hoy, oraremos fervientemente en lenguas del Espíritu, también declarando justicia para los oprimidos y liberación para los encarcelados injustamente; Ora también por los hijos de los Ministros del Evangelio alrededor del mundo, para que se mantengan firmes en la fe de Cristo, cumpliendo el propósito de Dios para sus vidas. Amén. Recuerda asistir hoy al servicio de mitad de semana en la Iglesia en el sitio o en línea. Dios te bendiga.