Pastor Dipo Fisho: SPECIAL APPRECIATION TO MY FATHER on KingsChat Web
SPECIAL APPRECIATION TO MY FATHER ON MY BIRTHDAY! My Father; My Father; My Father; Thank you for birthing me in the word and by the Spirit. Thank you for your liquid undiluted love for me. Thank you for believing in me and guiding me in life. There's none like you Sir. Absolutely none. I can celebrate in the Year 2020 because you gave the word that inspite of all it's my Year of Perfection and you have painstakingly ensured it to be for me. My Pastor; My Pastor; My Pastor; We should actually celebrate you on our birthdays and special days because who are we without you? How could I have discovered myself without you? What would have been worth celebrating about me without you? How could I or anyone honour this day, had you not birthed me by the word of truth in this perverse and crooked world. *My Pastor sir; There is actually No dipo without Pastor Chris* My Coach 4 life; My Coach 4 life; My coach 4 life; I celebrate you today sir for coaching me and teaching me how to win and live in victory. Thank you for giving my life a meaning in truth and reality. Thank you for prophecying on your Big day that, that which Satan has planned for destruction has been averted. Could we have seen this day? Could we have been thinking of celebrating? Thank you for the one (1) Year Pray-A-Thon sir. My Pastor; My Pastor; My Pastor; Thank you Pastor Sir, for my 20th year Wedding anniversary which we marked a few days ago. We celebrated God's grace, love, fruitfulness, bliss and provision because of you. We are still standing strong because of your undeniable sacrifice on our behalf. Pastor Sir, there's so much to thank the Lord for but the biggest Thanksgiving is because of you sir; I THANK GOD FOR PASTOR CHRIS ! My Prophet; My Prophet; My Prophet; Christ Embassy Abuja Zone celebrated Two(2) Years Anniversary on the 1st of July. [ We are actually Celebrating our Zone 2nd year anniversary by hosting Cell Mega Day of Bliss CMDB on the 25th of July in 2,000 locations with a projection to win 20,000 souls ] It has been two years of great achievements and undeniable exploits because we stand and ride on your grace and word. How could we have known that we could be useful and make great impact through AUDACIOUS crusades,Soul winning exploit and aggressive partnership with your vision if you did not birth us? We that were not a people you made us the people of God and have become a people of grace and influence and praise. Thank you Sir for your special love for me and all of Us in Christ Embassy Abuja Zone. Pastor Sir, I love you a Billion times over daily and will continue to love, serve and thank you until Jesus comes. Thank you for being the Prophet of my generation. I Love you Sir. I Celebrate you Sir. your son, dipo fisho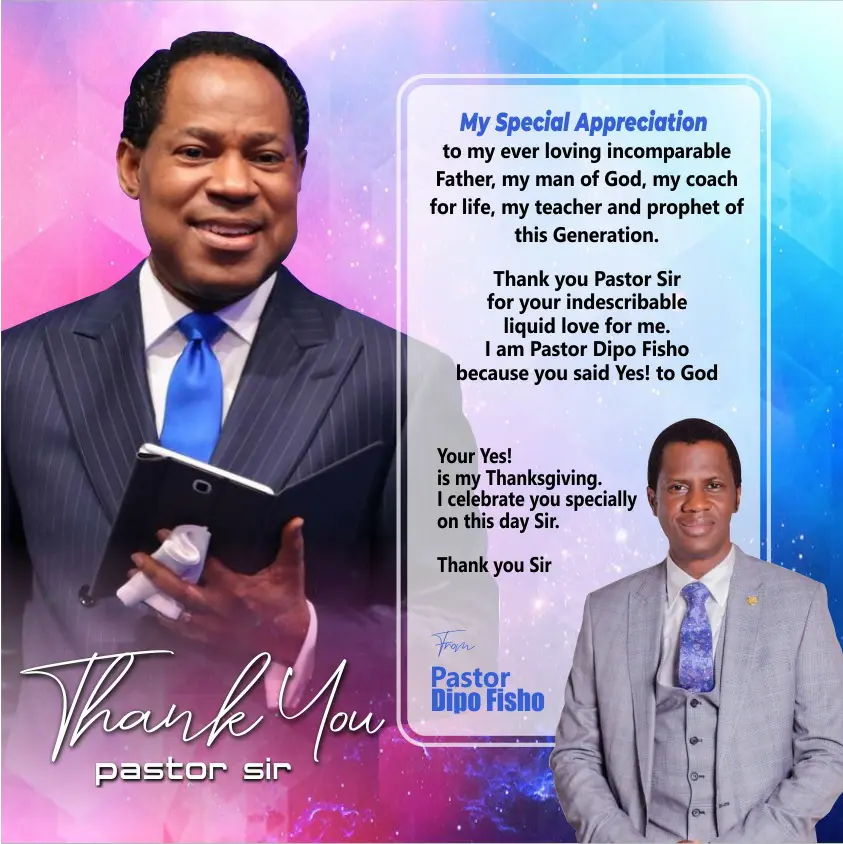 Are you ready for Day 3??? Tune into www.lbntv.org and watch Your LoveWorld Specials,Season 2,Phase 2,Day 3 at 11:30 pm IST!!!
YOUR LOVEWORLD SPECIALS WITH PASTOR CHRIS, SEASON 2, PHASE 2, DAY 3 👉prayer.enterthehealingschool.org It's Day 3 of 'Your LoveWorld Specials Season 2 (Phase 2) with our dear man of God, Pastor Chris. Glory! Come prepared for today's session and invite someone to participate by using this link👇 prayer.enterthehealingschool.org TIME: @ 7 (GMT+1) God bless you. Like, share and comment #YourLoveworld #healingtothenations
Happy Birthday pastor sir, your passion to the gospel and to our man of God pastor Chris is unquantifiable. I love you dearly sir.
*I WAS TOLD* -Happy Birthday to the King! All thanks to mum & Dad, my siblings, relatives & friends. I am eternally grateful to God for everything. Romans 8: 28-31 and Romans 11:29. Fulfilled. PERFECTION IN PRODUCTIVITY
Happy birthday My Father and My Mentor. I love you so much from the bottom of my heart Sir. #CePiawe#CeBwariGroup#CeAbujaZone
The time has come for you decide if you will still allow the world to decide for you!!! The Mega cell outreach gives you the opportunity to choose. Don't miss it and we are not taking a no for an answer . #megacelloutreach #ewcaz4 #bonaberisubgroup #pearlcell #cebonassama