LoveWorld SAT: ☄🏆🥇CELEBRATING OUR STELLAR YOUR LOVEWORLD on KingsChat Web
☄🏆🥇CELEBRATING OUR STELLAR YOUR LOVEWORLD WITH PASTOR CHRIS SEASON 3 PHASE 3 AIRTIME SPONSORS 🥇🏆☄ 🏅😇🌏🚩 INDIVIDUAL CATEGORY 🚩🌏😇🏅 We rejoice over the epic sponsorship from Brother Faith Shaningwa of Christ Embassy Katatura, Namibia Group WE Zone 2 for their exceptional display of grace and tenacity to reach lives 1 minute at a time through the sponsorship of 2 minutes of Your LoveWorld with Pastor Chris on LoveworldSAT. Your path is paved for greater and more extraordinary exploits in this glorious year of Preparation. Thank you for connecting lives to the life-transforming message of our man of God, Pastor Chris. We love you and God bless you. #loveworldsat #loveworldnetworks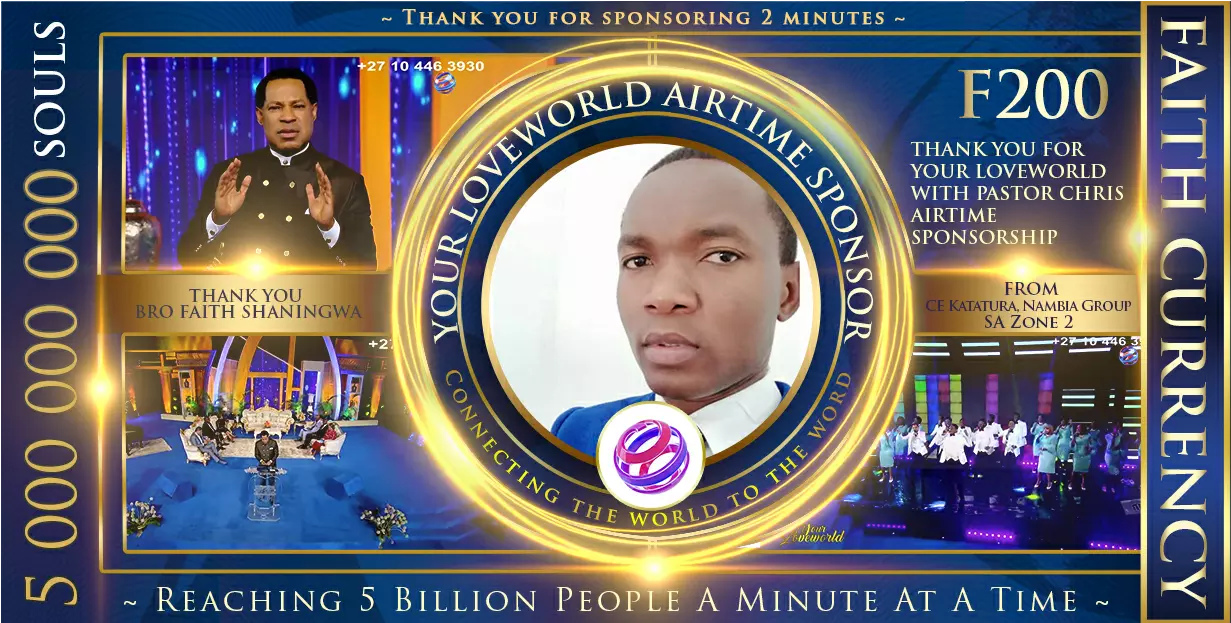 #Photohighlights of SUNDAY 2nd SERVICE WITH ESTEEMED PASTOR ANTHONY OSEGHALE: And they came forth! #cemidwestzone #ceekpanreal #MountainOfAbundance #waec #asouladay #250Outreaches #BreakRecordsSetNewOnes #1millioncopiesofrhapsody
☄🏆🥇CELEBRATING OUR STELLAR YOUR LOVEWORLD WITH PASTOR CHRIS SEASON 3 PHASE 3 AIRTIME SPONSORS 🥇🏆☄ 🏅😇🌏🚩 INDIVIDUAL CATEGORY 🚩🌏😇🏅 We rejoice over the epic sponsorship from Sister Sharon Bodole of Christ Embassy Malawi Group, SA Zone 3 for their exceptional display of grace and tenacity to reach lives 1 minute at a time through the sponsorship of 2 minutes of Your LoveWorld with Pastor Chris on LoveworldSAT. Your path is paved for greater and more extraordinary exploits in this glorious year of Preparation. Thank you for connecting lives to the life-transforming message of our man of God, Pastor Chris. We love you and God bless you. #loveworldsat #loveworldnetworks
#amasoulwinner# #lwln# #newbeningroup# #midwestzone#
#KingsChatrecommends UNICREDIT COOPERATIVE SOCIETY ( FOR QUICK AGRIC LOANS) UniCredit Cooperative Society is a leading registered credit union in Nigeria with key focus on Agric loans & investment, Women Empowerment, Education and Traders Loans. Need quick access to any of these "Intervention loans? Call us today on +2348146013468 or visit www.unicreditcoop.com.
📺📺LIVE NOW: LOVEWORLD EXTRA Tune into LoveworldSAT for this faith building and spirit enriching sessions of Loveworld Extra which include exhortations and sessions of prayer led by ministers of the Gospel from all around the world. Also enjoy exhilarating worship sessions, Pastor Chris Teaching highlights and special educative movies and documentaries. - www.loveworldsat.org/live-tv - #loveworldsat #Loveworldnetworks #lwextra
IMPACT RWANDA CAMPAIGN Every soul in Rwanda belongs to Jesus, we won't stop until everyone receives a copy of the Rhapsody of Realities in the language of their heart. Join us now in Preparing the Nation of Rwanda through the massive distribution of Rhapsody of Realities in the Kinyarwanda Language. Sponsoring a Language outreach (100 copies) in Kinyarwanda today! 👇👇https://lingual.tniglobal.org/ #tniglobal #impactRwanda
HIGHLIGHTS FROM SUNDAY SERVICE WITH PASTOR BENJAMIN ABE-PETERS Locate yourself in Gods plan and make up your mind to fulfill your destiny in Christ. Know Gods Word abundantly to know what to do at all times. It's natural to err when you dont know the scripture, Gods word is Gods wisdom. You gain focus in life by focusing on the Word of God. Prov 1:23 Psalm 119:130 The Word of God that gains entrance in your Spirit lightens up your Word. Instructions lighten up your part. Act out the Word of God. Yield yourself to the Holy Spirit through constant fellowship, Holy Spirit talks, He directs and preserves us from trouble Eph 1:17 AMPC If you miss Church, there is nobody that's affected but you. Don't be too dignified for your duty in Church.
Loveworld Extra showing now on all LOVEWORLD STATIONS, tune in to Live TV to participate. #LiveTv #LoveworldExtra
🇦🇺🇰🇭🇨🇦🇩🇲🇸🇻🇧🇷🇦🇼🇨🇷🇫🇴 ■*LOVEWORLD EXTRA IS NOW SHOWING ON CEFLIX TV*■ 4-Hours of Exclusive Program; Weekly Every Saturday and Sunday on CeFlix TV FROM 12:00PM - 4:00PM GMT + 1. TUNE-IN 👇👇👇👇👇👇👇👇 https://ceflix.org/videos/watch/1849539 *■Click ■Watch ■Share*