CELVZ: CELEBRATING OUR DEAR DEACONESS ENO on KingsChat Web
CELEBRATING OUR DEAR DEACONESS ENO EBITO- ESAN Happy birthday dear Deaconess Eno. We rejoice greatly with you as you celebrate another beautiful year on earth. Thank you for being a huge blessing to us in CELVZ and to the body of Christ. May the Lord cause you to walk in preordained paths and gloriously magnify the works of your hand.This shall be your greatest year ever. Do have a glorious celebration. We love and appreciate you dearly. Congratulations!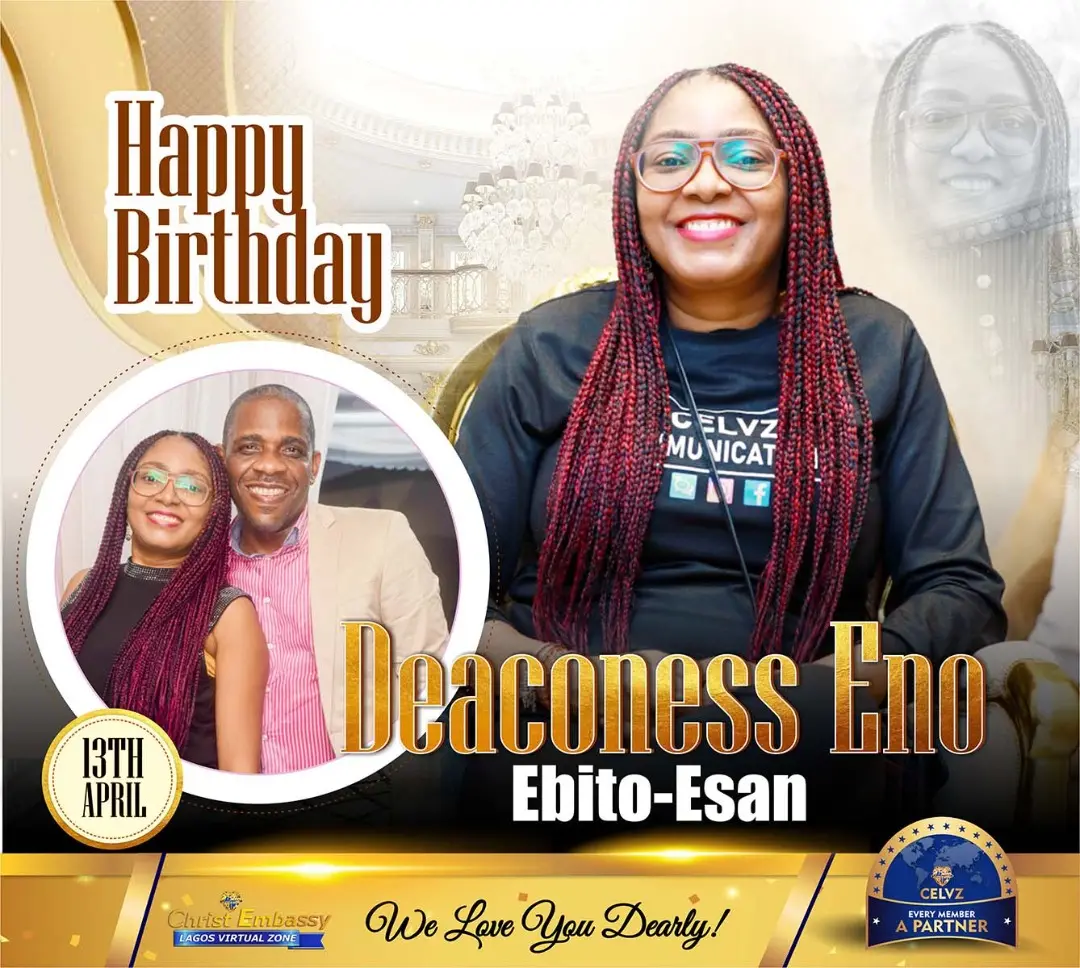 Eno Ebito Esan
commented:
I am grateful. Thank you our Highly Esteemed Zonal Director Ma. I Am A Beneficiary Of Your Grace
✨🌟📯Midweek Service 📯🌟✨ Join us Online for a glorious Midweek Service @5pm. ✨Your life will never remain the same📯 #CEBRISTOL #UK2Z4FASTEST
Today is for my Highly Esteemed Zonal Pastor Thank you dear sir for the light you shine always and your love for me Truly... Life is Easy!!!! I love you sir💞🎉 #PTA1404 #UKZone2 #lifeiseasy
Happy Birthday Great Man Of God, More Grace For The Work Of The Ministry.
Happy Birthday to my Highly Esteemed Zonal Pastor. I join the entire Loveworld nation and the host of Heaven to celebrate you Sir. Thank you for constantly training and teaching me the word. I appreciate you greatly Sir #PTA1404 #LIFEISEASY #INFLUENTIALPTA #UKZONE2 #LWKINGSTON
#yourLoveworld specials season 3 phase 3 have been absolutely outstandingly remarkably phenomenal and power packed! Thank you Pastor Sir for unveiling to our Spirit Deep truths from God's word! Oh! What Amazing Grace!
Celebrating Our Dear Gov Noma Sibindi Of The Haven Zone E1. Happy Birthday!! We love and appreciate you. From all of us in The Haven Nation. #TheHavenZoneE1 #TheHavenNation