Pst Osagie Osaghae: Great Citizens of d LW on KingsChat Web
Great Citizens of d LW Nation ,Kindly Join in saying a BIG BIG THANK YOU to ourLORD GOD ALMHTY for all HE did with our Man Of GOD REV CHRIS OYAKHILOME 4 dMighty impact of Healing Streams all over the world& a Special thanks to our Beloved CEO 4 d Meritorious Organiza6on .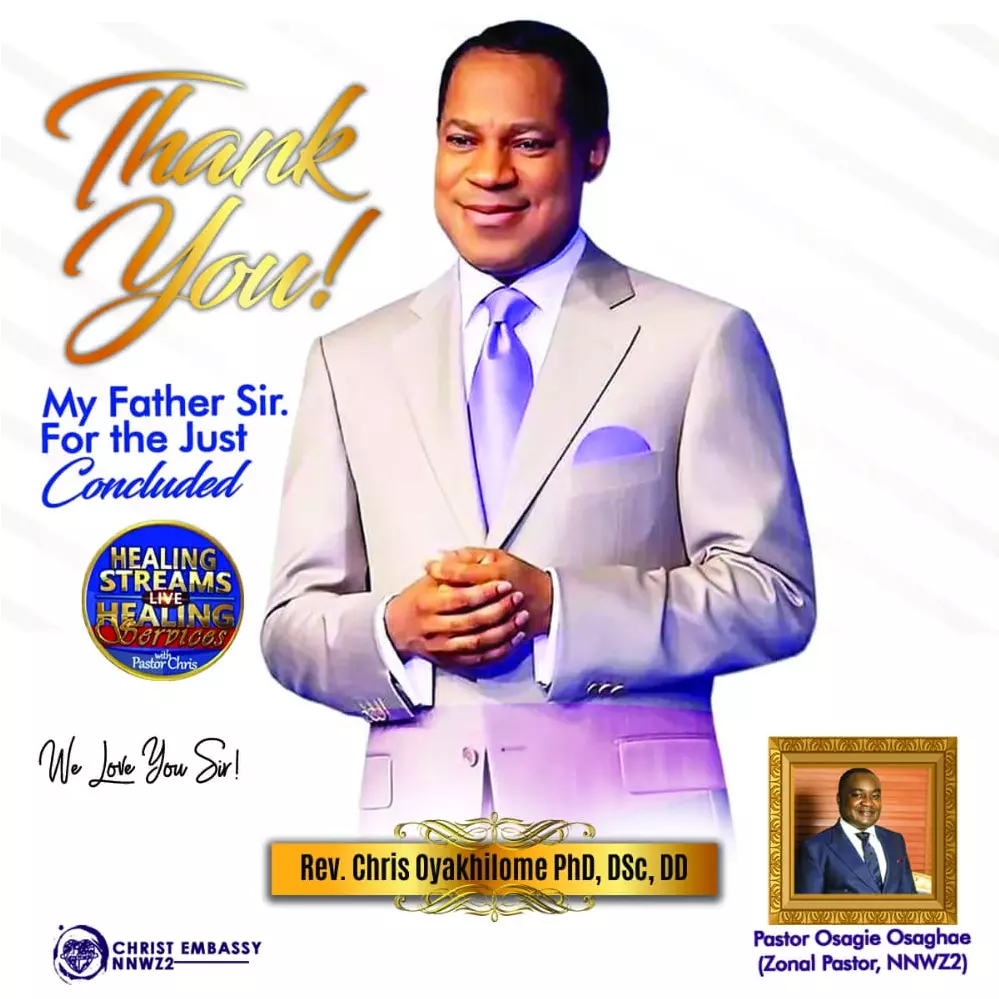 A PRAYER FOR MOTHERS When you give to mothers, it seemingly looks like nothing. But this is what lengthens their lives.You are giving her hope for more.... HAPPY MOTHERS' DAY #BlwCampusMinistryRocks #teamPKC#blwZoneL #mothersday#motherhood #loveformothers
Join us to pray any 15 mins of the day #Go2Inc www.icm.ngo/go2inc
Did you know that 86 percent of citizens living in Middle East and North Africa do not believe in JESUS? LET'S MAKE A DIFFERENCE NOW! REGISTER FOR THE MENA CONFERENCE CLICK LINK BELOW 👇 https://cloveworld.org/mena_conference/register?ref=694251 #MenaConference
♦️Happening Now! Day 16 of the Effectual Fervent Prayers with the Esteemed Regional Pastor. ✅ PASTOR CHRIS LIVE PRAYER POST URL: bit.ly/ceflix-live #CeAccraGhanaZone #EffectualFerventPrayers
LMAM PRESENTS "E Dey Work" By Ikiing feat. Samex & Richy ken. This song is Available on All Digital platforms... 📎https://distrokid.com/hyperfollow/ikiing/e-dey-work-feat-samex--richy-ken 📎 https://audiomack.com/ikiingmuziq/song/e-dey-work #Share #Repost
Gargantuan!!!! Glory!!!!!! Congratulations to our Esteemed CEO ma and all of us in CELZ5!!! Thank you Lord for I was part of it! Glory!!! Thank you to all our healing centers both virtually healing centers from around the world. We did it!!!
BREAKING NEWS Loveworld Networks present Live Worship with LMAM. Time: 8-9pm GMT +1 Date: Monday 15th to Sunday 21st, March 2021. It's time to express your gratitude to God. Watch Live: www.lxp.tv/watch.