Day of Bliss With Pastor Emma Akhuemokhan on Friday 14th of May 2021 at the NTA FIELD, ADUWAWA ROAD, BENIN CITY. TIME:3:00PM Come experience the miraculous. For enquiries and seat reservation kindly call the nos: 0803 369 7917, 0802 590 7088, 0803 221 0723,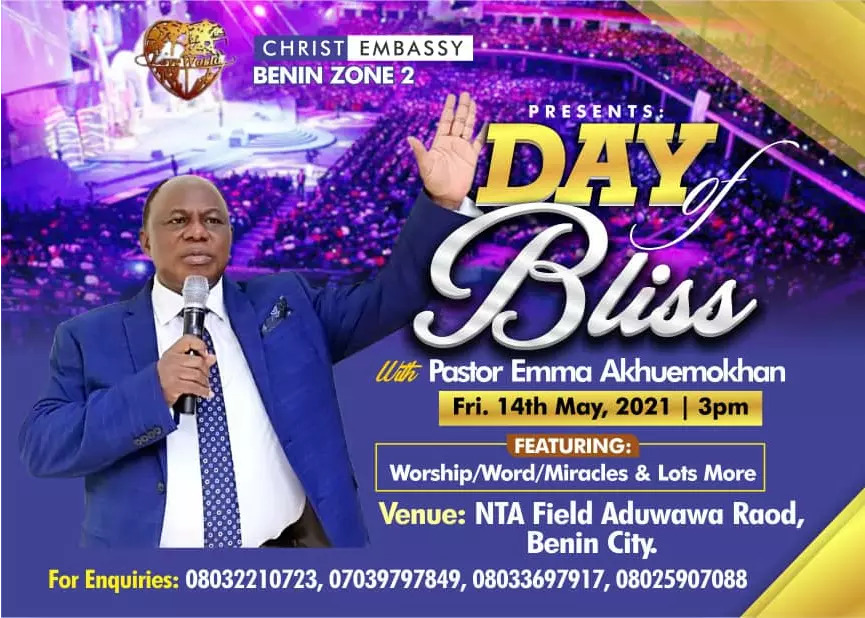 Declaration Number 6 done! 9:32pm Day 3 of 7times a day zonal daily declaration! 7days of Uncommon Miracles! It's working! I am the glory that excelleth #HighPriestInOffice #Cephzone3Limitless #celimitless #phzone3 #PastorChrisLive #7daysOfConfession #IPrayWithPastorChrisJoinUs
FIRST QUARTER BAPTISM Congratulation to young Anita on her final separation from the world. You're set for great works! #UK2Z4 #CERomford
CE SILUKO GROUP, MIDWEST-ZONE #morephotohighlights📖✍️ DAY 2 OF DISCIPLESHIP TRAINING PROGRAM WITH OUR HIGHLY ESTEEMED ZONAL PASTOR. #DTP2021 #CEMIDWESTZONE #CESILUKOGROUP #equippingsaint
Happy Wedding Anniversary to my esteemed Pastors Femi and Itee Olumurewa. God bless your union. I love you.
RHAPSODY OF REALITIES - PASTOR CHRIS: *KNOW THE SCRIPTURES BY THE SPIRIT* WEDNESDAY 21 APRIL #ROR #Truth #Preparation #ForMe https://youtu.be/Sw0X3Jfc7kY
#MarkJuliusInspiration #MarkJuliusMovies #SEZ2 #Asaba #Beneku
🌟SPECIAL ANNOUNCEMENT!🌟 OUR NEW UPDATED Banking details: Acc Name: Christ Embassy Cape Town Bank: FNB Acc no: 62895772864 Branch code: 250655 Ref: Name + Tithe/FirstFruit/HS/ROR/LWSAT #cesazone4 #cesouthernafrica