Affirmation Train: #TALKINGSESSION 8TH MARCH. KINDLY SAY on KingsChat Web
#TALKINGSESSION 8TH MARCH. KINDLY SAY THESE WORDS OUT LOUD. Dear Heavenly Father, I thank You for the month of March; it is my month of change. I thank You for receiving my worship, praise, and thanksgiving, sanctifying them by Your Spirit. You're magnified in my life, and Your glory has increased in my life. Thank You for an outstanding month of grace, and for Your grace that is piloting me into the great future You have for me. Thank You for the honour of my being inseparably one with You; not only have You made me Your sanctuary, I've also become the conveyor and dispenser of Your righteousness, mercy, goodness, and grace. I bask in the full blessings of my oneness with You, manifesting Your glory, beauty, and wisdom. I am full of the Holy Ghost; I am laughing my way through life, from victory to victory and from glory to glory! I laugh at the devil, and challenging circumstances because I know I can never be disadvantaged. I'm soaring high on the wings of the Spirit; my mouth is filled today with laughter and my tongue with the songs of triumph, in Jesus' Name. Amen. • Keep saying it, publish it everywhere; noise it abroad! In Christ, we've got something to shout about. Let's flood the airwaves, internet and print media with the reality of Christ. Speak in other tongues now. ~ Pastor Chris Oyakhilome. #productivity #themonthofchange #8DOM #excellence #8daysofmeditation #talkingsession #affirmationtrain #hspc #stillpraying #wehavemoved #grace #preparation #thankyoupastorchris #rhemafortoday #yourloveworld #globaldayofprayer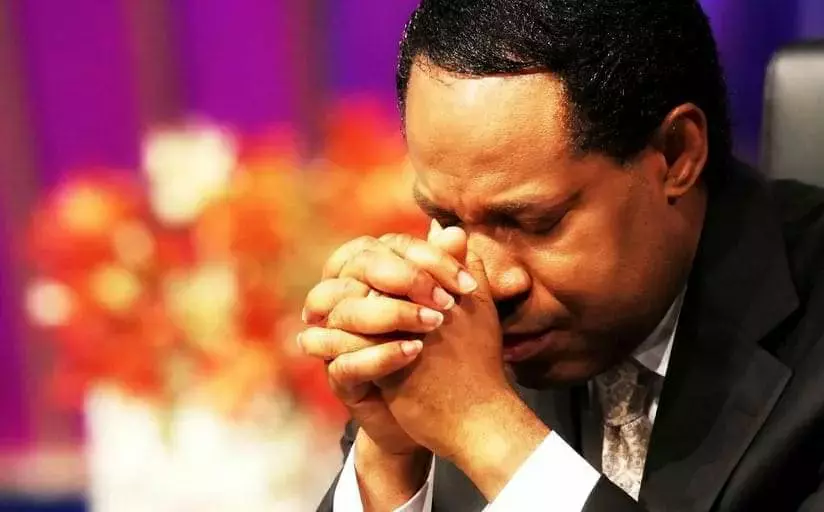 Happy women's day to my female role model in the Christian Faith Pastor Bissi Osademe Ma. Perfect in ministry (Christ Embassy) perfect in family, perfect in fashion and design, a perfect financial life, perfect in prayer, through faith and patience, she has obtained the promises
THIS IS THE GLORIOUS MORNING OF YOUR LIFE. YOUR INCREASE IS ENDLESS!
"You can enter God's Kingdom only through the narrow gate. The highway to hell is broad, and its gate is wide for the many who choose that way. But the gateway to life is very narrow and the road is difficult, and only a few ever find it" Mat 7:13—14.
Rhapsody of Realities for Early Readers Hello Kids, it's Monday March 8! Our topic for today is, EVERYONE HAS VALUE In God's eyes, everyone has value, it doesn't matter who they are or where they come from. That's why Jesus died for everyone. Click to learn more.. Remember to share this video with your friends. Have a great day. Bye bye! #PastorChrisLive #PastorChris #kiddiesloveworld #Loveworldkids #LoveworldChildrenMinistry #YourLoveworld #ChristEmbassy #RhapsodyOfRealities
"Knowing, the terror of the Lord, we persuade men" 2 Cor 5:11.
#TALKINGSESSION 8TH MARCH. KINDLY SAY THESE WORDS OUT LOUD. Dear Heavenly Father, I thank You for the month of March; it is my month of change. I thank You for receiving my worship, praise, and thanksgiving, sanctifying them by Your Spirit. You're magnified in my life, and Your glory has increased in my life. Thank You for an outstanding month of productivity, and for Your grace that is piloting me into the great future You have for me. Thank You for the honour of my being inseparably one with You; not only have You made me Your sanctuary, I've also become the conveyor and dispenser of Your righteousness, mercy, goodness, and grace. I bask in the full blessings of my oneness with You, manifesting Your glory, beauty, and wisdom. I am full of the Holy Ghost; I am laughing my way through life, from victory to victory and from glory to glory! I laugh at the devil, and challenging circumstances because I know I can never be disadvantaged. I'm soaring high on the wings of the Spirit; my mouth is filled today with laughter and my tongue with the songs of triumph, in Jesus' Name. Amen. • Keep saying it, publish it everywhere; noise it abroad! In Christ, we've got something to shout about. Let's flood the airwaves, internet and print media with the reality of Christ. Speak in other tongues now. ~ Pastor Chris Oyakhilome. #productivity #themonthofchange #8DOM #excellence #8daysofmeditation #talkingsession #affirmationtrain #hspc #stillpraying #wehavemoved #grace #preparation #thankyoupastorchris #rhemafortoday #yourloveworld #globaldayofprayer
Practice relating to everyone from the Holy Spirit's perspective, and you'll be amazed of the joy and glory you'll experience and enjoy. 
ITS 4 DAYS TO GO💯  HEALING STREAMS LIVE HEALING SERVICES READY ZONE!!!   The ROAD to the Healing Streams Live Healing Services with our Man of God, Pastor Chris. HOW PREPARED ARE YOU? Date:12th - 14th MARCH 2021 Time: 6pm (GMT +1) Daily 5pm UK TIME Register NOW to attend this 3-days event @ https://healingstreams.tv/zone/UKZ2  #ROAD2HSLHS #livehealingserviceswithpastorchris #healingstreams #healingtothenations #LiveHealingServicesWithPastorChris  #healingstreams #healingtothenations  #UKZONE2 Kindly follow our superuser page @ukzone2 for ministry updates
ITS 4 DAYS TO GO💯  HEALING STREAMS LIVE HEALING SERVICES READY ZONE!!!   The ROAD to the Healing Streams Live Healing Services with our Man of God, Pastor Chris. HOW PREPARED ARE YOU? Date:12th - 14th MARCH 2021 Time: 6pm (GMT +1) Daily 5pm UK TIME Register NOW to attend this 3-days event @ https://healingstreams.tv/zone/UKZ2  #ROAD2HSLHS #livehealingserviceswithpastorchris #healingstreams #healingtothenations #LiveHealingServicesWithPastorChris  #healingstreams #healingtothenations  #UKZONE2 Kindly follow our superuser page @ukzone2 for ministry updates
Wow! Glory. Just spoke to a Boda guy about, JESUS, after explaining the concept of being born again and who a Christian is. He was excited and consented to making JESUS the Lord of his life. PRAISE GOD #ASOULADAYTILLRAPTURE