LoveWorld Radio: RADIO RENAISSANCE - A NO on KingsChat Web
RADIO RENAISSANCE - A NO HOLDS BARRED MOVE FOR THE SALVATION OF 3.4 BILLION SOULS. ''RADIO'' is the most accessible and affordable media of communication. It's unlimited reach has position the platform as the primary source for sharing information that shape's societies. RADIO RENAISSANCE - a disruptive movement aimed at buying up Radio stations, establishing new ones in key locations and increased the dominance of the gospel on Radio. Join the movement today!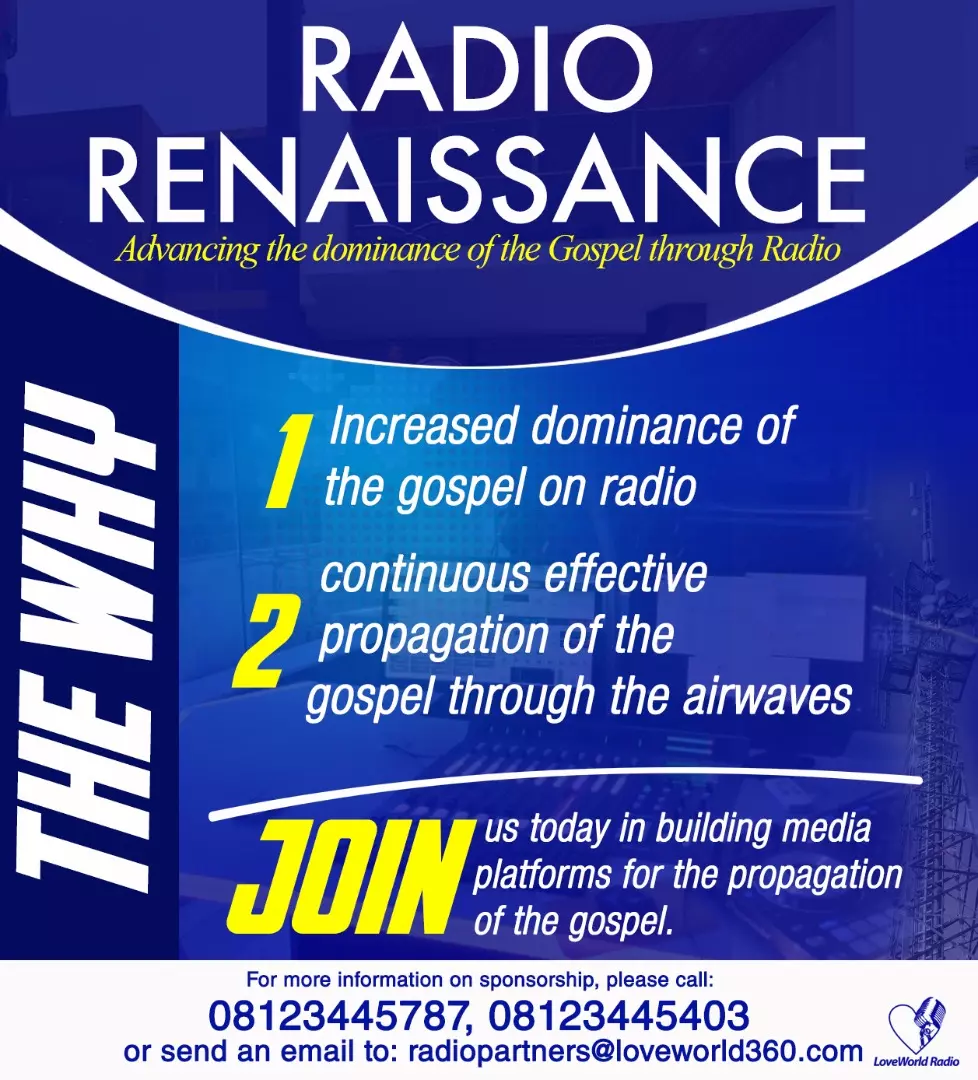 Pst David Aleogena
commented:
@askgod2020. Awesome let's raise more ambassadors to join us
We are a team of trading brokers from California with over 4 years experience in trading stocks, and 4 years experience in trading crypto. At TraderProfx we focus on trading and hedging top cap digital assets like b t c Cash , & Ripple. #uk
Prophesy is Gods proof to people #WordFestOutreach #Wordfest2020 #blwcampusministryrocks #blwzonej #Nigeria
#wordfest# #wordatwork# #ceonitshazone# HALLELUJAH! I STAND FIRM WITH MY FELLOW SOLDIERS OF CHRIST,STRIVING TOGETHER FOR THE FAITH OF THE GOSPEL OF MY LORD JESUS,BECAUSE HE IS DEPENDABLE! NO STOPPING ME! THANK YOU PASTOR SIR! I LOVE YOU!
Faith is due the gospel #WordFestOutreach #Wordfest2020 #blwcampusministryrocks #blwzonej #Nigeria
#Photospeaks BANKERS OUTREACH REACHING OUT TO THE CHILDREN IN THE ORPHANAGE DURING THE CHILDREN'S DAY CELEBRATION. GLORY TO GOD. WHAT A PRIVILEGE IT IS TO IMPACT LIVES. #SEZ2
#Wordfest2020 #Word@work #DSPUKZone3 #CEDagenham #Opening #Perfection
Give vent to the word of God #WordFestOutreach #Wordfest2020 #blwcampusministryrocks #blwzonej #Nigeria
Happy birthday dear Brother Kayode. Enjoy a most glorious and result-filled year basking in His love and grace. Thank you for taking care of Sister Bolaji ❤🤗
The gospel has been put in my trust and I'm committed to fighting for it till the death #WordFest #Wordfest2020 #WordatWork #CeTxZone2 #CeArlington