BREAKING NEWS!!! YOUR LOVEWORLD SPECIALS SEASON 3 PHASE 3 - 4 DAYS TO GO Through desire a man, having separated himself, seeketh and intermeddleth with all wisdom. PROVERBS 18:1 KJV It's a special time to fellowship with wisdom and grow in your knowledge of the Truth as you join our Man of God Rev (Dr) Chris Oyakhilome in 5 extraordinary episodes of Your Loveworld Specials Season 3 Phase 3 from Monday 12th to Friday 16th April 2021 at 7:00pm GMT +1, 2:00pm EST daily. Don't miss it. Remember to spend time in prayer everyday against the evil plans of the adversary to divide the world into fully vaccinated tribes and those who are not. Pray against the deception and manipulation of the nations and their leaders by the antichrist spirits of darkness, and pray that people everywhere will come to the knowledge of the truth, that they might be saved. Amen. Remember also to: 👉 Write your expectations for the program 👉Spend time in prayer for the program 👉Invite everyone you know and get them to attend the program 🌎Participate through our Loveworld Network Stations, Live TV and Ceflix Apps, and on all Ministry Online Platforms and Apps. #yourloveworld #yourloveworldspecials #yourloveworldwithpastorchris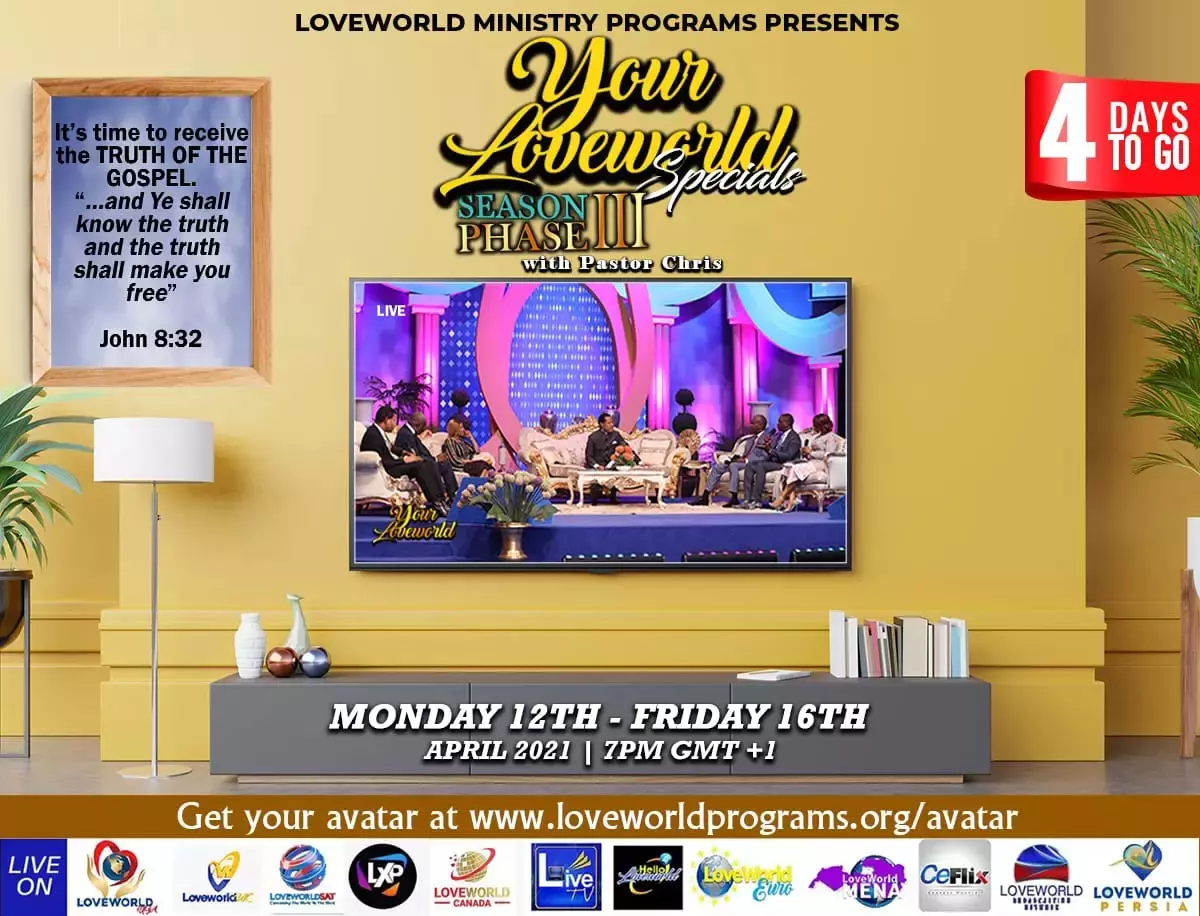 IT WAS INDEED THE SET TIME. THE LORD IS GRACIOUS AND KIND. HE CAME TO HEAL. TO SAVE AND TO BLESS.
Still celebrating my gorgeous Pastor Esoghen ma.Thank you so much ma for always being there for me anytime I call on you.Thank you for many godly advises and instructions that I have received from you. Am a better person today because of your counsels. I love you so much ma.
Awesome 👍 🆒 If you don't like you' who's gonna like you for you?🙃🙃👌
Specially designed for impact & upliftment; A Day with the Boss! #ADayWithTheBoss, #CountUp2ADayWithTheBoss #WeHaveABossLikeNoneOther, #NMT #3AEVENTS #OCOS
PRAYING NOW PCL PRAY-A-THON CE Chicago, Zone 1 Group 4 #CEUSAREGION2 #PCLPRAYATHON #cechicago
Wow what a great experience to pray with CE USA Region
#celvz #lcachurch 3 #PstEsohe #fifty #golden #happybirthday #weloveyou #moregrace