Excellent KingDaniel: 🌟🌟Thank you Lord for the on KingsChat Web
🌟🌟Thank you Lord for the gift of righteousness I received when I got born again. I declare that I walk in the light of my vital salvation and produces/manifest your rightness in & around me!🌟🌟 #ExposeonTruth #HappeninginApril #A21DayStudy #watchonpcdltv #cemcabuja #pcdl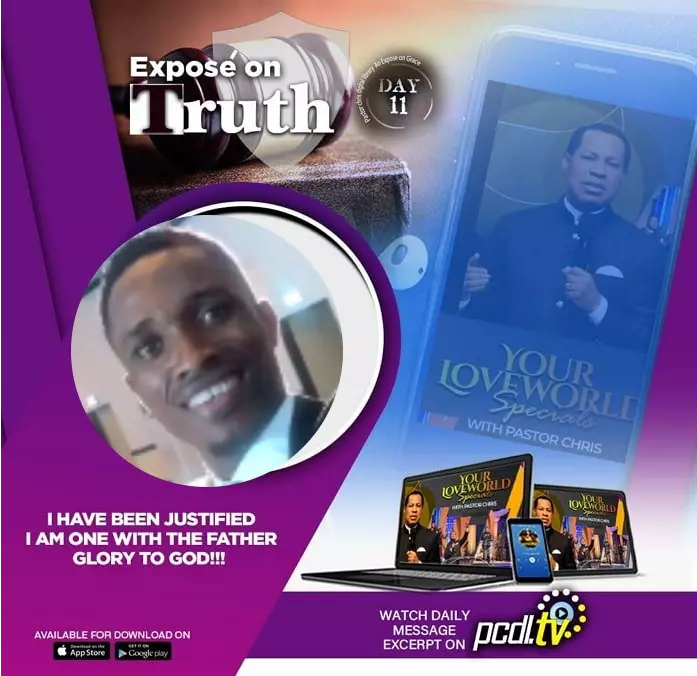 Pastor Mike Rose Avin
commented:
Hello 👋 my name is Rose avin and am from Canada 🇨🇦.. Earlier this month I saw an advert on Kingschat about crypto forex trading. I decided to join this particular platform . At first I thought 💭 it was a scam and they where going to rob me my money like yuri the last pozil scheme in a USA who was recently arrested but do you know what? I started with the minimum investment $500 and I received my profit $9000 directly into my local bank 🏦 account. please you guys should help me thank my account manager Mr Jason Godwin here in Kingschat you can contact him on whatap number 📱+12402307483 if you are interested in trading online and earn more profit no hidden fee. or inbox 📥 him 👇👇👇👇👇
Watch LOVEWORLD EXTRA Highlights airing now on www.pcdl.tv with Esteemed Pastor Biodun Lawal PCDL.TV - Building lives through God's Eternal Word #LoveWorldExtra #watchonpcdltv
Celebrating a Galant Soldier Celebrating a serial champion Celebrating dogged faith Celebrating a Sagacity Of Mind Happy birthday my esteemed group pastor ma I love you personally
#prayingnow #pclprayathon2021 #prayathon2021 #iampriestinoffice #WEVZ1 #CENetherlandsAlmere
IT'S Day 11 of the exclusive series of the Expose on truth... Glory to God... 📢Today's Message is "Your LoveWorld Specials Season 2 Phase 2 Day5" 📢 Click on the link to listen free 👉https://pastorchrisdigitallibrary.org /exposeontruth Get study guide and create Day 11 study avatar on www.pcdl.tv 📢Post avatar on Kingschat with hash tags; #Monthoftruth #exposéontruth #NorthernRegionNigeria @cennr
Always be thankful & give thanks for all that God has done for u, through u, in you and with you! Have a great day😘
It's sizzling hot🔥, it's fresh as always. Get ready for another inspiring and fun-filled edition of the vibest youth show ever - Inside GYLF and 'How to Be a Success for Jesus' show this weekend, showing only on GYTV. Watch live on www.gytv.tv or on the GYLF Mobile app by 12pm (GMT +1) from Friday. Come ready with your dancing shoes 🕴️🕺🤸‍♀️🕵️‍♀️🕵️‍♂️👨‍🎤  You can alter the destinies of young people as you sponsor a GYTV live show; kindly call, +2348025013854, +2348033882790. #GYLF #gytv
Hallelujah! 2 DAYS TO GO #TOTALEXPERINCE2021 #POO #PSZ #CEMAIDUGURI #NNWZ2 #NNR
Pray-A-Thon 2021 - Середа 21 Квітня У цій рапсодії цієї середи нам закликають знати Святе Письмо Духом. Вивчіть його та поділіться Словом. 1 Тимофію 2:8 каже, 'Отож, хочу я, щоб мужі чинили молитви на кожному місці, підіймаючи чисті руки без гніву та сумніву'. У наш час молитви сьогодні ми будемо ревно молитися мовами Духа, також проголошуючи справедливість для пригноблених та порятунок для тих, хто несправедливо ув'язнений; моліться також за дітей служителів євангелії у всьому світі, щоб вони міцно стояли у вірі Христа, виконуючи Божу мету у своєму житті. Амінь. Не забудьте відвідати сьогодні середину тижня у церкві на місці чи в Інтернеті. Нехай Бог благословить вас.