Sis. Xamara USAVZ2: The #1 reason why people on KingsChat Web
The #1 reason why people don't respond to God's call to do something in his house is... S E L F I S H N E S S! #midweekservice #PstFamesha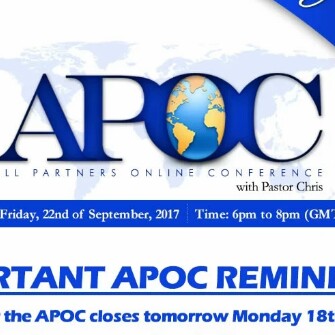 It our month of Thanksgiving. We sing praises to your name beautiful Lord and savior #cekano #nwvz2
Ways to labour in the church.. 3. Labour in word and doctrine 4. Partnership #CeCharlotte #PstFamesha
We won't stop until the whole world knows you are the best sir. Happy Happy Birthday dearest Dad. I cherish you sir
Happy Birthday to the World's best Dad, Father, Mentor & Life Coach. I love u Pastor. #CeAluu, #GPHG, #Cephzone3
Happy Birthday to a legend of our time; our mentor and spiritual guide......Pastor Chris.
Wednesday Service Celebrating our great man of God #dec7 #cebenoni #cesazone2
Shengri kuaile wo baba! Thank u for the words you've richly blessed me with which have made me into a champion. Wo hen ai ni! #dec7 #offer7
Still celebrating you sir. Thank you sir for making the path clearer for me to thread on.
That I could know God for myself with such deep revelations, that I thought so far. Thank you sir. I love you sir.