🎷🎷🎷C'EST LE JOUR 10 - EXPOSÉ SUR LA VÉRITÉ - Une étude de 21 jours. Message du Jour "YOURLOVEWORLD SPÉCIAL SAISON 2 PHASE 2 (JOUR 4)" ✍ Profitez de l'occasion pour rappeler à votre esprit le temps et la saison dans lesquels nous sommes. 🎯 Accédez, regardez et téléchargez gratuitement dès aujourd'hui sur https://pastorchrisdigitallibrary.org/exposeontruth/ceewcaz2 🎯 Participez volontiers à l'étude d'aujourd'hui et créez votre avatar. 🎯 Le guide d'etude de la 2eme semaine est également disponible en téléchargement en utilisant le lien ci-dessus. #ExposeonTruth #HappeninginApril #A21DayStudy #watchonpcdltv #EWCAZONE2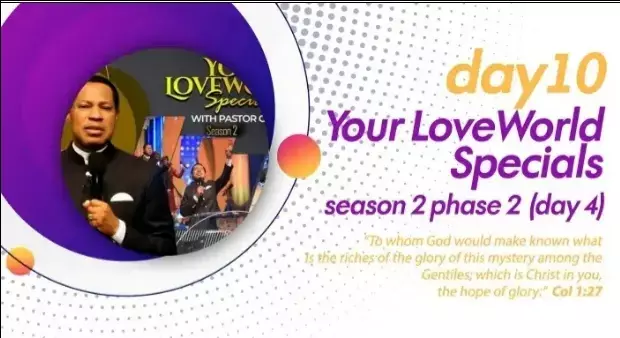 #prayingnow #prayingwithpastorchris #cedouala #ewcaz4
Happy  birthday dearest, delightful Pastor Nike. It's a delight to celebrate you on your golden jubilee. Thank you for all you do and for your decades long devotion to the vision of our Man of God and the ministry. You're favored and blessed, a fruitful field, a daughter of consolation indeed. Welcome to a new dimension of unprecedented blessings. I love you very much 💓🥰😍😘
🇺🇸🎉🎉Happy Wedding Anniversary, our Highly Esteemed Pastors Femi & Itee Olumurewa. Today, we celebrate a PERFECT UNION built on GOD's TRUTH that has blessed and transformed the lives of many. We celebrate the impact of your union in the furtherance of the gospel around the world. We celebrate your love-walk and faith exploits in the Lord. Thank you for being worthy examples to emulate in the followership of our Man of God. We love and appreciate you dearly Sir and Ma! #19YearsOfImpact #USAR1Z2
#pclprayathon2021 #prayingnow #ewcaz4 #cedoualagroup #celimbesubgroup Glory God.
☄🏆🥇CELEBRATING OUR STELLAR YOUR LOVEWORLD WITH PASTOR CHRIS SEASON 3 PHASE 3 AIRTIME SPONSORS 🥇🏆☄ 🏅😇🌏🚩 GROUP CATEGORY 🚩🌏😇🏅 We rejoice over the epic sponsorship from Pastor Sammy Anistar Bhebhe and the brethren of Christ Embassy CE Malawi Group, SA Zone 3 for their exceptional display of grace and tenacity to reach lives 1 minute at a time through the sponsorship of 3 minutes of Your LoveWorld with Pastor Chris on LoveworldSAT. Your path is paved for greater and more extraordinary exploits in this glorious year of Preparation. Thank you for connecting lives to the life-transforming message of our man of God, Pastor Chris. We love you and God bless you. #loveworldsat #loveworldnetworks
#cemidwestzone #ceugboworocks Happy birthday to our humble and loving grandpa
HAPPY WEDDING ANNIVERSARY ESTEEMED PASTORS FEMI AND ITOHAN OLUMUREWA THANK YOU FOR CHANGING LIVES THROUGH YOUR GIVING. WE CELEBRATE YOU!
Happening now in EWCAZ4. We walking in th truth, changing things in th realm of thé Spirit. #EWCAZ4 #CEAkwa #Cameroon #TheHavenZoneE7 #TheMonthOfThruth