Affirmation Train: #TALKINGSESSION 7TH JUNE. KINDLY SAY on KingsChat Web
#TALKINGSESSION 7TH JUNE. KINDLY SAY THESE WORDS OUT LOUD. Gracious Father, thank You for the privilege of being seated with You in the realms of power and glory, far above all principality, power, might and every domain of darkness! I reign with You today over the circumstances of life and over every negative force of nature, declaring that Your perfect and eternal will is fulfilled in my life – in my job, family, finances and in the lives of those around me. I thank You for the ministry of Your Word in my life. The Word is like a burning fire shut up in my bones. I can't hold it back; I'll promote and publish it everywhere with fervency until it engulfs my world. I am a burning and a shining light and many are coming to bask in the brightness of my light, in Jesus' Name. Amen. • Publish it everywhere; noise it abroad! In Christ, we've got something to shout about. Let's flood the airwaves, internet and print media with the reality of Christ. Speak in other tongues now. ~ Pastor Chris Oyakhilome. #june #monthofprayer #leadership #forheahead #power #insight #divine #loveworld #guidance #empowerment #superman #powerofthought #prayingnow #enthroned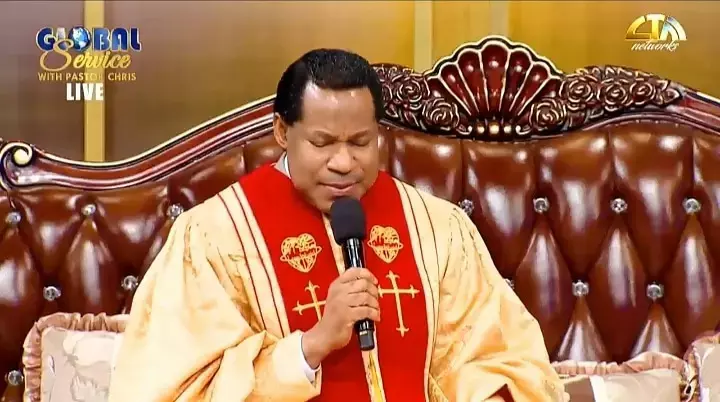 Join other young African leaders to make a change in Africa today. For more information on how to sponsor, call: +234 708 645 7899 or visit; www.futureafricaleadersfoundation.org You can also write us @ fala.admin@loveworld360.com REGISTER NOW @ www.futureafricaleadersfoundation.org and be a part of the GROWTH INITIATIVE AWARD. #GIA #ImpactAfrica #littlebylittle
#NOBAchimota - The Excitement is on. Just 7 days to go!! #CeAccraGhanaZone #YellowTeam
Happy birthday Pastor Olabisi Gbolagade, your light shines everywhere. We love and appreciate you ma. #Celagoszone1rocks #CELZ1Wonderful #Celz1rocks #IkoroduisBig
🙏🙏🙏🙏🙏🙏🙏 #prayingwithpastorchris #PCLprayathon2019 #UnitedKingdom #UkZoneA#prayingnow
*Divine Health Realities* 07 June 2019 I have received abundance of grace, and I reign in life, with dominion over sickness and death. I have received eternal life, which makes it impossible for sickness and disease to dominate my existence. With the life of God in me, no infirmity has the power or ability to destroy my body, in Jesus Name. Amen. #cekano #nnwz2
Join us on the Friday Edition of the morning show for detailed analysis of trending news, Prime Sports & more! We will be joined shortly by Bolarinde to discuss the Worship Without Limit Series. Call : +234 803 111 8975. SMS Only: +234 816 672 2359. Showing now on LoveworldPlus www.loveworldplus.tv/watch #pastorchris #loveworldplusshines.
#TALKINGSESSION 7TH JUNE. KINDLY SAY THESE WORDS OUT LOUD. Gracious Father, thank You for the privilege of being seated with You in the realms of power and glory, far above all principality, power, might and every domain of darkness! I reign with You today over the circumstances of life and over every negative force of nature, declaring that Your perfect and eternal will is fulfilled in my life – in my job, family, finances and in the lives of those around me. I thank You for the ministry of Your Word in my life. The Word is like a burning fire shut up in my bones. I can't hold it back; I'll promote and publish it everywhere with fervency until it engulfs my world. I am a burning and a shining light and many are coming to bask in the brightness of my light, in Jesus' Name. Amen. • Publish it everywhere; noise it abroad! In Christ, we've got something to shout about. Let's flood the airwaves, internet and print media with the reality of Christ. Speak in other tongues now. ~ Pastor Chris Oyakhilome. #june #monthofprayer #leadership #forheahead #power #insight #divine #loveworld #guidance #empowerment #superman #powerofthought #prayingnow #enthroned
It's 48 hours away..... Day Of Lights with Pastor Sam Zakka Christ Embassy Maiduguri will be transformed and metamorphosed into a higher realm of glory. See ebanner for more details... #cemaid #nnwz2 #daysoflights
*Birthday Felicitations* Today we join the Hosts of Heavens to celebrate an Extraordinary Light - Our Dear Leader *Brother Dike!!!* I thank God for your life and I love you dearly Sir. Happy Birthday!!!