Pastor Dipo Fisho: HAPPY BIRTHDAY SIR! We are on KingsChat Web
HAPPY BIRTHDAY SIR! We are honored to be called your children.We are what we are today because of your teachings and very rare opportunities you have given to Us in ministry. Thank you for helping us discover the beautiful life we so enjoy in Christ. Thank you for saying YES just for us. We love you so dearly Sir. You mean so much to Us. CELEBRATING YOU COULD NEVER HAVE AN ENDING. IT'S TILL JESUS COME. WE LOVE YOU SIR. #Dec7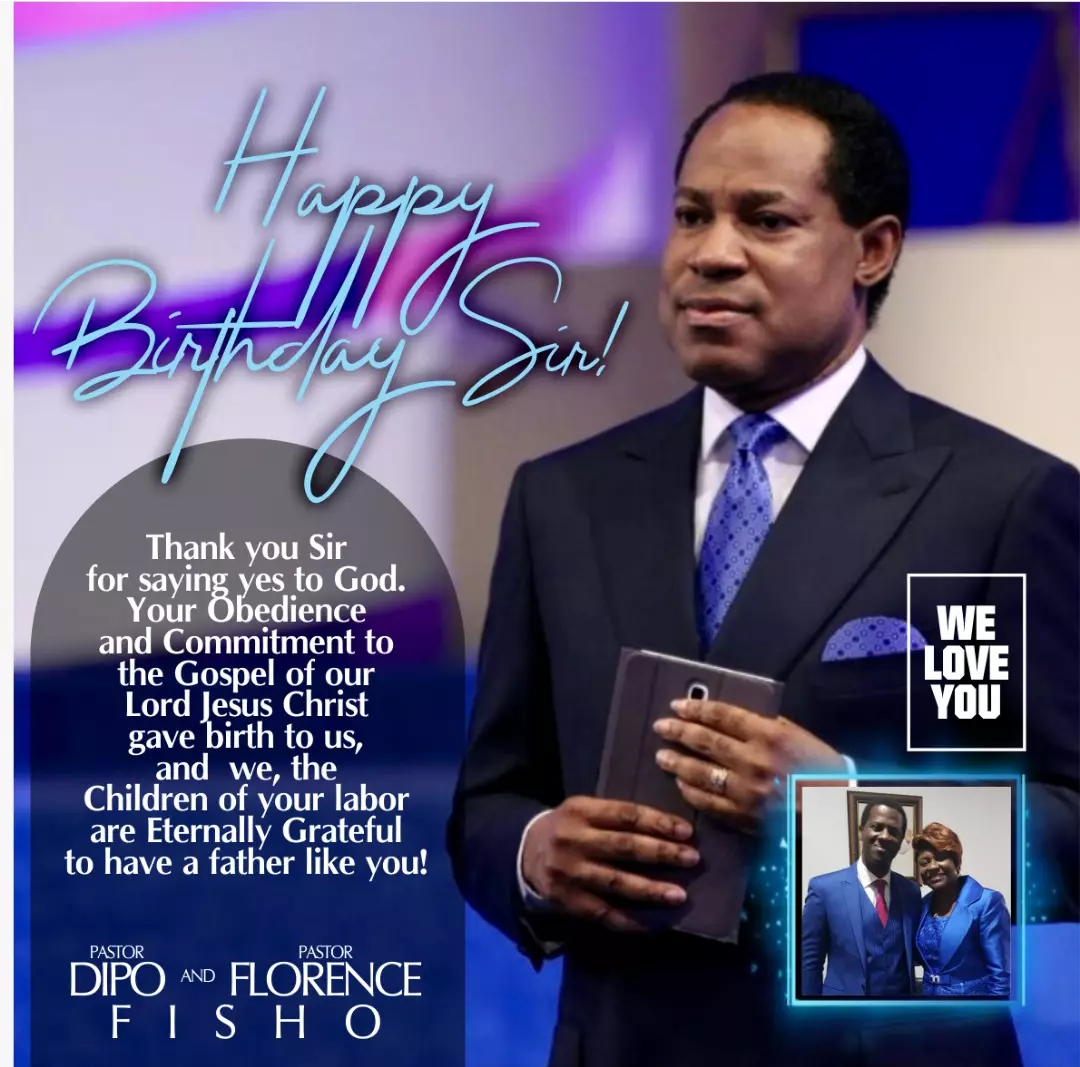 Joyeux anniversaire de bénédiction à mon Papa , Pastor Chris pour son amour liquide et ses enseignements qui ont transformé ma vie je vous aime papa
MY FATHER, MY LIFE COACH, MY MENTOR...A TEACH WITH A DIFFERENCE!HAPPY BIRTHDAY SIR! Love you eternally.
Super Happy Birthday to my mentor, teacher, life coach, king maker, father & Pastor Sir.Thank you so much for believing in everyone of us Pastor Sir. A MAN OF GOD SENT FROM GOD, GOD'S GREATEST GENERAL, OUR MENTOR & FATHER. We love you Pastor Sir. ❤❤❤🌟👑👨‍👩‍👧‍👦🌍
The party is ON @offer7 I love my Pastor so much sir.
DEC 7!!! 1 Corinth 4:15 For even if you had ten thousand others to teach you about Christ, you have only one spiritual father. For I became your father in Christ Jesus when I preached the Good News to you. Yes Dad, you have begotten me through the gospel. Happy birthday DAD!!!
Celebrating a dispensation, my Pastor, father and life Coach. Happy birthday! Pastor Chris Oyahkilome D.sc, DD. I love you sir. #ceph2garrison.
Celebrating our father! Let the party begin..
HAPPY BIRTHDAY DADDY!!! God bless you Sir!!! I love you so much Pastor!!!
Happy supernatural Birthday sir, thank u sir for the word of God that u have put in my spirit, thank u for believing in me pastors sir, thank u for investing so much in my future sir. Am alive because am a partaker of ur grace, I love u sir. #dec7 #cemidwestzone #siluko1