CeFlix: ✨IT'S TODAY!!!✨ The set time on KingsChat Web
✨IT'S TODAY!!!✨ The set time for record moments is HERE and live at the Global Service with Pastor Chris TODAY Sunday 4th April from 4:00pm (GMT+1). Plan to participate with friends, family, co-workers and all in your sphere of contact. SHOWING live on any of the Loveworld Networks via the Live TV App, CeFlix TV and PCDL TV Send An Invite Now! Live Broadcast 👇 -SCHEDULE- 4:00 PM (GMT+1) Remember to *DOWNLOAD* LiveTv app👇 http://bit.ly/livetvmobileapp http://bit.ly/livetvios And CEFLIX 👆 Available on Android and IOS 👇👇👇👇👇👇👇👇 Android 👉https://bit.ly/download-ceflix-tv-android IOS 👉 https://bit.ly/download-ceflix-tv-ios Download the PCDL Mobile App ANDROID – https://bit.ly/PCDLapp IOS – http://bit.ly/PCDLappiOS #makethisgoviral #sharepost #ceflixtv #communion #sunday #easter #livehealingserviceswithpastorchris #prayingnow #worddrive #globaldayofprayer #megaonlinecrusade #soulwinnersbootcamp #hspc #ropc #ropc2021 #watchliveonpcdltv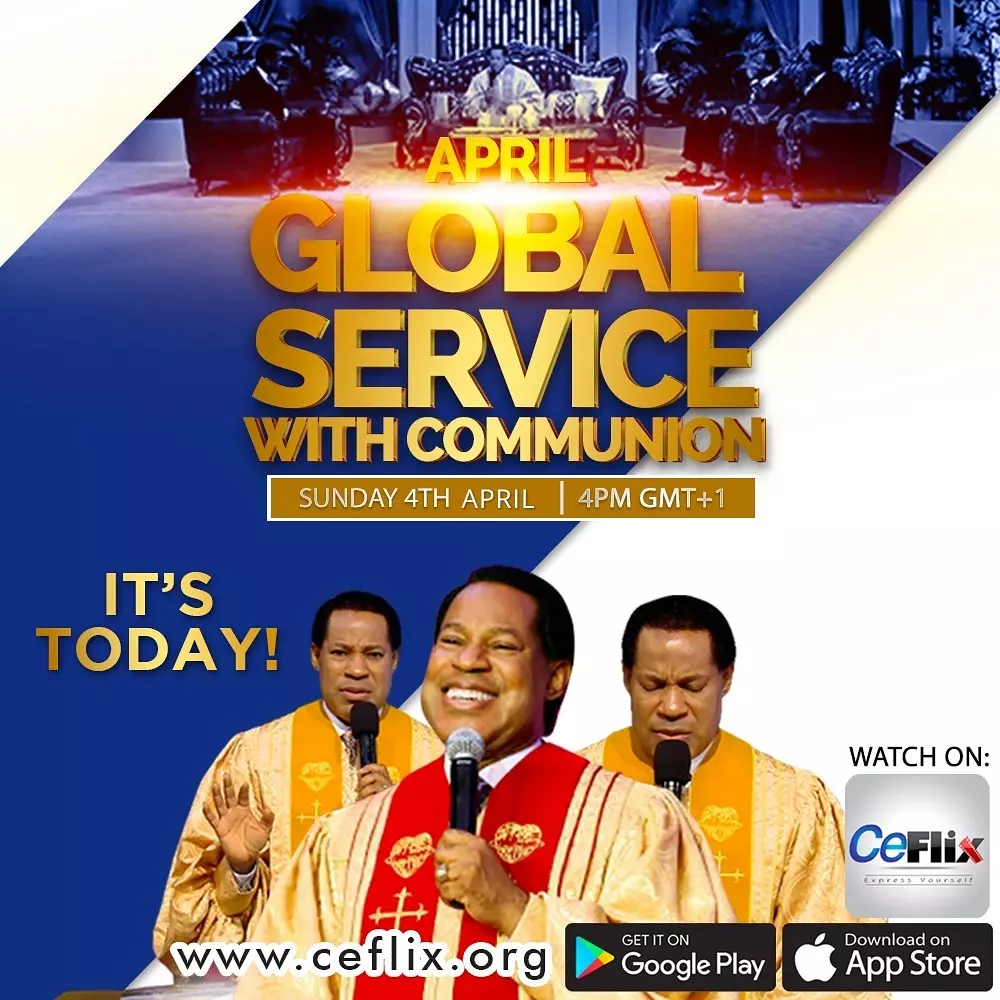 Pastor Gary izola lornar
commented:
Join our Cryptochin fxpro trading... it's really lucrative way of earning consistent income weekly with just little investment and it doesn't require any experience, just step by step instructions.....It's an investment that you invest on bitcoins and the sum of bitcoins you invest in, will been process and doubled in a multiple in 7 days trade and then invested in the same account that you invested in again and again, why waiting for salary when investment is better than salary you can invest your bitcoins your self, with the little investment of $250 you can earn returns 2500,and also $300 to earn $3,000 ,400 to earn $4,000 , $500 to earn $5,000, $600 to earn $6,000, $700 to earn $700$ , $800 to earn 8,000, $900 to earn 9,000 $1000 to earn $10,000. All in 7days trade and 10% will be my commission and no extra payment before withdrawal.. De me on WhatsAp +12402307483
#KeepSayingIt There's something more trustworthy than your experience; than the pain you may be going through; it's the Word of His grace. Hold on to God's Word - PASTOR CHRIS IT'S TODAY!!! The set time for record moments is HERE and live at the Global Service with Pastor Chris TODAY Sunday 4th April from 4:00pm (GMT+1). Plan to participate with friends, family, co-workers and all in your sphere of contact. Send an invite via this link- https://bit.ly/GS-LAN_TRANSLATIONS PRAISE REPORT! Patricia from Brazil, was diagnosed with fibroid and scheduled to have an operation. While participating in the Global Service via the Portuguese language translation, she received God's Word with faith and knew in her heart that she had a miracle. WATCH and share!👉  https://bit.ly/GS-LAN_TRANSLATIONS Be a PROUD SPONSOR of the LANGUAGE TRANSLATIONS of the April Edition of the Global Service With Pastor Chris.  👉 https://bit.ly/GS-LAN_TRANSLATIONS SHOWING live this Sunday 4th April from 4:00pm (GMT+1). Do you have a TESTIMONY from the Global Service with Pastor Chris? SHARE IT and inspire millions around the world in preparation for the April edition. 👇 Bit.ly/Testify-Prayer-Request Evangelize your world TODAY!  Send this link 👇👇👇 bit.ly/Save-A-Life-Today to a friend or loved one out there needing Salvation! JOIN our Yookos Community 👇  https://bit.ly/CEOP-Yookos #GlobalServicewithPastorChris #GlobalService #GlobalServiceCommunion #Easter #EasterSunday #EasterCelebrations #RhapsodyofRealities #Confessions #Prayer #Preaching #SaveALife #SoulWinning #ChangingLives #ImpactingLives #Touchinglives #ChristEmbassyOnline #PastorChris #April2021 #Sunday
Random pics taken today Enjoying beauty in all creations. Everything my Father makes is a masterpiece💯.
Metamorphosis - Photo highlights Ty Obaz leads congregants in the euphoria of divine fellowship in the place of worship. #cebeninzone1 #EasterSunday21
Christ Embassy Giwa Amu.....Easter Sunday Service
HAPPENING NOW @ our MEGA EASTER SUNDAY!!! 'The moment we all anticipated! `Word Segment with our Man of God!' ....God's love is not limited to only Christians.```For God so loved the world, that he gave his only begotten Son, that whosoever believeth in him should not perish, but have everlasting life.``` [John 3:16]. #MegaEasterSunday #LCD #RORConvention #CalMC #TeamCalabarRocks
💢 Highlights from the Easter Sunday Service with the Highly Esteemed Regional Pastor in CE Zonal Church Avenor. John 10:15 KJV, As the Father knoweth me, even so know I the Father: and I lay down my life for the sheep. #CeAccraGhanaZone #EasterSunday21
We having an awesome time #auxanozonalcentre #celz1rocks #ceketunation #cegracelight #cedayspring #cedemurin
PHOTO HIGHLIGHTS 📸 📸 🔥🔥 Elsie Olayemi and the Team Elsie minister to congregants a reggae worship song, "The Hallelujah chorus". #cebeninzone1 #EasterSunday21
CE SA Zone 5 - Abundant Streams of Glory Highlights! Highlights from the Abundant Streams of Glory Easter program from Christ Embassy Norton 1! #EasterSunday21 #cesazone5 #zimbabwe
❤️ IT'S EASTER!!❤️ http://reonyouth.org Easter sybolises God's love for man. God proved His love for man with the price He paid: the life of Jesus. The Bible says, _"But God commendeth his love toward us, in that, while we were yet sinners, Christ died for us"_ (Romans 5:8) _📖 John 15:13_ Greater love has no one than this: to lay down one's life for one's friends. It's a celebration that commemorates the resurrection of Jesus Christ and his promise of eternal life. Today and always, we celebrate the glorious resurrection of our Lord and Saviour Jesus Christ! What a privilege it is to share that Jesus is our Great Deliverer, who paid the ultimate price for our salvation and through Him we have peace..!❤️ HAPPY EASTER FROM THE REON YOUTH INTERNATIONAL.🌏 🎯 JOIN REON TODAY ON: http://reonyouth.org Spread The News! God bless you!