Wow! Wow! Wow! It's our Pastor's Birthday! Esteemed Pastor Sir, our hearts are full of joy and excitements as we celebrate you Sir in this very special day. Thank you so very much for being our father, mentor and Life couch. Thank you for teaching us how to run with the vision of our dear Man of God Rev Dr Chris Oyakhilome DSc, DD. You have taught and imparted us with so much faith that has made us tough, bold and courageous to face anything in this world. You are indeed our hero Sir. Thank you so much for being such a great blessing to our nation of Tanzania. With this Sir, we join the hosts of heaven to salute and celebrate you! Happy Birthday to you Highly Esteemed Pastor Sir. We love and appreciate you so very dearly! #HappyBirthdaySir #CETanzania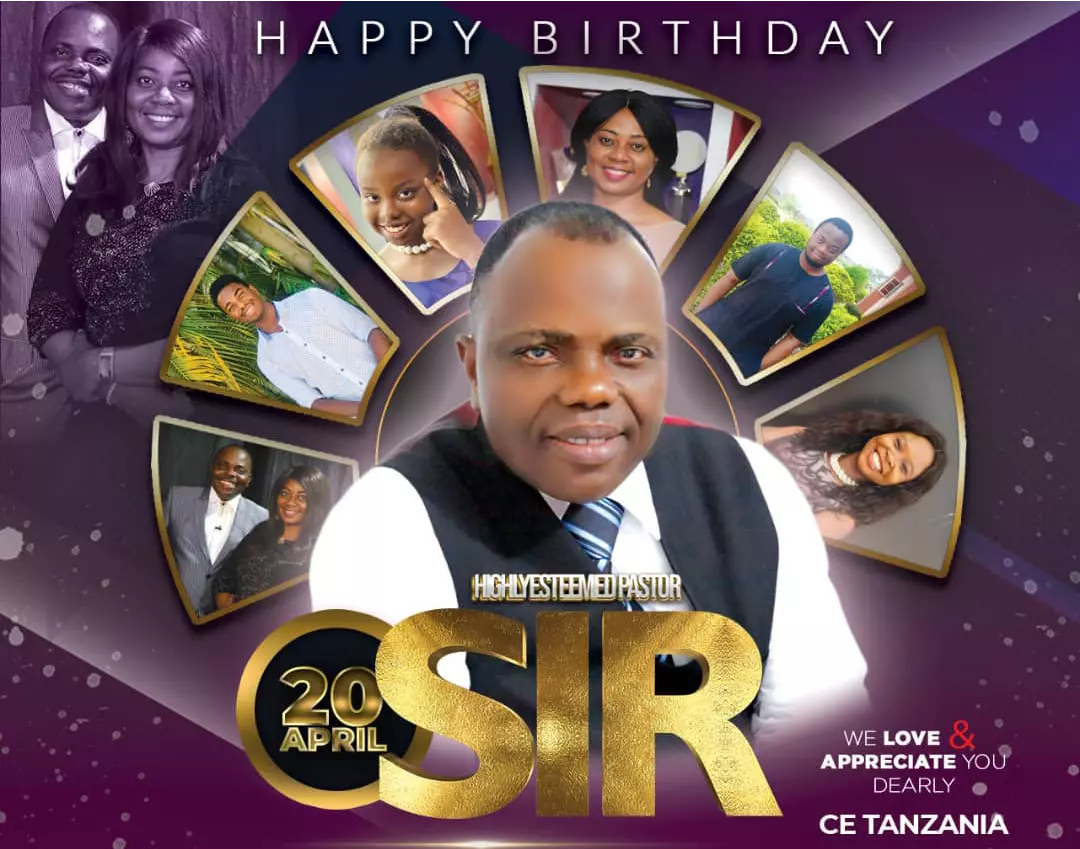 Sis Donata Nasson
commented:
Happy Birthday Highly Esteemed Pastor Sir. Thank you for being a wonderful and amaizing Father. Love you so dearly Sir.
David mtake
commented:
Happy birthday Pastor Sir, you are a gift to Tanzania, A prophet to Tanzania, a Teacher to Tanzania, a coach to Tanzania, the land has been given to you! thanks you for the love for the ministry, thanks for teaching, coaching and showing us the way to the ministry we love so dearly Happy birthday !
#fitnessforduty #campusministryrocks #blwzonef Thank you so much sir for this opportunity!!
It's still happening exclusively on www.pcdl.tv 👉 A 21 Day Expose' on Truth with faith stirring messages airing daily for you. Day 10 Study - YOUR LOVEWORLD SPECIALS SEASON 2 PHASE 2 (DAY 4) #ExposeonTruth #HappeninginApril #A21DayStudy #watchonpcdltv
CELEBRATING OUR TOP 10 PARTNERING ZONES! A big applaud to our Esteemed Pastor Lekan Balogun & Partners of Christ Embassy Lagos Zone 1, for taking a bold stand for the Bible Mandate in the First Quarter of the year 2021. Thank you, for your exceptional Partnership with the Rhapsody Bible. We celebrate you specially!
It's 3 Days To Go! 🌎WORLD BOOK DAY 📚📚📚 - Loveworld Publishing Ministry Celebrating the world's greatest Author and World Changer, Rev. Dr. Chris Oyakhilome Starting April 23rd - May 31st 2021 #worldsno1author #worldsgreatestauthor #imaworldchanger #ministrycentrewarri
#prayingnow #pclprayathon2021 #prayathon2021 #iampriestinoffice #WEVZ1 #CENetherlandsAlmere
We Are Still On It 😇😇😇 A 21 Day Expose' on Truth. Airing now on www.pcdl.tv is Your LoveWorld Specials Season 2 Phase 2 (Day 4) as Day 10 Study to aid you knowing more truth from God's Word #ExposeonTruth #HappeninginApril #A21DayStudy #watchonpcdltv
12 DAYS TO THE CELEBRATION OF OUR ESTEEMED ZONAL PASTOR, PASTOR BENJAMIN ABE-PETERS. You have led us in a triumphant parade from glory to glory and many more victories ahead. #PBJ0305 #CELEBRATINGPBJ #SWZ2 #SWREG