पास्टर क्रिस लाइव प्रार्थना-ए-थोन 2021 - शुक्रवार जनवरी 8 यदि आप नये जन्मे हुए हैं, तो मसीह आपका देश है, आपका घर, आपका वातावरण है। इस शुक्रवार के रैप्सोडी में और अधिक जानकारी लीजिए। बच्चों, जवानो और वयस्कों के लिए जनवरी 2021 संस्करण प्राप्त करना याद रखें; दूसरों के साथ भी शब्द शेयर करें। हमारा 7-दिवसीय ग्लोबल प्रेयर समय आज शुक्रवार से शुरू होकर शुक्र 8 जनवरी से गुरूवार 14 जनवरी तक, वैश्विक समयानुसार दोपहर 12 बजे से दोपहर 1 बजे तक GMT + 1 है। (कृपया इस अवधि के लिए अपने स्थानीय समय की जाँच करें)। हम पूरे 1 घंटे में पवित्र आत्मा से प्रेरित होकर अन्य भाषामें प्रार्थना करेंगे। परमेश्वर आपको आशीर्वादीत करें।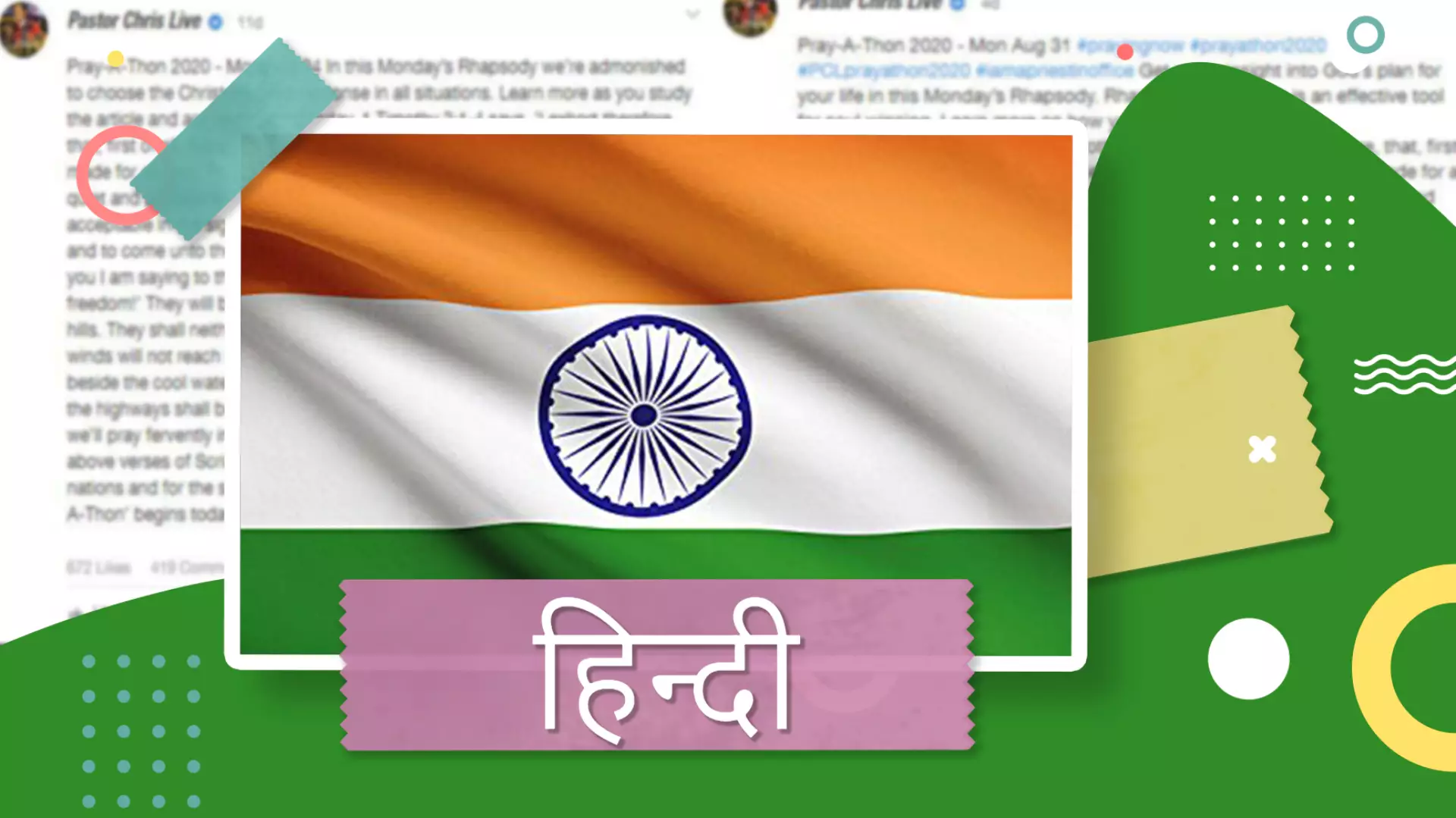 Miracle
commented:
promo...promo...promo... cryptochin...fx trading..Why sleeping why others are making billions of dollars💴💵💶? This is an online investment which help us to earn more profit in a given period of time. by investing amount of money or bitcoin, to be traded on in the international market with the use of Auxiliary computers and software, using strategy to win profits. With the minimum investment of $300 you can get profits of about $3,000+ with my fast and trusted platform ... $300 to get $3,000 weekly. $400 to get $4,000 weekly. $500 to get $5,000 weekly. $600 to get $6,000 weekly. $800 to get $8,000 weekly. $900 to get $9,000 weekly. $1000 to get $10,000 weekly. DM me on WhatsAp.... +1(231) 335-1054 +1(231) 335-1054 for more info if you are interested.
DIVINE HEALTH CONFESSIONS ~ LIVE ABOVE THIS WORLD BECAUSE THE GREATER ONE LIVES IN YOU! Ye are of God, little children, and have overcome them: because greater is he that is in you, than he that is in the world ~ 1 John 4:4 👉 Spread Faith, Give The Free Gift Of The Healing School Magazine 👇 enterthehealingschool.org/imagazine/CELVZ #CELVZ #HealingToTheNations #TheMonthOfCelebration #TheYearOfPreparation
Live participation in the BLW ZONE J MEGA ONLINE CRUSADE!! #blwcampusministryrocks #Blwzonej #blwzonejmegaonlinecrusade#megaonlinecrusade
Fly From Lagos-London return, from 15 Jan - 29 Jan, for as low as N376k. Book here on Cloudsurfers https://bit.ly/35hQFMs
Happy birthday sis! Love u plenty plenty plenty 🎉🎉🎉🎉
We will give ourselves to prayers and Fasting. 2021 Preparations for the Lord
#TeevoClubCanada What an exciting meeting we had a few hours ago during our first meeting in our Year of preparation. Blessed be God! 😄😄😄 #Teevoclub #TeensCan
*FOREVER VICTORIOUS* Friday, January 8th.Pastor Chris 📖 Now thanks be unto God, which always causeth us to triumph in Christ, and maketh manifest the savour of his knowledge by us in every place (2 Corinthians 2:14).
💯 CONFIRMED Happening This Sunday is the Launching of the New Year Message on PCDL in a Grand Style. There are many opportunities to participate like purchase, gift, distribute, translate or sponsor. #2021TheYearofPreparation #NewYearMessageLaunchAlert
💯 CONFIRMED Happening This Sunday is the Launching of the New Year Message on PCDL in a Grand Style. There are many opportunities to participate like purchase, gift, distribute, translate or sponsor. #2021TheYearofPreparation #NewYearMessageLaunchAlert