Happy Birthday Dear Highly Esteemed Pastor T.T SIR. Thank You for Your Love & Kindness & Grace & Tenacity & Impact & Prophecies around the World. THANK YOU for BLESSING my Nation 🇬🇧🇬🇧 🎂🎉🎊🍹💃❤ #UKZONE2 🇬🇧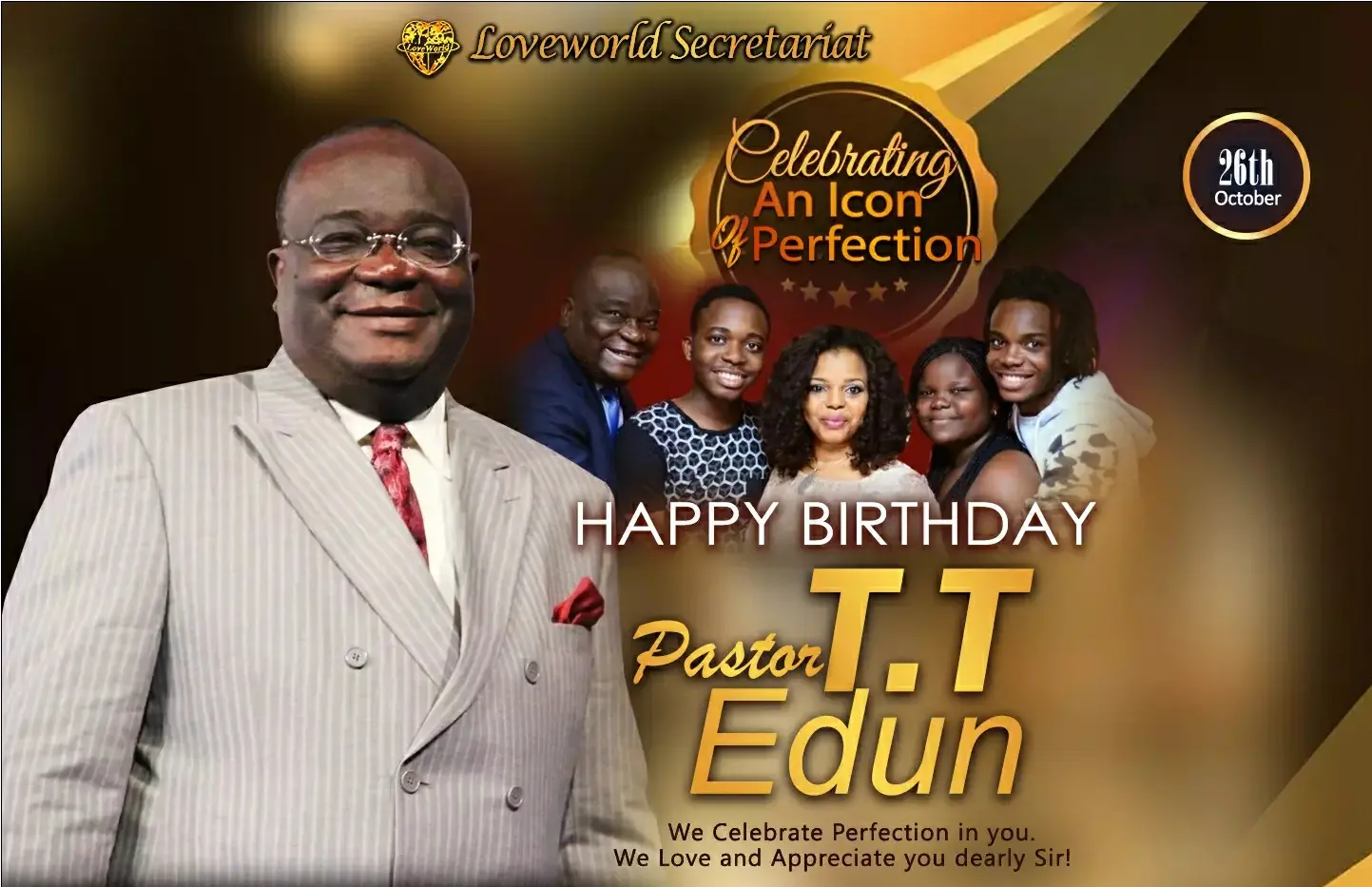 Rhapsody Mary Jane Beatrice Palmer
commented:
Dear Highly Esteemed Pastor T.T. I Love You with ALL my Heart SIR. Thank You for Blessing me ALL these Years, including my Nation 🇬🇧
Still celebrating the Top 5 Participating Zones in Week 3 of Wordfest2. Congratulations to... 1. CE Port Harcourt Zone 3 2. CE Accra Ghana Zone 3. CE Lagos Zone 1 4. CE South East Zone 2 5. CE Ministry Centre Warri Log on to www.pcdl.tv now and participate in the ongoing Wordfest 2
What an amazing Sunday service we had! . Full of BLESSINGS! 🌏❤ . #BLWMedway #2020 #PERFECTION #Proclamation #Kentx10 #Millions #BLWUKZoneB #BLWCampusMinistryRocks
We heartily celebrate the Esteemed Pastor T.T Edun ! Happy Birthday Sir !!!!🎁🎈💞🎁 The Loveworld Ladies Network is full of gratitude to you for all your contributions in our affairs. Thank you for your special love for us and your genuine commitment to our progress. It is a great year for you Sir. We love you and celebrate you Sir. 🎈🎈🎈 Courtesy: Loveworld Ladies Network #LLN #loveworldladiesnetwork #loveworldladiesnetwork
Celebrating 🥳 two ministers of the gospel. Pastor Isreal strong and Pastor TT Edun. Thank you 🙏 so much pastor sirs for inspiring us with your words and putting new songs in our lips 👄. Hbd 🥳 once again sirs we all love ❤️ you so much sirs.
# wordatwork # wordfest2 #Sez2
Happy birthday Esteemed Sir, your tenacity and vibrancy in the things of the Spirit is second to none. Thank you for your undiluted love and benevolence to the indigent children Sir. We love and appreciate you dearly Sir
Happy birthday Esteemed Sir, your tenacity and vibrancy in the things of the Spirit is second to none. Thank you for your undiluted love and benevolence to the indigent children Sir. We love and appreciate you dearly Sir
Happy birthday Esteemed Sir, your tenacity and vibrancy in the things of the Spirit is second to none. Thank you for your undiluted love and benevolence to the indigent children Sir. We love and appreciate you dearly Sir