Praise ye the Lord . Praise God in his sanctuary: praise him in the firmament of his power. Praise him for his mighty acts: praise him according to his excellent greatness. Psalms 150:1‭-‬2 KJV JOIN US AS WE OFFER THE PRAYER, WORSHIP, TESTIMONY AND OFFERING OF THANKSGIVING TO GOD FOR A MOST SUCCESSFUL YEAR OF LIGHTS. Hallelujah!!! #Cephzone2 #Thanksgiving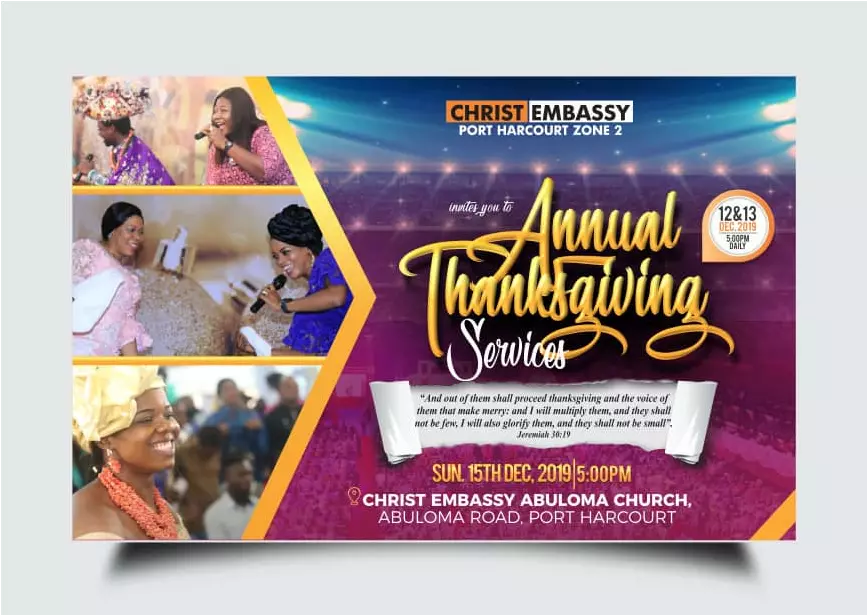 Happy birthday Highly Esteemed Pastor Peace Chika Alex, I thank u for ur great passion and zeal for the furtherance of God's kingdom. You're a trailblazer, a pacesetter and an achiever. I wish u increased grace for more supernatural accomplishments. I love you loads Pastor ma'am
Happy birthday my sweet Nifemi A Team player all the time I love you dearly Enjoy the great life ! #teamballroom
Happy birthday dearest Chris Thank you so much for completing the Team God bless and increase you greatly. #teamballroom
Early to pay work is not what determine riches but ability to use ur mind early and wisdom from God which has nothing to do with any academic qualifications determines. Use ur mind to bring out the deposit of God inside. God bless you.
Celebrating a beautiful heart with an authentic personality. @pampamkanu @pstpampam Pastor you are more than one in a billion. Thank you for the many days past. My family celebrates you always. Happy birthday ma.
And we exclaim Our God is mighty We lift up your name, for you are holy We sing it again all honour and glory In adoration we bow before your throne .
Its still thanksgiving in our Loveworld nation.Thank God for giving us precious Pastors.A nation is preserved not because it has a powerful army but because it has a man of God, that's why Prophet Elijah always told the King what the King of Syria was planning against the nation
You do not have to break the bank for an elegant look. We have some mid range luxury jewelry to dazzle you whether in corporate or traditional attire. Take advantage of our Pay small small package to purchase any of our pieces. For 15k, any of these could be yours.
Best PTE Coaching In Chandigarh http://www.edenimmigration.com/pte-coaching-chandigarh/