HAPPY FATHERS' DAY TO THE FATHER OF FATHERS♻♻♻♻♻♻♻♻♻♻♻♻♻ You awakened our hearts to the fatherhood of God, living out His Word and expressing His glory daily. All around the world, you have raised us to speak the same language, to bear the same passion and touch lives just like you. Our lives have been given a meaning because God favoured us to be born of you. What a precious Dad we have! The whole world rejoices at the blessings you have brought to every nation but we of all are most blessed to have you as our Father. You are the epitome of fatherhood. We love you, Sir. Happy Fathers' Day. From: Pastor Vale and Pastor Awele Odu-thomas, and the entire Christ Embassy Calabar Ministry Centre.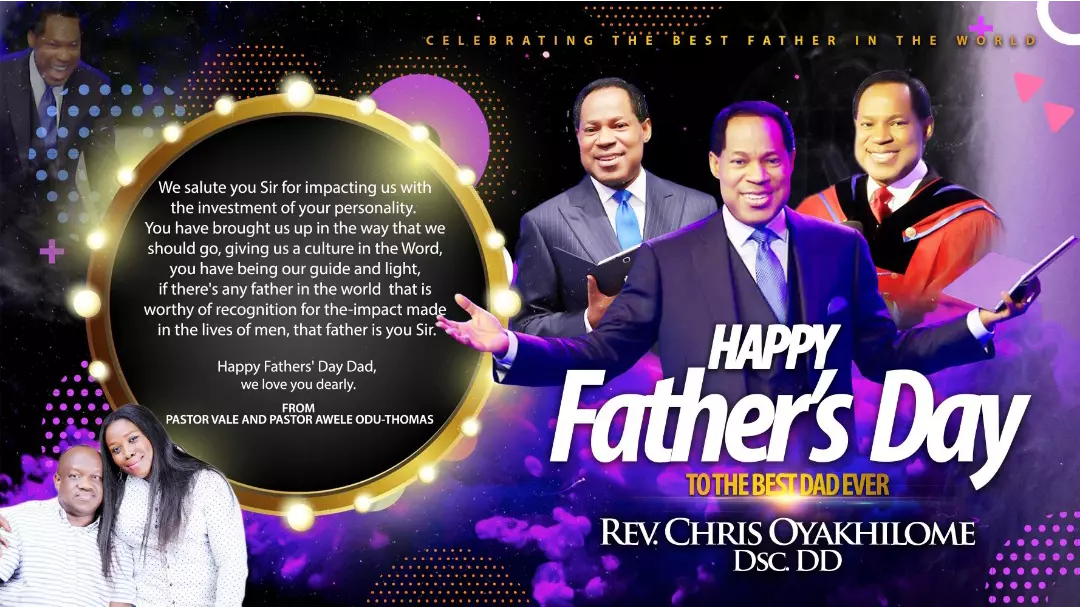 Happy fathers day daddy #cemaiduguri #nwz2 #pstsamzakka
Happy Father's Day to the World's Best Dad. Rev. Chris Oyakhilome DSc. DD. I love You Sir. #worldno1father #fatherlikenoother #ewcaz2celebratesourfather  #ewcaz2
Happy father's day to my highly esteemed Zonal Pastor. I love you sir.
Happy Father's Day Sirs, Thank You So Much, for Your commitment to the Vision of Our Man of God, You have taught us true leadership, followership and fellowship. We are ever grateful to God for Sending You to Us . We Love You dearly Sirs. #happyfathersday #cephzone2
Highlights of the Glorious Father's Day service! #CECalgaryNE #CECalgary #CECanada
Happy Father's day My ❤️, my 👑 and the best Dad any kids can pray for. I Love and Celebrate you more Today. Thank you for your 💖 and amazing care for us.
Today the President of SA, Cyril Ramaphosa was at the Polokwane Golf Club Ground to celebrate the Youth. CE Polokwane Partners were there to distribute Rhapsody of Realities. Thank you Pastor Sir for the opportunity #cepolokwane #sazone1
🙏🏽 Thank you Lord... #cesazone5 #ceborrowdale1