LEARN DIVINE STRATEGIES FOR EFFECTIVE SOUL-WINNING & EVANGELISM AT THE 2019 ISM GLOBAL MINISTERS' CLASSROOM WITH PASTOR CHRIS! "When you're filled with the Spirit, you minister the Spirit; your words are impregnated with divine energy. Your communication is such that people are never able to forget or get over their encounter with you; they're impacted greatly by the love and person of Jesus; His wisdom, power and righteousness that effuse and exude from your words," - Rev. Chris Oyakhilome DSc., D.D.  Are you a minister of the gospel? Do you desire to be effective and productive in the area of Soul-winning and Evangelism? Then get ready to be trained and equipped with divine strategies for effective soul-winning and evangelism at the 2019 ISM Global Ministers' Classroom with Pastor Chris. Don't plan to miss it! Date: Saturday, 30th November 2019  #GMC2019 #PastorChris #ISM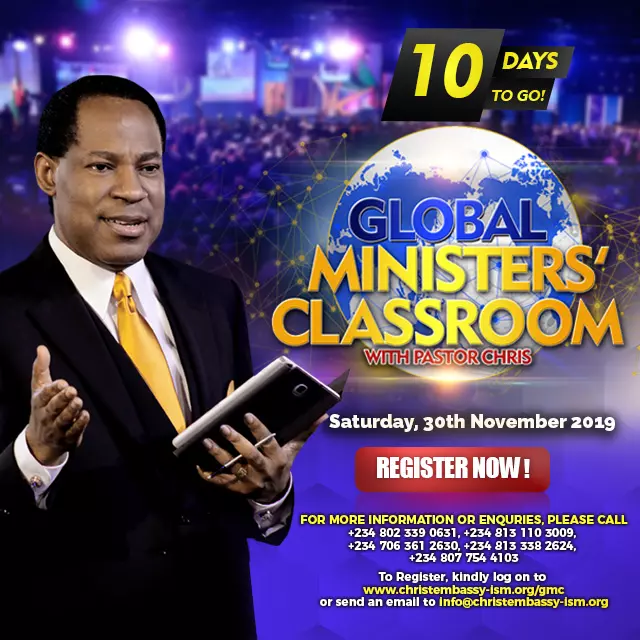 My Expectations are high receiving from our Esteemed Pastor Soji from the IPPC Conference in Lagos Nigeria.....
I have the ability to unveil the will, purpose and character of your heavenly Father. What a life! 🎶🎶I am a light of whole world, illuminating and innovating. I am signs and for seasons🎶🎶 #TeevoEveryday #TheElite #CEScarborough #CECanada #IPPC2019
My expectations are high for the 3 days of Glory with our Highly Esteemed Zonal Pastor, Pastor Mike Wiggle. It's a new level!! #3DaysOfGloryWithPastorMike #CETXZONE2 #CECINCINNATI #CECOLUMBUS #CEAKRON #CEOFPITTSBURGH #CEOFOREGON
Happy birthday of lights Pastor Maris. You will walk in Greater grace this new year. Enjoy your day. Love you 😘❤️😍 dearly
Celebrating Love! Happy Wedding Anniversary to the highly esteemed Rev. Tom & Pastor Joy Amenkhienan. (CE Abuja Ministry Center & CE PH Zone 3). Thank  you for making every minute on Loveworld Plus count. We love you dearly!