Happy Birthday to our Pastor, The Highly Esteemed Rev Ray Okocha, a member of the Central Executive Council, the director of the Port Harcourt Ministry Center, Sir you are an exceptional leader, a Titan in the Christianization of the world, A Superstar in the Higher Life in Christ, a serial achiever, a global missions colossus, an icon of grace, an embodiment of love... Pastor Sir, words fail us to tell it all........ We love you so much more than words can convey. Happy Birthday Sir. #celebratuingperfection #revray123 #cephmc #revray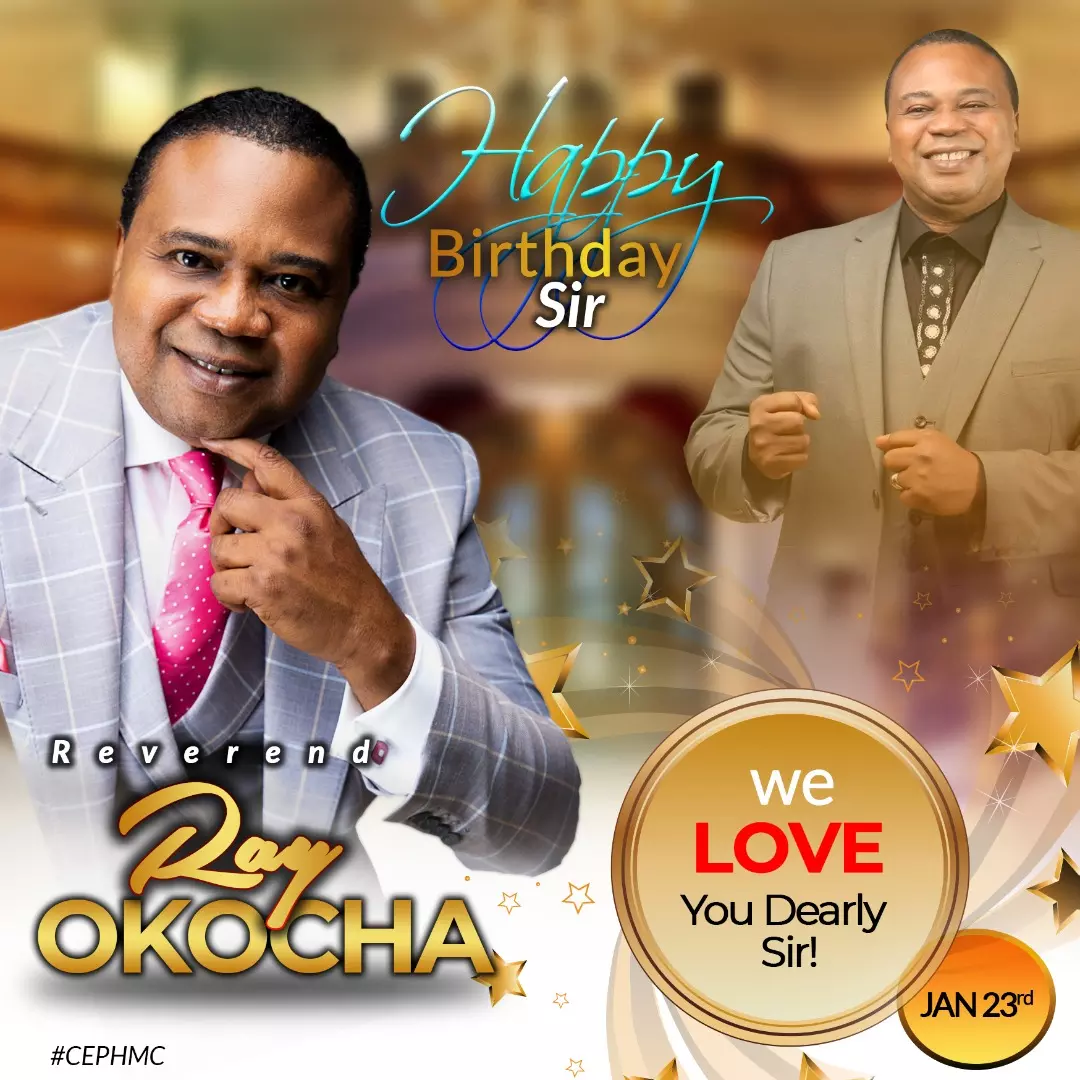 Happy birthday to my beautiful wife.Thank u for all u are to me and d Church .A new chapter of Blessings and favour has bin open n ur life
What a day to celebrate a royalty and a ardent teacher and father. Full of grace, faith personified. Happy sumptuous birthday to my father and teacher Rev. Ray Okocha. Congratulations sir. #revray123
Happy birthday Pastor Sir. Thank you for coming to Portharcourt Ministry Centre, your coming have made me a better Christian. I love you greatly sir.
#StillPraying #Day18 (pt 1) "Remember, the rule in intercession is that you're persistent and continue in prayer for as long as necessary. You don't stop praying until you have a note of victory in your spirit." - Pastor Chris No pauses; no breaks; no days off. It's Day 18 of our non-stop global prayer chain and CE Chad have started us off on a high note, with cells across the nation uniting together in persistent prayers of intercession. Stay tuned for more updates from CE Chad and CE Eastern Europe Region! #Photospeaks - highlights from the first prayer sessions of Day 18 in CE Chad, led by members of the Mimshach cell, La Lumiere cell, L'Amour Divine, Baraka cell, Centre D'Impact and more! #prayingnow #cechad #ceeasterneurope #PCLprayathon2020 #prayathon2020 #iamapriestinoffice
"The grace on your life is not for employment... we are passed that level... it's for winning souls" Faith... and a convicted heart. This message ripped the heart. #rhapathon
Our Father ' who art in Loveworld... An ardent follower of Pastor Chris. A great Ambassador of this Gospel of our Lord Jesus Christ. Hip Hip Hip....... Happy Birthday Sir.
#Rhapathon. My inheritance is of the lord, I am kingdom dignity, full of honour & ability. The riches of the world belongs to me. Kings and queens are coming to my rising. Excellent spirit is at work in me. I am strong and mighty in the lord, full of wisdom and understanding