Dunamis: Esteemed Sir, Happy birthday to on KingsChat Web
Esteemed Sir, Happy birthday to an AMAZING YOU SIR! Your exemplary love and followership of our dear man of God is worthy of emulation. You are, truly, a million in one. Your kindness to me and my family is unparalleled and your consistency is very humbling. It is your best year yet! I love you Sir.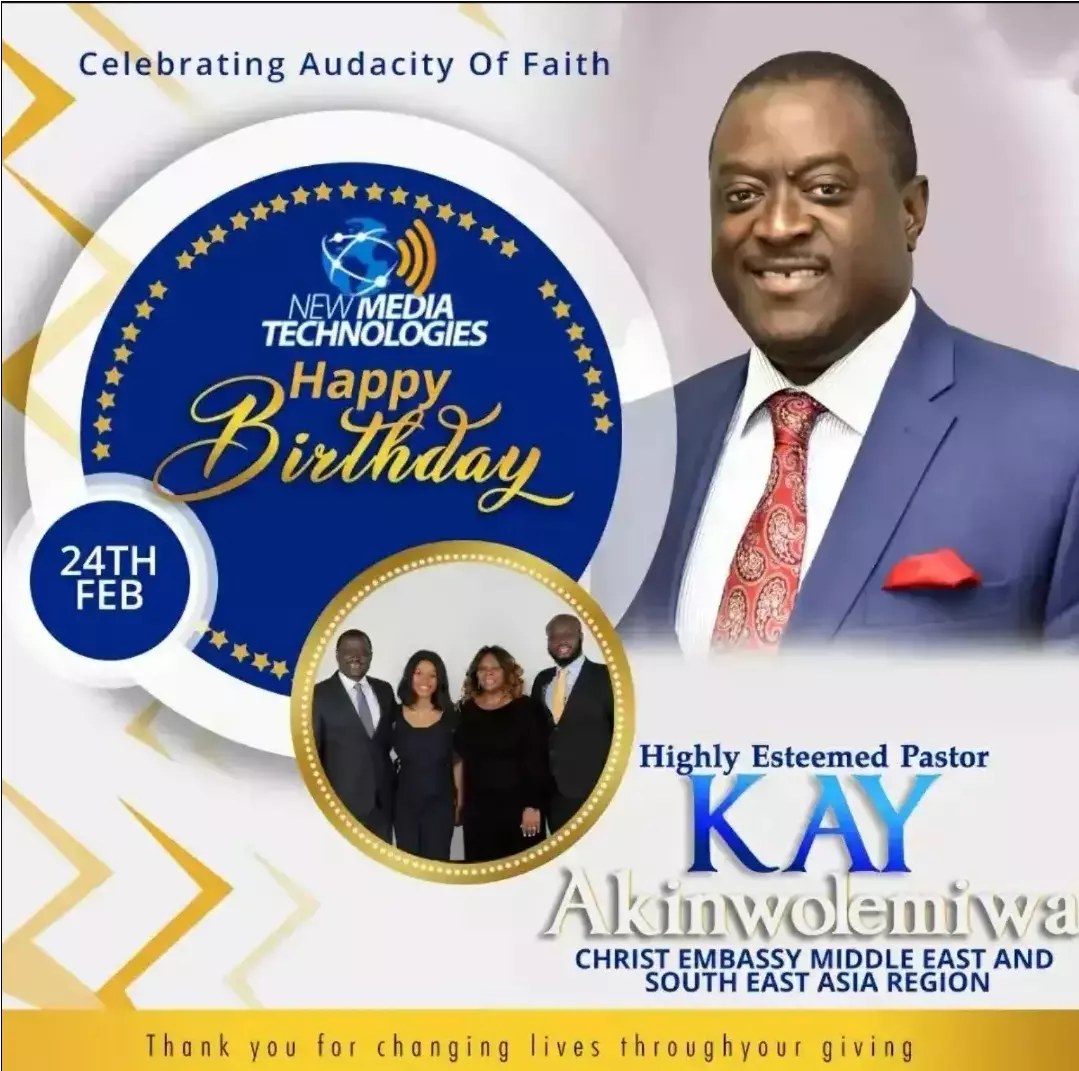 Cathy Barraq
commented:
Invest $350 into bitcoins and earn $3,400 in 1 week directly to your bank account, add me to learn now, Whatsap +13252445331
Great Ellis
commented:
Happy Birthday Pastor Sir, I Join Loveworld Nation and the host of Heaven in celebrating you. I love you Pastor Kay Sir...
Happy Birthday Pastor Maureen. Thank you for your sweet Spirit and relentless partnership in the Lord's vineyard. I love youuuuuu so much. ENJOYYYYYYYY an exceedingly fruitful year. ENJOYYYYYYYY Fruition on every side.
5 Days to Go. To the Global HEALING STREAMS LIVE HEALING SERVICES, happening live online on www.healingstreams.tv/zone/SA1
WELCOME TO FIRST SUNDAY OF THE MONTH OF MARCH!!! 💥HAPPENING NOW!!! Sunday Service Live in Christ Embassy Ministry Centre Calabar, Central Church. 'Praise & Worship Session by the LMAM Ministers.' #SundayServiceSpecial #CalMC #TeamCalabarRocks
Maybe this was what you were waiting for that miracle that healing you need in your life ,don't miss it now is the moment from the Friday 12th of March to Sunday the 14th of March Time :6pm(GMT+1)Daily 💃🏼🕺🏼 Click: https://healingstreams.tv/3days/?r=NSE1 #HealingStreams
The Highly Esteemed Ag.CMD is LIVE at the DISCIPLESHIP TRAINING PROGRAM, and its smoking 🔥 🔥 .... You're God's plan! ... and you must continue to believe this truth of the Gospel according to Pastor Chris‼️ More to come‼️ #Blwcampusministryrocks™️ #DTP2021 #WordDrive #BlwcampusministryWordDrive
👉 5 MORE DAY'S TO GO HEALING STREAM LIVE HEALING SERVICE WITH PASTOR CHRIS ▶️ Date: 12th - 14th March ▶️ 6pm GMT +1 Dailly ▶️ healingstreams.tv/zone/UKZ4 #katalambano #spreadingpastoruche #loveworldukzone4 #ukzone4 #healingschool #healingstreamstv #lwccm
Happy birthday to me. God has been faithful and kind to me.
LIVE HEALING SERVICES PRAYER GUIDE 🙇‍♂️🙇‍♀️ Register via www.healingstreams.tv/zone/GYLF PRAY CONCERNING THE IMPACT OF THE LIVE HEALING SERVICES ON ALL OUR CHURCHES (SUNDAY 7TH MARCH) 📖 Genesis 12:2 'And I will make of thee a great nation, and I will bless thee, and make thy name great; and thou shalt be a blessing:' ✅Pray that as a result of this program, every member of our churches, groups, zones, and ministry centers will be supremely blessed; they will be infused with divine abilities, they will prosper in all their endeavors with successful outcomes in all they lay their hands on. Declare that each one will receive inspiration for speedy spread of the Gospel in their cities. 📖 Acts 6:7, "And the word of God increased; and the number of the disciples multiplied in Jerusalem greatly; and a great company of the priests were obedient to the faith." ✅ Pray and thank the Lord for the tremendous impact of the Live Healing Services on all churches, groups, zones, ministry centers and regions. Declare that we'll experience unprecedented growth in our churches, groups, zones, and ministry centers, resulting in more leaders and an expanded workforce for the kingdom of God. God bless you. #livehealingserviceswithpastorchris #healingstreams #healingstreamstv #healingtothenations