LoveWorld-XP: Happy Wedding Anniversary Esteemed Pastors on KingsChat Web
Happy Wedding Anniversary Esteemed Pastors Ambrose & Dupe Isesele. We Love You Dearly.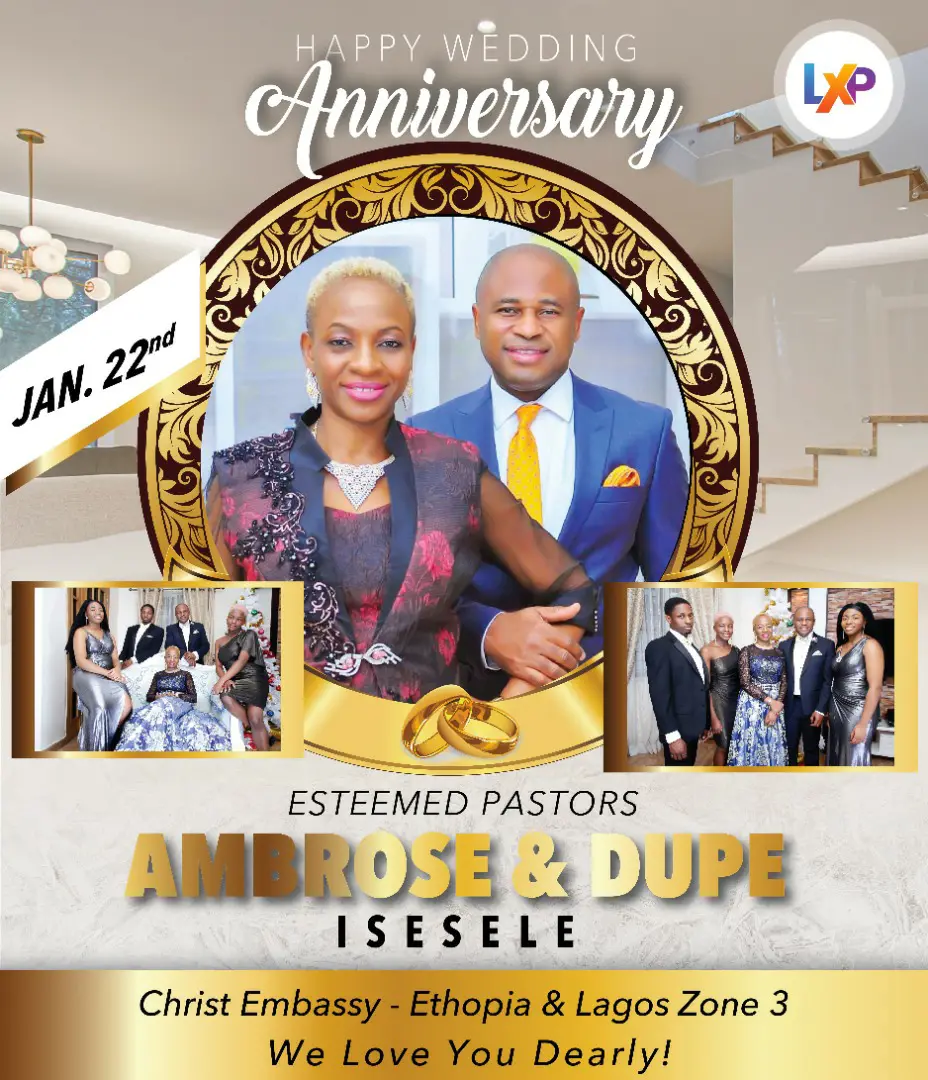 Matete4Christ
commented:
Happy wedding anniversary to my dear Father and Mother, your Union has produce fruits unto righteousness and blessed men all around the world. I love you wholeheartedly my Pastor sir and Pastor ma.
Bob Amegadzie
commented:
Congratulations on your wedding anniversary. Keep going strong. God bless you.
Congratulations To Our 4th Runnerup; Zone A4 For Their Attendance In The Haven Daily Global Morning Prayers today. #TheHavenNation
*Everything was made from preexisting materials. In reality, nothing is new in the world; 'new things' are just new designs of what already existed. What we own was once not ours and will once not be ours. While we have them, we must use them for the right purposes.
💙THE CELZ3 STAFF COMMUNITY CELEBRATES GOD'S PERFECT LOVE💙 HAPPY WEDDING ANNIVERSARY TO OUR BELOVED PASTORS, ESTEEMED PASTOR AMBROSE & PASTOR DUPE ISESELE. THANK YOU FOR POURING YOURSELVES SELFLESSLY INTO OUR LIVES. WE LOVE YOU SO MUCH SIR & MA.💙 #Perfectunion #Celz3 #Theyearofpreparation
https://enterthehealingschool.org/cyberchurch/ #hscyberchurch #healingtothenation
Congratulations To Our 3rd Runnerup; Zone E7 For Their Attendance In The Haven Daily Global Morning Prayers today. #TheHavenNation
Congratulations To Our 2nd Runnerup; Zone A1 For Their Attendance In The Haven Daily Global Morning Prayers today. #TheHavenNation
Nature of Perfection see next post
https://enterthehealingschool.org/cyberchurch/ #hscyberchurch #healingtothenation