Ptadzworld: Happy birthday to my precious on KingsChat Web
Happy birthday to my precious daughter of inestimable valuable - PASTOR SHEKINAH CHRIS Excellent in good works, gracious in helping others, benevolent with subordinates and esteeming your colleagues better than yourself. No truer and devoted follower and disciple through thick and thin you have stood by me and mine. May you always never have any reason to fear for the future or despair of His intentions and perfect will. I thank our God for gifting you to us more than 2 decades now. May our Lord reward your labour of love lavishly, honor you publicly and prosper you in all your ways. May your days be filled with great peace, joy and gladness. May you this new year experience deeper fellowship with Him who matters the most, greater grace, a 1000 times greater accomplishments in all your endeavours. Have a glorious year of Lights and the next decade filled with amazing surprises from the Lord. I love you dearly!💝👑🥰😘😍🙌 Momma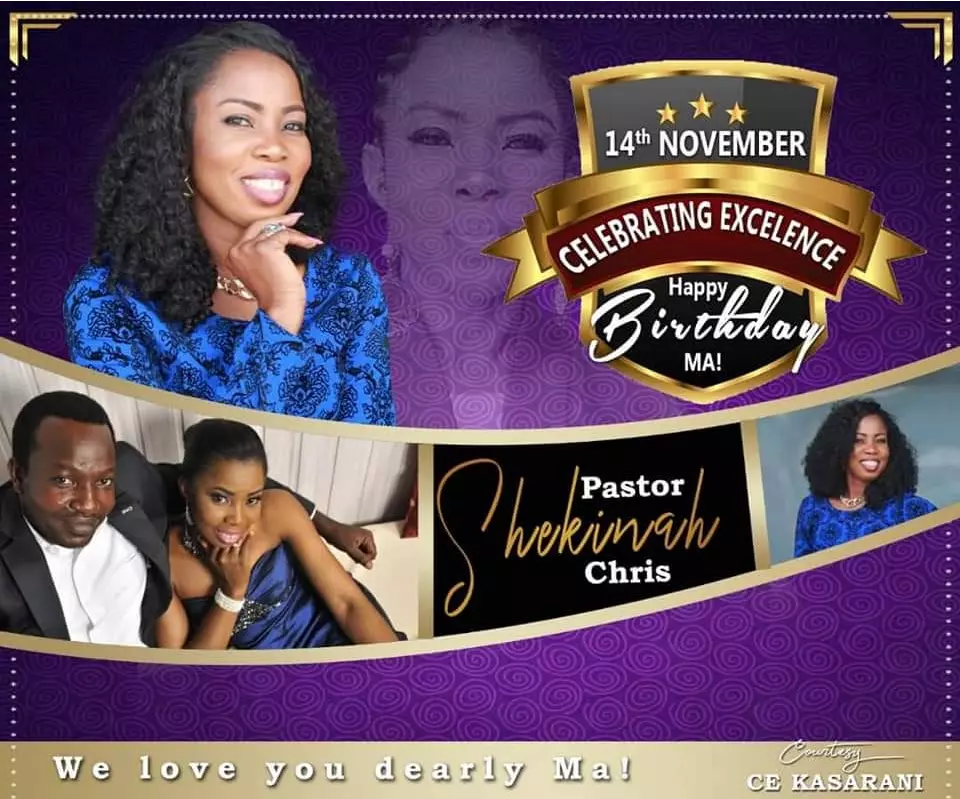 We say a big thank you to the Highly Esteemed Evang (Dr.) Eddy Owase (The number one sponsor of the 2019 IEYC with Pastor Chris) for visiting our stand today. Thank you sir for your valued partnership. #GYLF
HAPPY WEDDING ANNIVERSARY REV. TOM AND PASTOR JOY AMENKHIENAN... WE CELEBRATE YOU!!!
STILL IN THE NEWS ~ THIS SATURDAY @ 10:00AM THE CELEBRATION COMES HOME Thank You @LoveworldNews For Noising Our Victory Abroad The Scepter Has Come Home Glory Be To God! It's Gonna Be A Glorious Celebration @ ZPPC, You Don't Wonna Miss It! Register @ www.celvz.org/zppc now!!! #CELVZ #TopPartneringChurch #TopPartneringZone #LoveworldAwards
HAVE YOU SEEN LAST SUNDAY'S EPISODE? "IS CHRISTIANITY A RELIGION?" A VERY INSIGHTFUL DISCUSSION WITH PASTOR @IKENNANWOKEM. BE A PART OF A CONVERSATION. GO TO PHYLLIS TV/YOUTUBE AND WATCH THE EPISODE OR CLICK THE LINK BELOW https://youtu.be/iS16kT7rIy4
Thank You Holy Spirit!!!! I truly Love my life and my fellowship with you in the wee hours of the morning.
Thank you Pastor Chris, our Founder, Leader and Shepherd for answering the call on your life to preach the Gospel.
HAPPY BIRTHDAY DEAR ESTEEMED PASTOR MARIS OSEMEKA. We love you dearly. #CEPHZONE3
Are you ready for the event of the year? This Sunday 24th November 2019, the UKZ1 Awards 2019 will hold at 3pm sharp... Put on your best and come and join in on the celebrations!
My life has moved from Glory to Glory, our Messenger Angel has opened the spiritual eyes to the mystery of the Gospel.