🇺🇸It's 5 Days to Go - ZONAL RHAPATHON WITH THE HIGHLY ESTEEMED PASTOR ALOY 🇺🇸 We are set to break every record as we celebrate the #1 devotional in the whole world - Rhapsody of Realities. In Preparing with the Word, we're set to sponsor and distribute the messenger angel to over 1 million souls all around the world. TIME: 6:00PM & 10:00AM EST DATE: March 5th - March 6th Join Us 👉 http://bit.ly/myvirtualchurch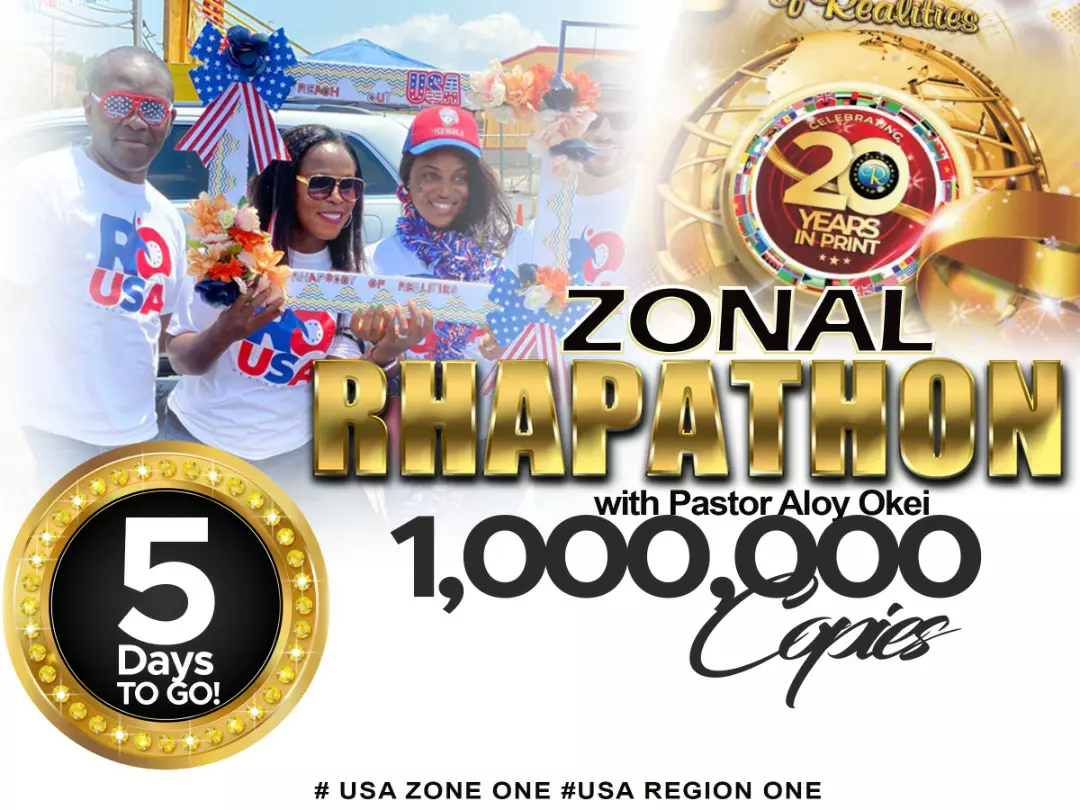 Pastor Elise
commented:
promo...promo...promo... cryptochin...fx trading..Why sleeping why others are making billions of dollars💴💵💶? This is an online investment which help us to earn more profit in a given period of time. by investing amount of money or bitcoin, to be traded on in the international market with the use of Auxiliary computers and software, using strategy to win profits. With the minimum investment of $300 you can get profits of about $3,000+ with my fast and trusted platform ... $300 to get $3,000 weekly. $400 to get $4,000 weekly. $500 to get $5,000 weekly. $600 to get $6,000 weekly. $800 to get $8,000 weekly. $900 to get $9,000 weekly. $1000 to get $10,000 weekly. DM me on WhatsAp.... +1(231) 335-1054 +1(231) 335-1054 for more info if you are interested.
Pastor Kaycee CE Washington DC
commented:
Yes!🙌🏽. Rhapsody of Realities is #1 and we are set to do more in spreading Jesus and spreading life and joy! Glory!
Cathy Barraq
commented:
Invest $350 into bitcoins and earn $3,400 in 1 week directly to your bank account, add me to learn now, Whatsap +13252445331
Celebrating a gospel activist. Count up. #PEU33 #PastorEkele #TheHavenNation #TheHavenZoneE4 #AsOneMan
CELEBRATING THE ESTEEMED BRO JOE AND SIS UCHE AREGHAN🎉 Happy Wedding Anniversary dear Bro Joe and Sis Uche Areghan. Your home is blessed with the best, flowing forth with God's unequivocal love, peace and prosperity. Joy unspeakable is yours as you hinge your life on the Word. Your children are the fairest in the land and stand tall amongst their peers. Keep radiating the glory of the Lord and displaying his eternal verities. We love and celebrate you. Happy Wedding Anniversary🎉🎉🎉  #CEMCAbuja
Few minutes to go... YOUR LOVEWORLD SEASON 3 PHASE 2 WITH PASTOR CHRIS! Get ready for more extraordinary times of Prayer & an Exposé on God's word with our dear Man of God on Your LoveWorld Live broadcasts. ✓ Invite someone to participate with you by using your unique church link. ✓ Share this information to with your contacts across all platforms. 📅Date: Monday, 1st to Friday, 5th March, 2021. 🕒Time: 7:00pm GMT+1 daily. Don't miss out on this awesome opportunity and be expectant! God bless you! #Yourloveworldspecials #YourLoveWorldSeason3Phase2 #2021YearofPreparation #CELZ5
Happy Wedding anniversary Esteemed Pastor and Sister.Akasili. Thank you for all you do in ministry. We love and appreciate you greatly
Happening life and direct from Barking Church United Kingdom Dcn Ortega Ekiugbo Candle light service Vivian Ekinodo and Dcn Uzezi Ekinodo in attendance
🚨🚨WORD DRIVE SHORT SERIES📢 Watch & enjoy the first episode of "The Chronicles of Bob's Girlfriend" Episode 1: Ranting To God Be on the lookout for more episodes 😃🤩 https://pastorchrisdigitallibrary.org/worddrive/lwsazonec #WordDrive #Blwcampusministryrocks™️ #Pcdl #blwsazonec
3 days to go.... March 4 to 6 Issa goal! Get reaaaaaddddyyy! #itplc2020 #itplciyc #LwTeensMinistry #cemidwestzone
#februarycellministryoutreach #sazone1 #cellministry #5bsoulsinfocus #100koutreaches
Do you know your centre yet? 3 days to go.... March 4 to 6 2021... issa goal! Get reaaaaaddddyyy! #itplc2020 #itplciyc #LwTeensMinistry #cemidwestzone