#ENECZONE ZONAL ALL MEMBERS PRAYERS SUNDAY, JANUARY 17TH 2021. PRAYER TIME ⏲️ 10:00 - 10:30PM. PRAYER POINT 📖 1 Timothy 2:1-4 says I exhort, therefore, that, first of all, supplications, prayers, intercessions, and giving of thanks, be made for all men; for kings, and for all that are in authority; that we may lead a quiet and peaceable life in all godliness and honesty. For this is good and acceptable in the sight of God our Saviour; Who will have all men to be saved, and to come unto the knowledge of the truth. 🛑 Pray for all men, and particularly for the saints of Christ around the world, that they will continually go for the Word, and come to the full knowledge of God's truth, living the Word and manifesting His glory everywhere, causing many more to be drawn to the Lord 📖 Acts 6:7 And the word of God increased; and the number of the disciples multiplied in Jerusalem greatly; and a great company of the priests were obedient to the faith. 🛑 Pray for every member of the Zone that our hearts and minds are focused on the goal of soulwinning and the sponsorship of the Gospel. Our eyes are fixed on this goal and every member sees themselves as a vital part of this vision . 🛑 Pray and declare that we have consistent increase in our cell meeting attendance and cell membership. Declare every first timer in our meetings see themselves as members of Christ Embassy and they remain with us: learning the Word of God and serving the Lord with joy 📖 Colossians 4:12 Epaphras, who is one of you, a servant of Christ, saluteth you, always labouring fervently for you in prayers, that ye may stand perfect and complete in all the will of God. 🛑 Pray for our brethren, that they would stand perfect and complete in all the will of God, each one serving God with all their hearts, standing strong in health, in faith and in prosperity, and excelling in the things that God has called us to do. Declare that none of our members are feeble or idle but they are vibrant, productive, bold, courageous, full of the Spirit and abounding in the work of the Lord. #prayingnow #iamapriestinoffice #prayer #enter2021withpastorchris #global #eneczone #edo #seregion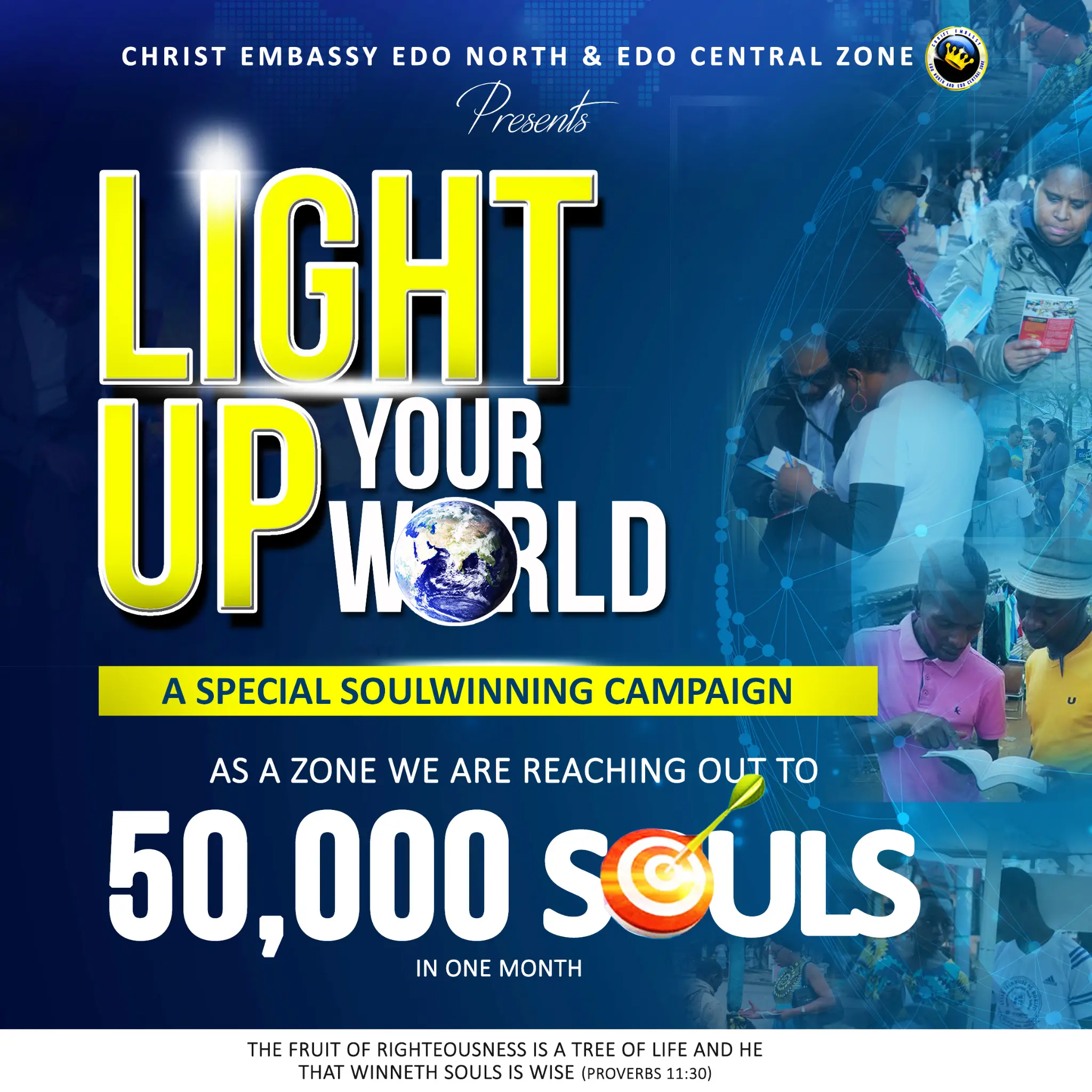 GATEWAY OF HOPE TODAY'S VERSE "I will – transform the Valley of Trouble into a gateway of hope." Hosea 2:15 (NLT) TODAY'S THOUGHT We have our valleys of trouble don't we. In this particular passage the troubles were self inflicted. How many times have we participated in our own downfall? And yet, God's mercies are not shaken. Instead, He turns our valley of trouble into a gateway of hope. What a beautiful metaphor. A gateway is an escape from trouble and at the same time a doorway to hope. Isn't that how God works? He takes our smallest step toward escape and turns it into a new direction. Today, no matter what trouble you have, no matter how hopeless it seems, God wants to give you a gateway of hope. You may be in a deep, deep valley of trouble, but today God wants to turn it into a gateway of hope. Come and let Him transform your trouble. TODAY'S PRAYER Dear Father, nobody knows the trouble I have. Only You do. And You have said that You would transform my valley of troubles into a gateway of hope. How I need that transformation. Work in my heart now, dear Lord. Show me the gateway of hope that I may enter it and find the peace, joy and rest I have been looking for. AMEN TODAY'S AFFIRMATION & MEDITATION I have HOPE today As you quiet your self before God, ask Him to fill your heart with hope. Picture yourself on top of a hill looking into the valley below. Troubles are everywhere, but as you meditate on God's love and power, you can see the trouble begin to dissipate. You see a gate and a path leading out of the valley to a land of hope. Go to that gateway and walk through. As you see yourself go through the gateway, sense the transformation from trouble to hope. Let joy well up in your heart and say out loud, "I have hope today. Hope in God almighty." 😊❤
Glorious Sunday Service CE TAMALE 2 #ACCRAGHANAZONE #CETAMALE2
SPECIAL MOMENTS WITH PASTOR MIKE #morepictrialhighlights THE ATTENTION Brethren listening with wrapt attention to the word. Seeking to get every bit of it. Glory! Glory!! Glory!!! #specialmomentswithpastormike #blwzoneh #zonehighest #blwcampusministryrocks
Spirit in motion! Thank you our highly esteemed Rev Chris Oyakhilome Ph.D, for this great program. It's a whole new level. Glory!!! #aheadshipconvention #aheadship2021 #yearofpreparation #abujazone #graceliveshere #kubwagroup
Are you serving God with a perfect and willing heart? Will You stop to do what He has called You to do because of what people say or think about You? All that matters is what God says and thinks about You. Serve HİM with your life.
#8dom #2021YearofPreparation #cesazoneE2 #cekemptonparkgroup #cesasolburg
#kubwa1 #aheadshipconvention #aheadship2021 #yearofpreparation #abujazone #graceliveshere
#KeepSayingIt #1871 I glorify Christ and celebrate my identity with Him. I proudly confess and acknowledge the Lord before men and rejoice in my association with God's saints. My inextricable oneness with the Lord is the greatest blessing of my life; and I declare my unwavering allegiance to Christ, His Church and the spread of the Gospel, forever. I am one with divinity and I have eternal life coursing through my being, as a result of this oneness. Therefore, no sickness, diseases or infirmity can stay in my body. I'm living a successful, healthy and victorious life because I'm one with God's Spirit and death has no association with me in the Mighty Name of Jesus! Amen.
Happy Birthday To My Shining Star!! The Perfection Of God's Beauty And Glory!! The Righteousness Of God in Christ Jesus!!! The Best Of The Best!!! Ur Life Is Beautiful. Words Are Not Enough To Appreciate God For Ur Life! God Bless And Keep U Always!! We Love And Cherish U Loads!!