HAPPY BIRTHDAY PASTOR MA #CESILUKOMODEL GROUP CELEBRATE A BURNING AND A SHINNING LIGHT. WE LOVE YOU DEARLY AND CELEBRATE YOU ON THIS SPECIAL DAY. HAPPY BIRTHDAY PASTOR MA FROM ALL THE SAINTS IN #SILUKOMODEL GROUP #PMO519 #PMO #P519 #CEMIDWESTZONE #IAMALLFORPMO519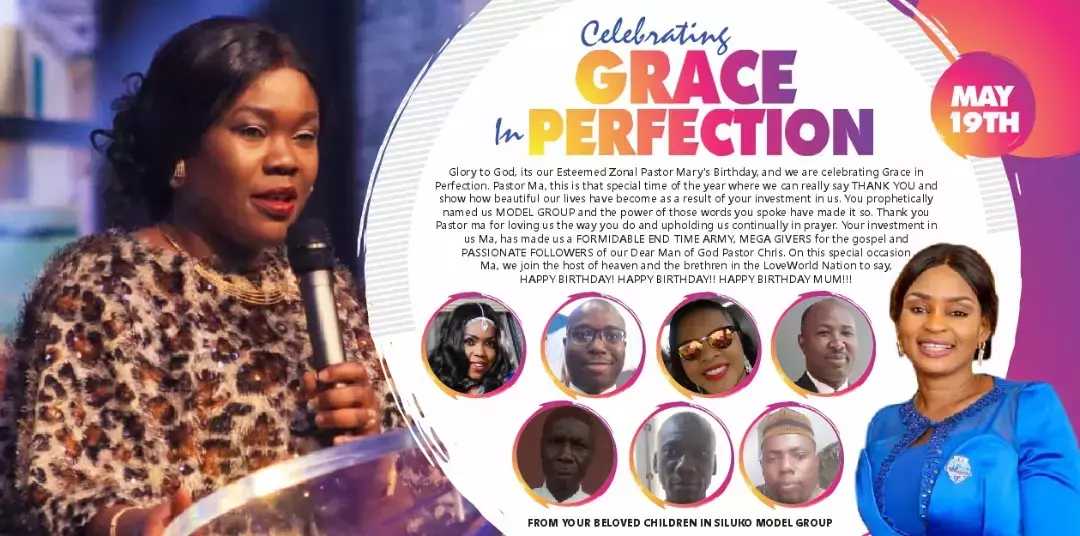 Solomon Doris
commented:
Happy birthday to our unique highly esteemed Zonal Pastor. We love you Ma.
Faith Iyamu
commented:
Happy birthday pastor... We love you
Happy Birthday dear Dcns Vanessa! Keep shining. I love you!
WoW ! It's Day 16 of the #WordFest 👉 Watch today's message: 7 VIRTUES FOR PERSISTENT PRODUCTIVITY by logging on to https://pastorchrisdigitallibrary.org/wordfest/ceukz3dsp 👉 Follow today's study guidelines using the week 3 study manual, available at bit.ly/pcdlwordfest2020digestweek3 👉 Use the link below to create your own avatar after completion of today's study http://pcdl.link/wordfest/avatar 👉 Post your unique avatar on Kingschat and share testimonials using the hashtags #wordfest #wordfest2020 #wordatwork #DSPUKZone3 👉 Click on the link to take the test for Day 15 https://bit.ly/2Tim0IK 👉 Encourage atleast one friend to join in. #wordfest #wordfest2020 #wordatwork #dspukzone
SONS OF CONSOLATION!!! #ceaccraghanazone #havenZoneE6
Happy birthday dearest Super Mom.The Esteemed Zonal Pastor CE Mid West Zone, Pastor Mary Owase.Thank you for the several impartation of Grace upon our lives.We love you greatly. #PMO519 #CelebratingPerfectionInGrace #IamallforPMO519 #cemidwestzone #lwteensministry #ceekpanreal
HAPPY BIRTHDAY PASTOR MA #CESILUKOMODEL GROUP CELEBRATE A BURNING AND A SHINNING LIGHT. WE LOVE YOU DEARLY AND CELEBRATE YOU ON THIS SPECIAL DAY. HAPPY BIRTHDAY PASTOR MA FROM ALL THE SAINTS IN #SILUKOMODEL GROUP #PMO519 #PMO #P519 #CEMIDWESTZONE #IAMALLFORPMO519
OkeiraNla Early morning prayer
On this special day,we join the host of heaven and our beloved nation and Christ embassy Deco church to celebrate our dear zonal pastor. We celebrate your labour of Love, Care and absolute dedication to the vision of our man of God.
Celebrating my Highly Esteemed Zonal Pastor, a woman full of love,faith,grace &deep convictions about this gospel. Always showing us the how in words and actions.I love you Ma. #PMO519 #CelebratingPerfectionInGrace #IamallforPMO519 #cemidwestzone #cewarrisouth #ceekpanreal