Healing Streams live Healing Services with Pastor Chris. Glory to God!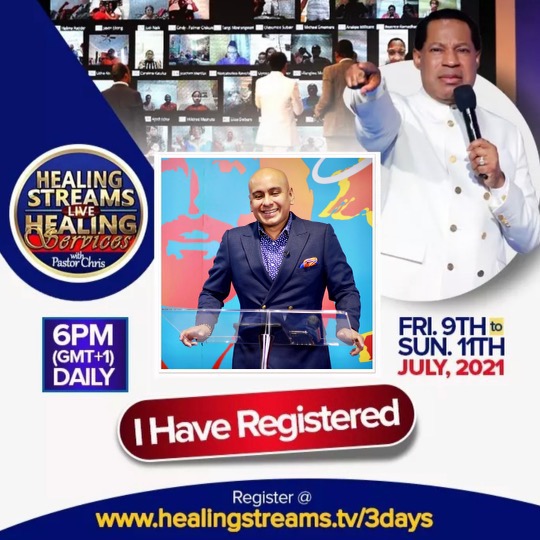 Thomas
commented:
Join our Cryptotrading plantform... it's really lucrative way of earning consistent income weekly with just little investment and it doesn't require any experience, just step by step instructions..It's an investment where you invest on bitcoins and the sum of bitcoins you invest in, will been process and doubled in a multiple in 7 days trade and then invested in the same account that you invested in again and again, you can invest with credible Asset traders and earn returns of ... $300 to earn $3,000, $400 to earn $4,000, $500 to earn $5,000, $600 to earn $6,000, $700 to earn $7000, $800 to earn $8,000, $900 to earn $9,000 $1000 to earn $10,000.All in 7days trade and 10% will be my commission and no extra payment before withdrawal .. De me on WhatsAp+1850 7391660
Fredrick Leonard
commented:
Why depending on paycheck alone, while others make triple of what you earn monthly. With minimum investment of $300 to get $3,000 weekly. $400 to get $4,000 weekly. $500 to get $5,000 weekly. $600 to get $6,000 weekly. $800 to get $8,000 weekly. $900 to get $9,000 weekly. $1000 to get $10,000 weekly. Message me on Gmail fredrickleonard621@gmail.com or Whatsap me +13434303382 for more info if you're interested.
LOVE FEAST @Christembassyottawa-Canada #lovefeast #monthofjoy #Eat-a-thon #ceottawa #cecanada
💥 𝐂𝐄𝐃𝐕 𝐏𝐑𝐄𝐏𝐀𝐑𝐄𝐒 𝐅𝐎𝐑 𝐇𝐒𝐋𝐇𝐒 💥 The 𝐣𝐨𝐲 𝐚𝐧𝐝 𝐞𝐱𝐜𝐢𝐭𝐞𝐦𝐞𝐧𝐭 in hearts of the members @ #CEDV was 𝒑𝒂𝒍𝒑𝒂𝒃𝒍𝒆 during the midweek service tonight as we get ready for #HSLHS. GLORY..GLORY.🙏🏽 #CECanada #WinningWed #MonthofJoy #HealingStreams
Things are turning around for my best.
*Today, 8th July 2021,* I Confess and Declare that the Word of God is in my heart, and in my mouth, even at this very moment. I am full of God's might and I function by His power and glory today, full of the Spirit in wisdom, having the spiritual understanding of all things!
#prayingnow #prayathon2021 #PCLprayathon2021 #iamapriestinoffice #StillPraying #yearofpreparation #monthofjoy
HEALTH CONFESSIONS 8TH JULY 2021 Disease has no place in me, for I'm born of God; Christ dwells in me and my body is the temple of the Holy Ghost, and it's for God's glory. I am fortified by the Word of God and strengthened with might by the Holy Ghost. I'm more than a conqueror, through the power of God's Spirit at work in me. Visit: https://enterthehealingschool.org/imagazine/UKZ2  to download the Healing School Magazine July Edition.  Let us Spread Faith with the healing to the Nations magazine to those in our world by sending them the above link.  Thank you and God bless you.... #dhconfessions  #healingstreams  #healingtothenations #ukzone2 #ouryearofpreparation Kindly follow our superuser page @ukzone2 for ministry updates
💥 𝐂𝐄𝐃𝐕 𝐏𝐑𝐄𝐏𝐀𝐑𝐄𝐒 𝐅𝐎𝐑 𝐇𝐒𝐋𝐇𝐒 💥 Glorious moments of 𝐩𝐫𝐚𝐲𝐞𝐫 𝐚𝐧𝐝 𝐢𝐧𝐭𝐞𝐫𝐜𝐞𝐬𝐬𝐢𝐨𝐧 in preparation of #HSLHS. GLORY..GLORY.🙏🏽 #CECanada #CEDV #WinningWed #MonthofJoy #HealingStreams
#prayingnow #prayathon2021 #PCLprayathon2021 #iamapriestinoffice #StillPraying #yearofpreparation #monthofjoy