Pst Kola: See His Glory, see His on KingsChat Web
See His Glory, see His Glory come #nobsagbama2019 #TLB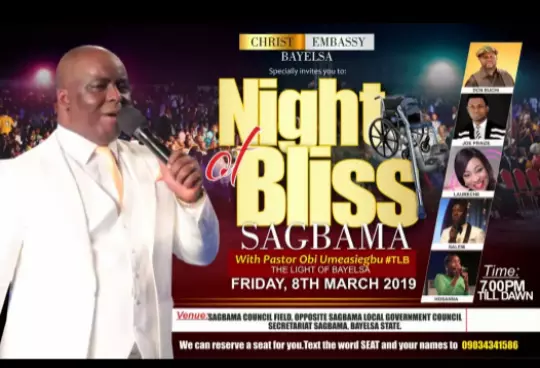 Pst Kola
commented:
#nobsagbama2019 #TLB
It's Night of Bliss Special with our Esteemed Zonal Director on the 22nd of Feb at LAA. I Can't Keep Calm #NOBSPECIALWITHPBL #CeAccraGhanaZone
Happy birthday...............Pastor.....
God's Eternal Plan is unveiled to men... #nobsagbama2019 #TLB
Happy birthday Dear pastor Femi: You have made our lives beautiful by the Word of God you have been teaching us at CE KITCHENER, therefore I just want to say happy glorious birthday. I love you dearly
Thank you very much l, Pastor for making us lifegiving SPIRIT.
#NOBSPECIALWITHPBL #CeAccraGhanaZone Attendance Confirmed
https://www.kingsch.at/p/RTcvVHl
We are Super excited about this very Special All Night on the 22nd of Feb at LAA. Our lives will never be the same again. Glloorryyy