ABUJA MINISTRY CENTRE : HAPPY WEDDING ANNIVERSARY TO A on KingsChat Web
HAPPY WEDDING ANNIVERSARY TO A VERY INSPIRING COUPLE- THE HIGHLY ESTEEMED PASTOR LANRE AND PASTOR OMOH ALABI Thank you for the life of Service and dedication which you lead and for being an inspiration to many around the world. Your passion and commitment to the Ministry is a testament of your love for the Lord and your union will continually bring God glory and honour. Continue to flourish in the courts of our God as you abound in every good work. We love and celebrate you. Happy Wedding Anniversary.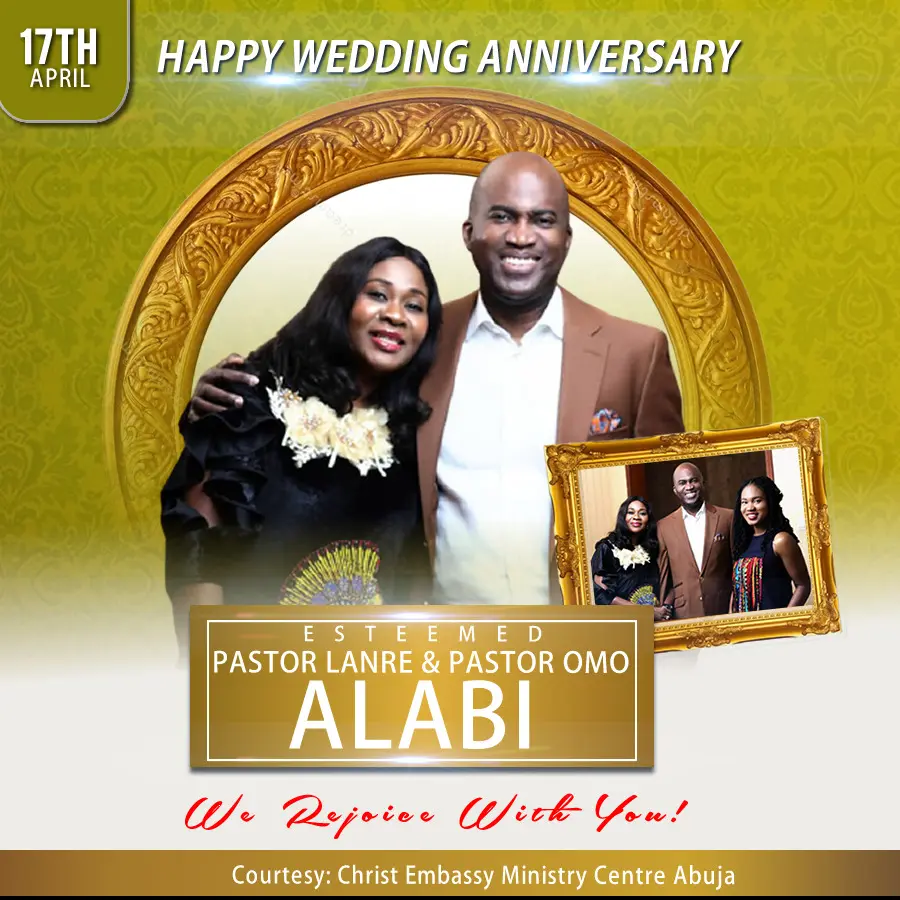 Pastor Yemi Jimoh
commented:
Happy wedding anniversary esteemed Pastors sir and ma. Thank you for being a huge blessing to me. I love you dearly.
Uju Miracle
commented:
Happy Wedding Anniversary Esteemed Pastors Sir and Ma.
Prayer of Salvation at Berne and 3 years ago he phoned to Pastor Erika, that he was instantly healed from alcoholic problems and his live goes up every day in a quick way like never before. Thank God for His unique GRACE.
Wanna get into the Crypto Space ? Now is the Perfect Time! Kick Start Your Own Business With Bitdeal. https://www.bitdeal.net/
Ce Itsoseng on ROR Reachout in Bodibe village sharing and winning souls for Jesus! (10 souls won, promised to attend service tomorrow. Glory to God!
Congratulations Pastor Ma! My highly esteemed Group Pastor! @pgo
#prayingnow #Australia #truth ALL restrictions to the Gospel are cut off!!! The church is marching on...
Sky Sports Recap: A new way to watch live F1 https://www.skysports.com/f1/news/12040/12277919/formula-1-live-highlights-sky-sports-recap-on-sky-q-never-miss-a-moment-of-the-big-action
Abraham's Chelsea future uncertain after FA Cup SF snub Tammy Abraham's Chelsea future looks increasingly uncertain after he was left out of the squad for the FA Cup semi-final against Manchester City on Saturday. https://www.skysports.com/football/news/12040/12277987/tammy-abraham-chelsea-striker-misses-man-city-fa-cup-semi-final-clash
The billionaire nightclub mogul who became a boxer The problem with being a billionaire nightclub owner whose friends are A-listers? Somewhere along the way, you lose yourself. When the party ends, everybody goes home and you are left alone. In some ways, you were always alone. https://www.skysports.com/boxing/news/12040/12275970/joe-fournier-is-the-billionaire-who-makes-his-boxing-return-i-enjoy-the-razzmatazz-but-its-a-lot-deeper-than-that
HAPPY WEDDING ANNIVERSARY SIR & MA! 💃💃💃💃💃💃💃 We celebrate the Highly Esteemed Pastors Lanre and Omoh Alabi on your wedding anniversary, may God continue to bless your union with unending bliss, laughter, peace, and love. We wish you many more perfect years full of joy till Rapture....🎊🎉🎊🎉🎊🎉🎊🎉 #EndChildPovertyNow #EveryChildIsYourChild
#HappeningNow! THE 'HOW TO BE A SUCCESS FOR JESUS' SHOW IS ON! Live participation from South Africa 🇿🇦 Tune in now to www.gytv.tv or watch on the GYLF Mobile App. You will surely be inspired! #GYTV #GYLF