Happy Birthday Dear Sis Glory! A vibrant & effective member of our Noble Teens' Growth Group! The Bible declares concerning you in Psalms 82: 5: "I have said, ye are gods; and all of you are children of the most high". Glory to God! You have overcome the world, the devil, and it's corrupt systems, because you are born of God! The life of God in you has made you in invincible. Your life is not ordinary!l You are a product of God's Word! You are incorruptible! You are immortal! Your future is bright and prosperous! The world belongs to you! Happy Birthday from all of us! We love you so very dearly! #HappyBirthday #CENorthYork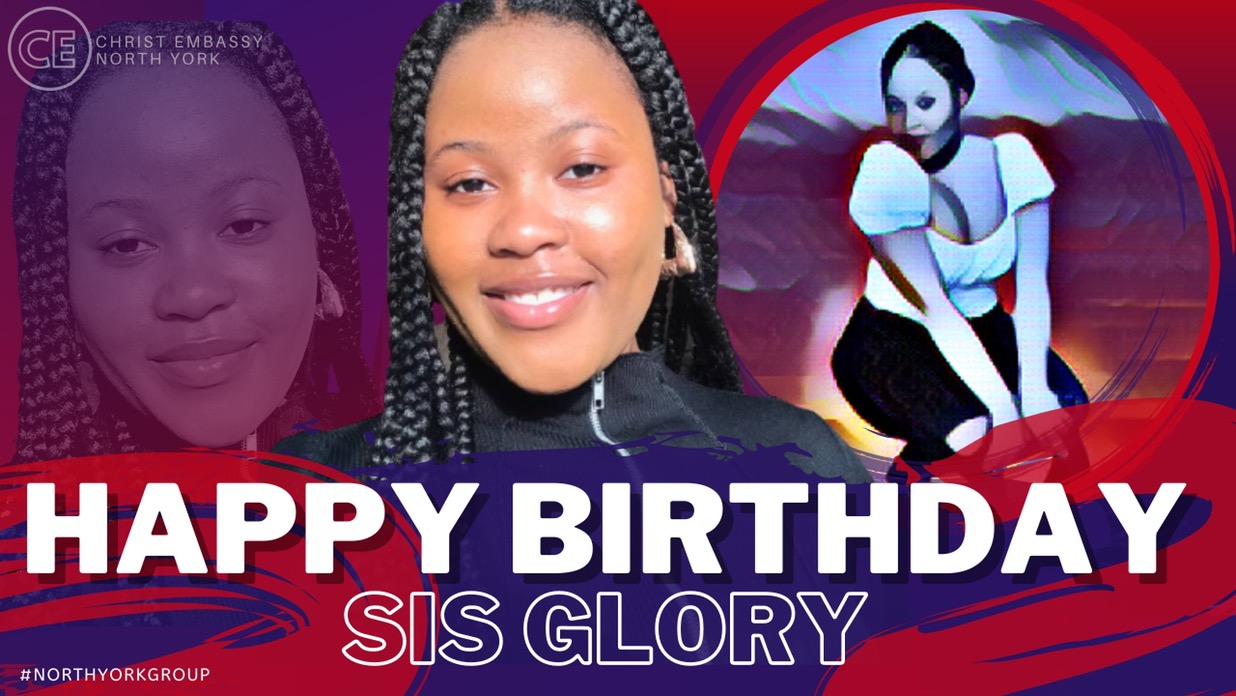 Pastor Benson avin izola
commented:
This is how it works..join our hfx crypto currency trading, winning is the best option.. our church members are benefiting from it 1. You set up your trading account. 2. You fund your trade account with your investment capital. 3. Once the whole process is done and account is set for trading you've  full access to your trading account and you can see everything yourself as the process are going. 4. You get your profit after upgrading process is done, the end of the days trade. 5. Clink on your withdrawal process on your account, when you choose to withdraw, your trading profit..Congratulations to everyone who benefited from my company yesterday @cryptochin. I still want more people to benefit. Ask me how. without sending money to anyone 100% legit..for more information contact me on WhatsAp +1 (740) 651-1971
Dcns Molly- Huios of God
commented:
Happy Birthday Sis Glory. You are blessed. I Thank God for your life. You are an overcommer. God Bless you. 🎂🎂🎂🎂🎂
Thomas
commented:
I have a business proposition for you... +18507391660 dm me on Whatsap if you are interested I will guide you through the process step by step instructions. No experience needed. $300 to earn $3000+ $500 to earn $5000+ $1000 to earn $10,000+ on weekly investment. Ask me how
Happiest birthday to you pastor sir thank you so much sir for all you do me thanks you sir for your words of knowledge for your Love for always inspiring me sir thanks for being a big part in my life I LOVE YOU SIR❤️🌹🥂 #pc318 #Teampc4ever #Blwfuo #Celebratingadepensationofgrace
If there's one snack you should definitely have in your list, it's these. Absolutely satisfying and flavourful. DM us or Call 08068022582 to order Bulk Home Cooked Meals, and for enquiries about Events and Bookings. #RavineuxCatering #KingschatRecommends #PastorChrisLive
💥Celebrating Perfection and The Loveworld Exceptionalism, Happy Birthday esteemed Pastor Elaine Obatulu (CE Toronto)!💥 Thank you for your unwavering commitment to the vision of our dear man of God and for your diligent and dedicated life of service in Ministry. Your labour of Love is greatly appreciated. We celebrate your impact in the Kingdom. We love you dearly. God bless you. #CECanadaBirthdays #CECanada
💥💥💥💥💥💥💥💥💥💥 It PC318 #PC318 #Teampc4ever #Blwfuo #CelebratingADispensationOfGrace
OUR SOURCE OF POWER PASTOR CHRIS OYAKHILOME But ye shall receive power, after that the Holy Ghost is come upon you: and ye shall be witnesses unto me both in Jerusalem, and in all Judaea, and in Samaria, and unto the uttermost part of the earth (Acts 1:8). Some people say, "A prayer-less Christian is a powerless Christian." But power doesn't come by prayer. In the New Testament, the word "power" is frequently translated from two words, namely: "dunamis" which is the dynamic ability to cause CHANGES and "exousia" which is authority. Jesus refers to power in our opening verse. You received it when the Holy Spirit came into your life; you didn't get it through the effect of prayer. On the other hand, "exousia" or authority means delegated power. The effect and the efficacy of authority depends on the power that's behind it. We've been given authority in Christ Jesus to tread on serpents and scorpions, and over all the power (ability) of the enemy (Luke 10:19). The "power" that's behind our authority is the power of the Almighty God. This, again, didn't come by or through prayer; it was bequeathed to us in Christ as our heritage. In Matthew 28:18, Jesus said, "...All power is given unto me in heaven and in earth." That word, "power" again is translated from the Greek word "exousia," authority. In the next verse He said, "Go ye therefore…." He delegated His authority to us immediately. Halleluiah! It's important for us to know what we have in Christ Jesus; we have authority in His Name! We have power to effect CHANGES and live the supernatural life every day. I would to God that Christians would know this! What impact and changes we'll make in the world! You're fully equipped with divine power to preach the Gospel and change the world! That power is in you through the Holy Spirit. CONFESSION The same Spirit that raised Christ from the dead dwells in me! Therefore, I triumph over circumstances! I walk in the supernatural, demonstrating the wisdom and character of the Holy Spirit, my sole source of power, strength, ability, and inspiration; He's made me a wonder to my world! Halleluiah!
Hurrrayy💃💃🥁🥁🎷🗣️🗣️ Enjoy amazing offers with Gold Subscription on PCDL for your unlimited access to the YOUR LOVEWORLD SPECIALS MASSAGES this March. Don't Miss It! To Purchase OR Renew your subscription plan, kindly Call any of these numbers +2347067963884, +2348167350565
I am fruitful and productive always, and at all times . Hallelujah. #eordfest #monthofchange #ceukzone3 DSP #cemitcham