LoveWorld SAT: BREAKING NEWS!!📢📢📢 Your LoveWorld Specials on KingsChat Web
BREAKING NEWS!!📢📢📢 Your LoveWorld Specials with Pastor Chris, [Season 3, Phase 2] kicks off on Monday, March 1st to Friday, March 5th. Showing Live on LoveWorldSAT. Spread The News and Don't Miss It For Anything! _ www.loveworldsat.org/live-tv _ #loveworldsat #loveworldnetworks #yourloveworld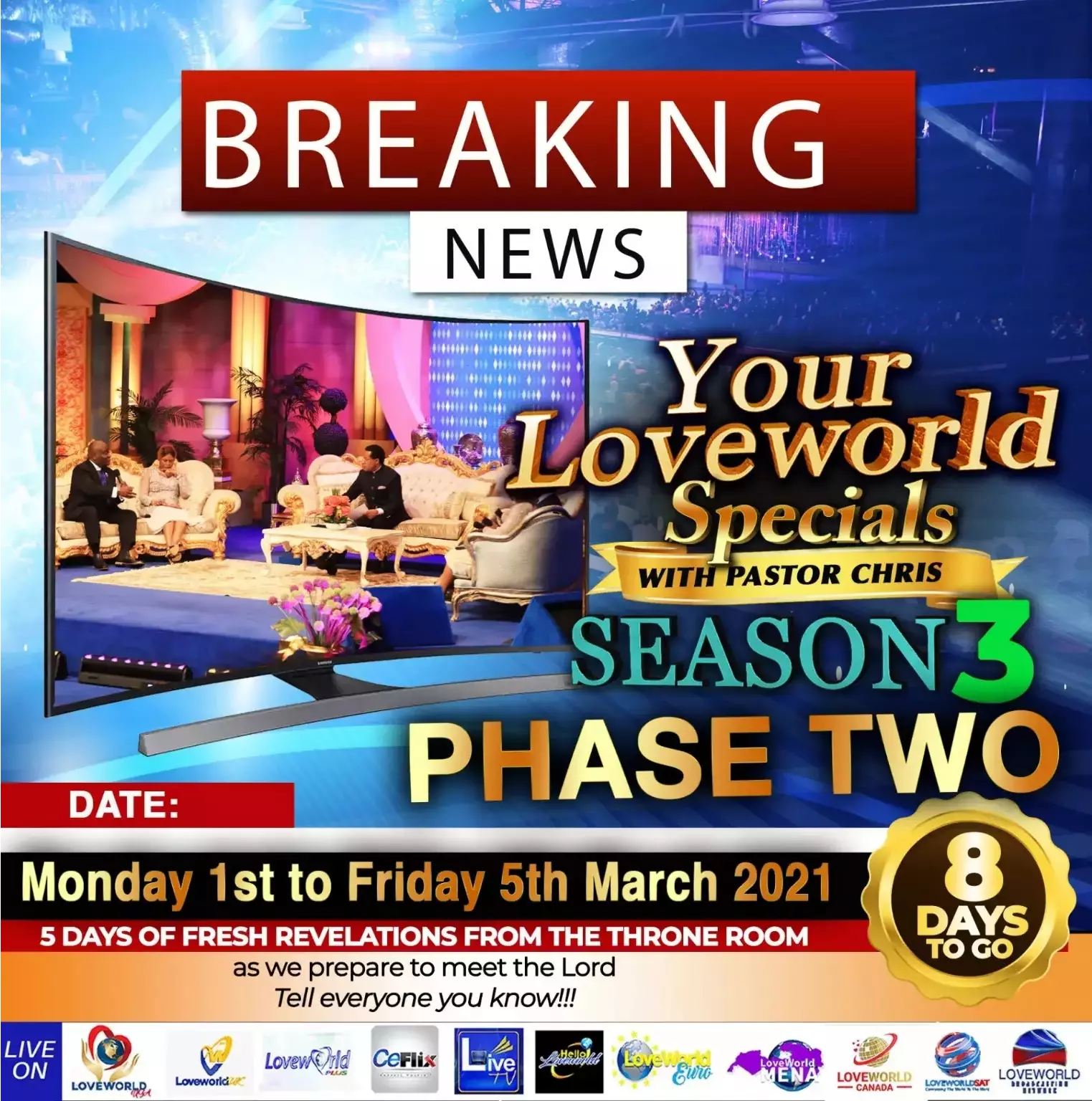 Mollen Victory
commented:
Gloryyy. Thank you God for the word you have prepared for us 👏👏
Sis Aku O
commented:
Glory!!!!¡ Can't wait. Thank You Lord 💞
5 DAYS OF FRESH REVELATIONS FROM THE THRONE ROOM! Tell the world! And get ready for Your Loveworld Specials Season 3 Phase TWO! 🙌🔥🙌 Tune in daily, LIVE on Hello Loveworld from Monday, 1st to Friday, 5th March 2021! 🌐 www.helloloveworld.tv 📱Hello Loveworld or LIVE TV mobile apps
Happy Birthday to a most amazing, most inspiring and most virtuous wife, a special Gift from God, Telling you how much I love you everyday is not enough but truly such days ,special days as the 22nd of Feb of every year gives me another glorious opportunity to say, I love you
The Rhapsody Online Prayer Conference 2021 February Edition is highly anticipated for the 'Month of Grace'.
On replay #WordDrive #cmworddrive #30daysofelevation #Pcdl #Blwcampusministryrocks #PastorChrisGeneration #blwukzonea
CE UGHELLI PRAYER DAY #prayingwithpastorchris #prayingnow #ceughelliprayerday #centralchurch1 #ceughelli #nsszone1
#lln24houronlineprayer made them more visible. I am pulling them down by the power of the HOLY SPIRIT 👏🙌