CE USA REGION 2: Loveworld Ladies Network & CE on KingsChat Web
Loveworld Ladies Network & CE Delaware, presents RECREATING YOUR WORLD Date: Saturday, 31st Of October Time: 7PM EST Learn how to recreate your world through God's Word... Glorrryyy!!! #CEUSAREGION2 #CEDelaware #LLN #LOVEWORLDLADIESNETWORK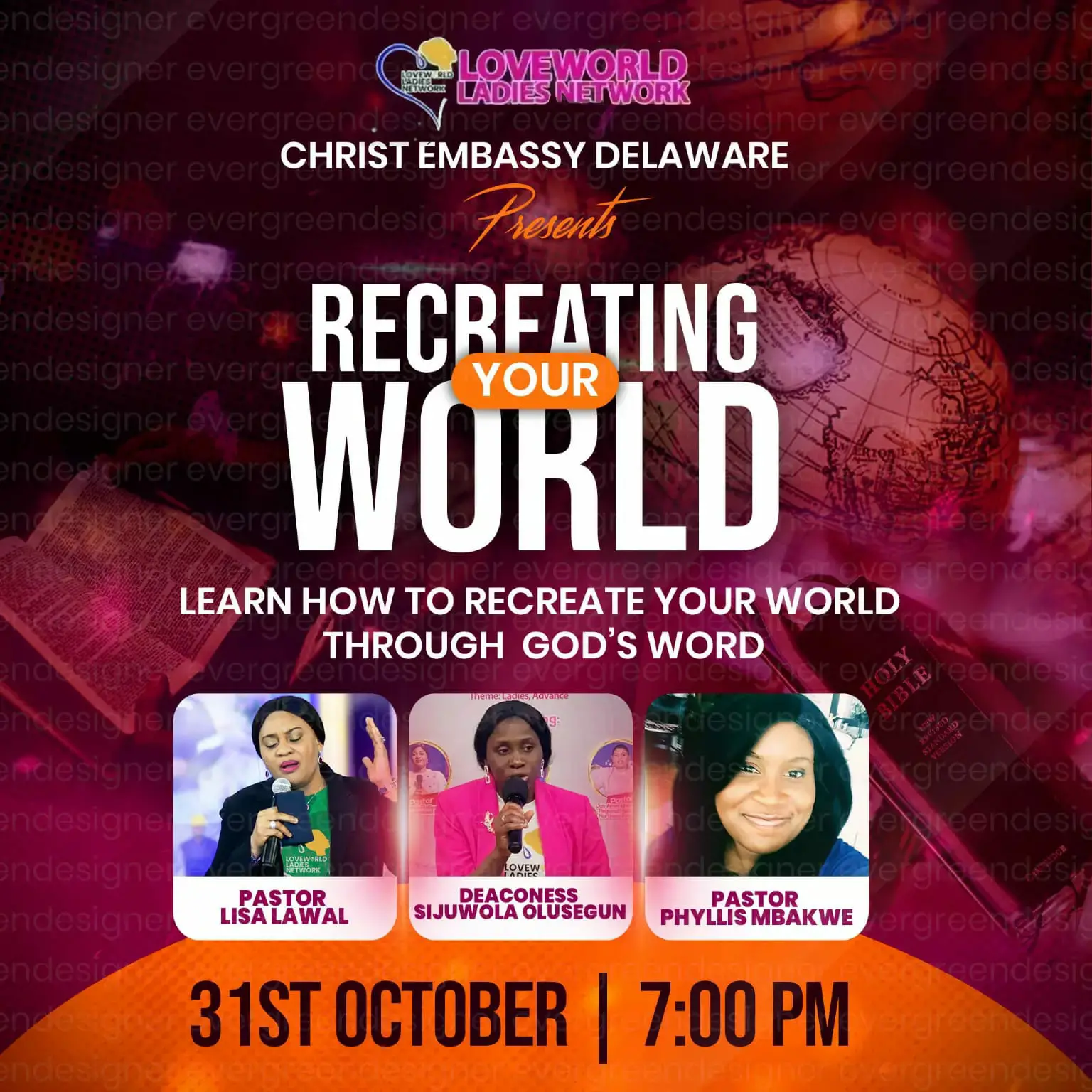 #HAGAR #DSPUKZONE3 #RORROAR2020 #CEBRACKNELL
#MYAFFIRMATIONSOFTRUTH The Lord hath heard my supplication, the Lord hath received my prayer. With God all things are possible no exceptions. It is impossible for God to lie.
Joy in the Holy Ghost #RoRROAR2020 #DSPUKZ32020
For this week #Art2Win I present to you my Pre make-up application skin tutorial #create2win #wincash #BLWSAZoneC #blwcampusministryrocks
Já fez o seu Registo? Quer assistir em Português? Deixe aqui o seu comentário e tenha acesso ao link do Programa com tradução! #ADAYOFBLISS2020 #ADOB #ADOBONLINE #UKZONE2 #CHRISTEMBASSYLISBOA
We are still praying!! 🔥🔥🔥 #prayingnow #pclprayathon2020 #prayathon2020 #iamapriestinoffice #blwcampusministryrocks #blwukzoneb
LoveWorld Ladies Network Christ Embassy Silver Spring, Recreating Your World Outreach. Recreating Silver Spring with the Word of God. #LLN #RECREATINGYOURWORLD #Church #USAR1Z1 #LoveWorldLadiesNetwork
Loveworld ladies Network outreach ,Recreating our world,an awesome time in God's presence with our Esteemed Pastor Amaka Tabansi. @PastorAmakaTabansi #LLN #Loveworldladiesnetwork2020 #loveworldladiesnetwork #recreatingyourworld #usar1z1 #cenewjersey
Ele te ama e quer o melhor para ti mais do que tu próprio! DIA DA FELICIDADE É UM PROGRAMA QUE VAI TRANSFORMAR A TUA VIDA!!! #ADAYOFBLISS2020 #ADOB #ADOBONLINE #UKZONE2 #CHRISTEMBASSYLISBOA
Hold on to that vision, you will be the one to fulfill it! Congratulations you've won! The victory is yours!