CE BAYELSA NATION: 🛑CE NSS ZONE 1 PRAYER on KingsChat Web
🛑CE NSS ZONE 1 PRAYER & FASTING DAY FOR OUR UPCOMING ZONAL CELL OUTREACHES!! 📌📌 PRAYER SCHEDULE FOR TODAY 📍1. Pray fervently for the supply of God's Spirit in a very powerful way in all the Movie Outreaches that will be holding this Week across Bayelsa, Ughelli and Sapele. Declare that every VENUE is wholly saturated with the power of God, thereby bringing salvation, healing and deliverance to all our attendees. Luke 5:17; Acts 8:5-6 📍2. Pray for our PUBLICITY - declare that the Lord will lead us to the right souls whom He has ordained for us; Pray that the hearts of people will be warm towards us and that they won't be able to refuse our invitation materials. Mark 16:20 Hallelujah. Glory to God. #MovieOutreach #LWCellMinistry #TLB #CEBAYELSA #thelandofgrace #NSSZONE1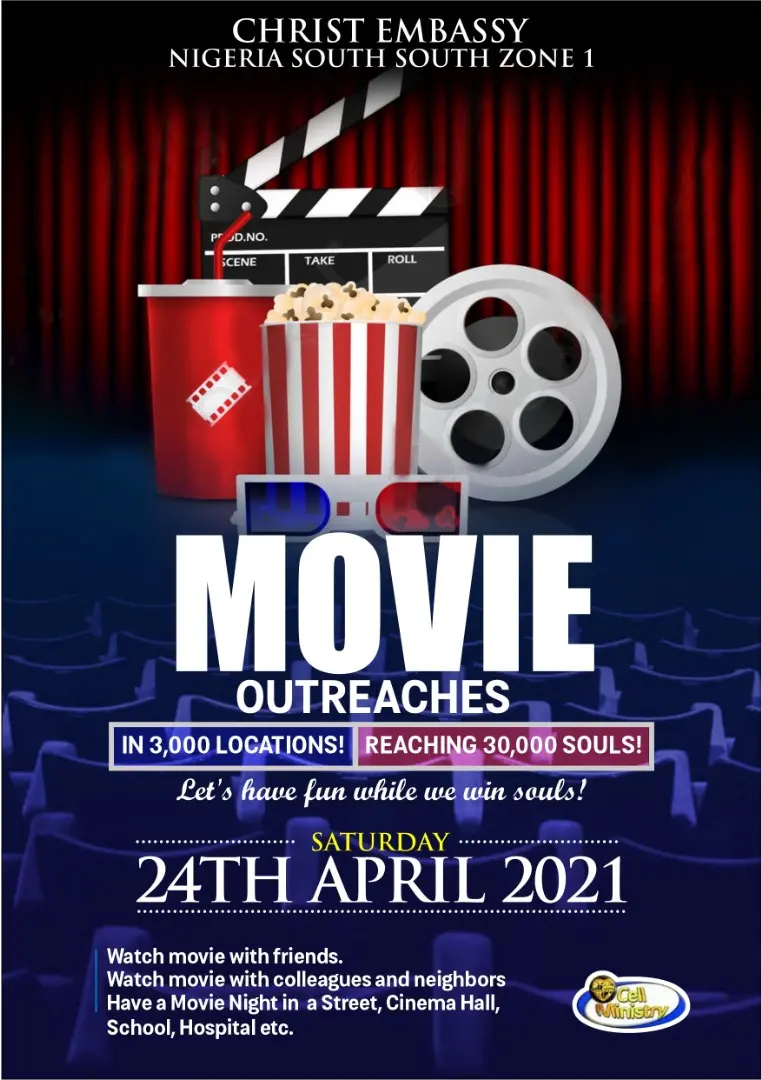 Is time for daily medication...say it😊
HE HAS PAID THE PRICE TUESDAY, APRIL 20, 2021 PASTOR MARTINS OMONUA "But he was wounded for our transgressions, he was bruised for our iniquities: the chastisement of our peace was on him; ........ https://www.facebook.com/192098697634122/posts/1860505814126727/?sfnsn=scwspmo
HAPPY BIRTHDAY ESTEEMED PASTOR KEN IGINI THANK YOU FOR CHANGING LIVES THROUGH YOUR GIVING. WE CELEBRATE YOU!
#mydailyconfessionswithrhapsody
The wise will hear and increase in learning, and the person of understanding will acquire skill and attain to sound counsel, so that he may be able to steer his course rightly–Proverbs 1:5.
YOUR PARENTS AND GUARDIANS DESERVE YOUR RESPECT ~ PASTOR CHRIS OYAKHILOME God placed parents and guardians in the world for a reason, and He expects young people to pay them respect and honour. To "honour" means to "recognise, esteem or consider someone with great value." Thus, honouring your parents or guardians means you recognise their role and value their contributions in your life. You do this by greeting them properly, talking and listening to them respectfully. Don't be rude to them, and if you disagree with their point of view at any time, don't react in anger. Rather, express yourself with humility and thank them for their corrections. For some, the ones who gave birth to them may not be the ones who brought them up. Still, you have to honour both of them: those who gave birth to you and those who brought you up. The Bible says your days will be long in the earth when you do so. GO DEEPER Exodus 20:12 Honour thy father and thy mother: that thy days may be long upon the land which the LORD thy God giveth thee. Deuteronomy 5:16 Honour thy father and thy mother, as the LORD thy God hath commanded thee; that thy days may be prolonged, and that it may go well with thee, in the land which the LORD thy God giveth thee. Mark 7:10 For Moses said, Honour thy father and thy mother; and, Whoso curseth father or mother, let him die the death: Colossians 3:20 Children, obey your parents in all things: for this is well pleasing unto the Lord. PRAYER Dear Father, I thank you for teaching me today to honour my parents and guardians. I make up my mind to always love, recognise and respect them at all times in all things, in Jesus' Name. Amen.
🛑CE NSS ZONE 1 PRAYER & FASTING DAY FOR OUR UPCOMING ZONAL CELL OUTREACHES!! 📌📌 PRAYER SCHEDULE FOR TODAY 📍1. Pray fervently for the supply of God's Spirit in a very powerful way in all the Movie Outreaches that will be holding this Week across Bayelsa, Ughelli and Sapele. Declare that every VENUE is wholly saturated with the power of God, thereby bringing salvation, healing and deliverance to all our attendees. Luke 5:17; Acts 8:5-6 📍2. Pray for our PUBLICITY - declare that the Lord will lead us to the right souls whom He has ordained for us; Pray that the hearts of people will be warm towards us and that they won't be able to refuse our invitation materials. Mark 16:20 Hallelujah. Glory to God. #MovieOutreach #LWCellMinistry #TLB #CEBAYELSA #CEUGHELLI #CESAPELE #NSSZONE1
Say it 👇and fix your finances😊