Pray-A-Thon 2021 - Ven 15 janvier Nous avons terminé notre heure de prière mondiale de 7 jours hier et nous en sommes bénis. Les effets ont déjà commencé: Louons le Seigneur ! N'oubliez pas de continuez avec votre programme de prière de l'église locale, dont certains peuvent inclure le jeûne pendant des périodes spécifiques, selon l'instruction de votre pasteur. Il nous est enjoint de « prier sans cesse » 1Thes 5:17; et dans 1Timothée 2: 1-4 ainsi « J'exhorte donc, avant toutes |[choses], que des supplications, des prières, des intercessions et des actes de remerciements soient faits pour tous les hommes; Pour les rois, et pour tous ceux qui ont autorité, afin que nous puissions mener une vie paisible et tranquille, en toute piété et honnêteté. Car cela est bon et acceptable aux yeux de Dieu notre Sauveur, Qui veut que tous les hommes soient sauvés, et |[qu'ils]| viennent à la connaissance de la vérité ». Psalms 7: 9 dit: « Le SEIGNEUR jugera les peuples; juge-moi, ô SEIGNEUR, selon ma droiture, et selon mon intégrité qui est en moi ». Ésaïe 2: 2 dit : « Et il arrivera, dans les derniers jours, que la montagne de la maison du SEIGNEUR sera établie sur le sommet des montagnes, et sera élevée au-dessus des collines; et toutes les nations y afflueront ». À nos moments de prière aujourd'hui, nous prierons avec ferveur en langues de l'Esprit, en nous concentrant sur les versets de l'Écriture ci-dessus. La volonté du Seigneur prévaut. Amen! Prévoyez de regarder Healing Streams ce week-end, à partir d'aujourd'hui à 16h:00 GMT+1 https://healingstreams.tv, et Loveworld Xtra sur Loveworld.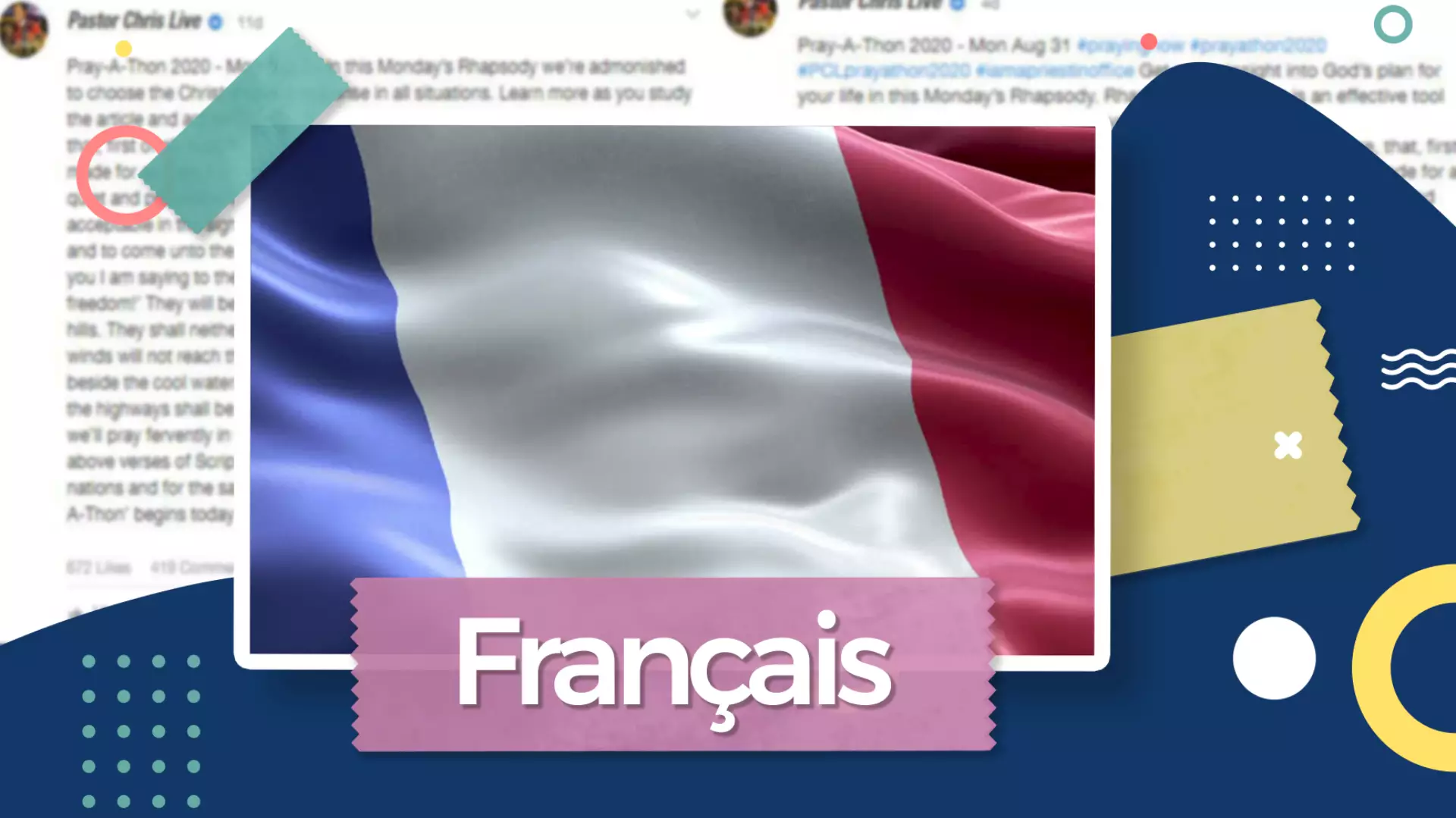 Preg-A-Thon 2021 - Venerdì 15 Gennaio Ieri abbiamo terminato i nostri 7 giorni di preghiera globale e siamo stati grandemente benedetti. Già ne vediamo gli effetti: Lode al Signore! Ricordate di continuare a seguire il programma di preghiera della vostra chiesa locale, che può includere anche il digiuno in giorni prestabiliti, secondo le indicazioni del Pastore. Ci viene raccomandato di "Pregare senza sosta" in 1 Timoteo 5:17 e 1 Timoteo 2:1-4, che dice: "Esorto dunque, prima di ogni altra cosa, che si facciano suppliche, preghiere, intercessioni, ringraziamenti per tutti gli uomini, per i re e per tutti quelli che sono costituiti in autorità, affinché possiamo condurre una vita tranquilla e quieta in tutta pietà e dignità. Questo è buono e gradito davanti a Dio, nostro Salvatore, il quale vuole che tutti gli uomini siano salvati e vengano alla conoscenza della verità". Salmo 7:9 dice: "Fa' che cessi la malvagità degli empi, ma sostieni il giusto; poiché sei il Dio giusto che conosce i cuori e le reni". Isaia 2:2 dice:"Avverrà, negli ultimi giorni, che il monte della casa del Signore si ergerà sulla vetta dei monti e sarà elevato al di sopra dei colli; e tutte le nazioni affluiranno a esso". Ai nostri orari di preghiera di oggi, pregheremo ferventemente in lingue dello Spirito concentrandoci in modo particolare sui versetti soprastanti. La volontà del Signore prevale. Amen! Ricordate di guardare Healing Streams questo fine settimana, a partire da oggi alle 16.00 su https://healingstreams.tv, e Loveworld Xtra su Loveworld.
Looking for 24 hours non-stop inspiration? CeTunes got you covered everyday with varieties of inspiring contents such as Music, Comedy, News, Entertainment, Messages, shows, Kiddies loveworld and lots more to keep you physically and spiritually strong always. www.cetunes.org
CELEBRATING OUR DEAR SIS. ITOHAN OSAYI! Happy Birthday to an amazing and indefatigable, ever inspiring personality. The host of haven rejoices over you today. Thank you for your unwavering service in the children's ministry and the house of God. We love and appreciate you.
#cekingmakers #pursueandirecoverall
#prayingnow #PCLprayathon2021 #Prayingwithpastorchris #Preparation2021 #cesazone4 #iamapriestinoffice
Happy Birthday Dear Esteemed Brother Benjamin Chukwuyem. We love you! #CEPHZONE3
🔔IT'S DAY 6 💃OF 8 DAYS OF MEDITATION ON THE MESSAGE OF THE YEAR 2021 THE YEAR OF PREPARATION. DAY 6 TOPIC:DON'T MISS GOD. 😊Dont miss God -we are in the closing period of the world. We are in the ending times the bible speaks of -Rev .Dr. Chris Oyakhilome DsC, DD 🌟 Participate using our unique Zonal link below: https:https://pastorchrisdigitallibrary.org/8dom/cekenyazone 📌Get colleagues, friends and family and reach out & organize Study Groups Today and post on kings chat using the hashtags below:  #8DOM #2021TheYearofPreparationnowpcdl #8DaysofMeditation2021  #watchonpcdltv #pcdltv #cekenyazone