HAPPY BIRTHDAY TO OUR QUINTESSENTIAL FATHER, TEACHER & MAN OF GOD  On this momentous day, our hands are raised high and our hearts filled with unfathomable gratitude to our Lord Jesus, for the gift of you Sir, to us, to the Body of the Christ and to the world.  Thank you sir for birthing us in the Word, and nurturing us in the divine life. With all of Heaven and Earth today, we are besides ourselves with thanksgiving and shouts of joy as we salute and celebrate your undeniable faith and enduring passion for the Gospel of our Lord Christ, that has borne a distinct generation of children of God and impacted the nations of the Earth in such a profound way.  Thank you sir for making the difference in our lives, in the lives and ministries of ministers of the Gospel, and in all nations of the world through your teaching of the Word and your awe-inspiring life of faith, hope and love. We are infinitely grateful to partake of your overwhelming grace and to be your offspring in Christ.  Happy Birthday Pastor!  We love and celebrate you today and always From the International School of Ministry  #PastorChis #ISM #Offer7 #Dec7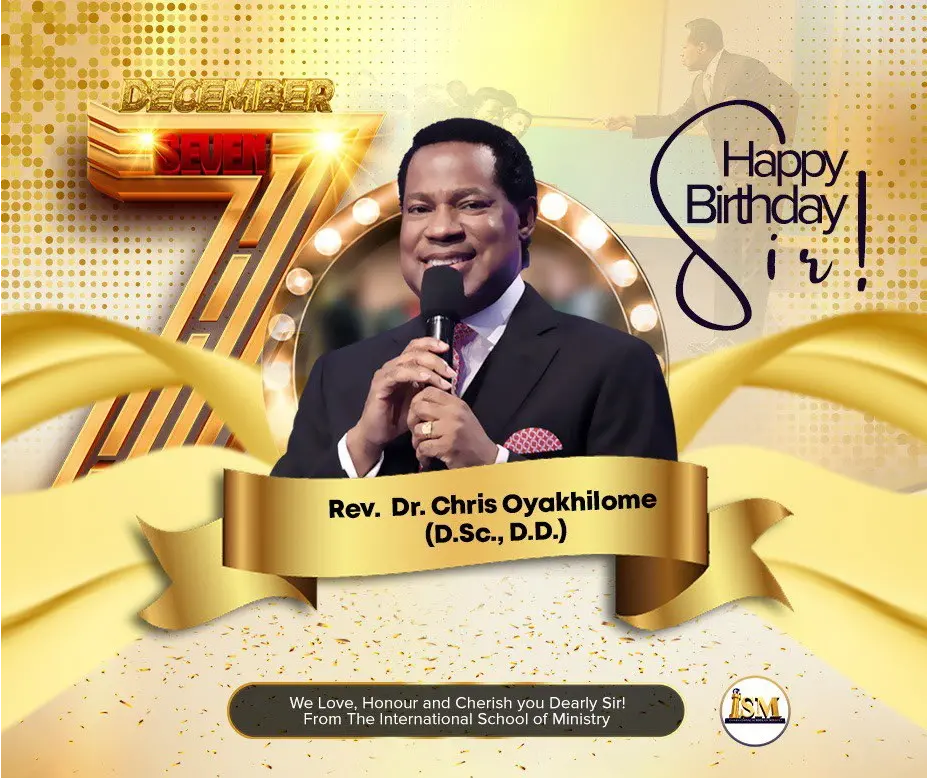 🇨🇦CELEBRATING OUR DEAR MAN OF GOD🇨🇦 Happy Birthday Sir!!! #offer7 #cecanada #ceottawa
Happy birthday sir. I love you sir.
Happy Birthday Sir. Thank you for building us up on our most holy faith, for instructing us in righteousness and steering our course in victory especially in this year 2020. Thank you for the audacity of the spirit with which you boldly stand up for the church of Jesus Christ ❤
Celebrating a stardom. Happy birthday highly esteemed Pastor Chris. Thank you for teaching us the word of God in its purity. We are forever indepted to you and I salute you Sir. #Dec7PrayingforPastorChris. #WEZ4 #Germany
Happy birthday Pastor. Thank you for your selfless love and endless sacrifices.
Happy birthday Pastor Sir #Dec7 #BLWSAZONEE
#Dec7 #EWCAZ4 #cerepublifofcongo Joyeux anniversaire Pasteur tellement des choses a dire a propos de vous. Vous etes le meilleur
Gloryyyyy! HBD DAD... #cephzone2 #cebonnygroup #cebonny1
HAPPY BIRTHDAY Pst Chris🙏🏽🙏🏽 Thank you for the outstanding leadership and teachings, sir! From sis Tendai: CE Cambridge CEUK -Zone3