PRAYER GUIDE FOR 5PM - 8PM PRAYER BLOCK 👉 72 HOUR UNBROKEN PRAYER CHAIN FOR YOUR LOVEWORLD SPECIALS SEASON 3 PHASE 6 https://loveworldprograms.org/72hour/ Click the link above to select three 10 - minute prayer slots and join us to pray once daily. PRAYER FOR YOUR PERSONAL INVITEES FOR YOUR LOVEWORLD SPECIALS SEASON 3 PHASE 6 JOHN 4:28 – 30 The woman then left her waterpot, and went her way into the city, and saith to the men, Come, see a man, which told me all things that ever I did: is not this the Christ? Then they went out of the city, and came unto him. PRAYER POINT Pray and intercede for all your personal invitees for YOUR LOVEWORLD SPECIALS SEASON 3 PHASE 6, declare that not one of them will miss the program. Pray specially for your family members, friends, acquaintances, colleagues, school mates, business partners, neighbours, social media contacts and everyone else you've reached out to or plan to invite for the program, declare that each and every one of them will attend the program and will be touched by the Spirit of God in a most extraordinary way. PROCLAMATIONS I PROCLAIM that every member of my family, and all my friends and invitees for the program attend, nothing will stop their attendance, and they receive all that the Lord has in store for them. I PROCLAIM that all my invitees attend the program and every single one of them will be impacted by the Spirit of God in a most extraordinary way. I PROCLAIM that all who are not saved will receive salvation, and everyone that is sick will receive healing as they attend YOUR LOVEWORLD SPECIALS SEASON 3 PHASE 6 in Jesus Name, Amen.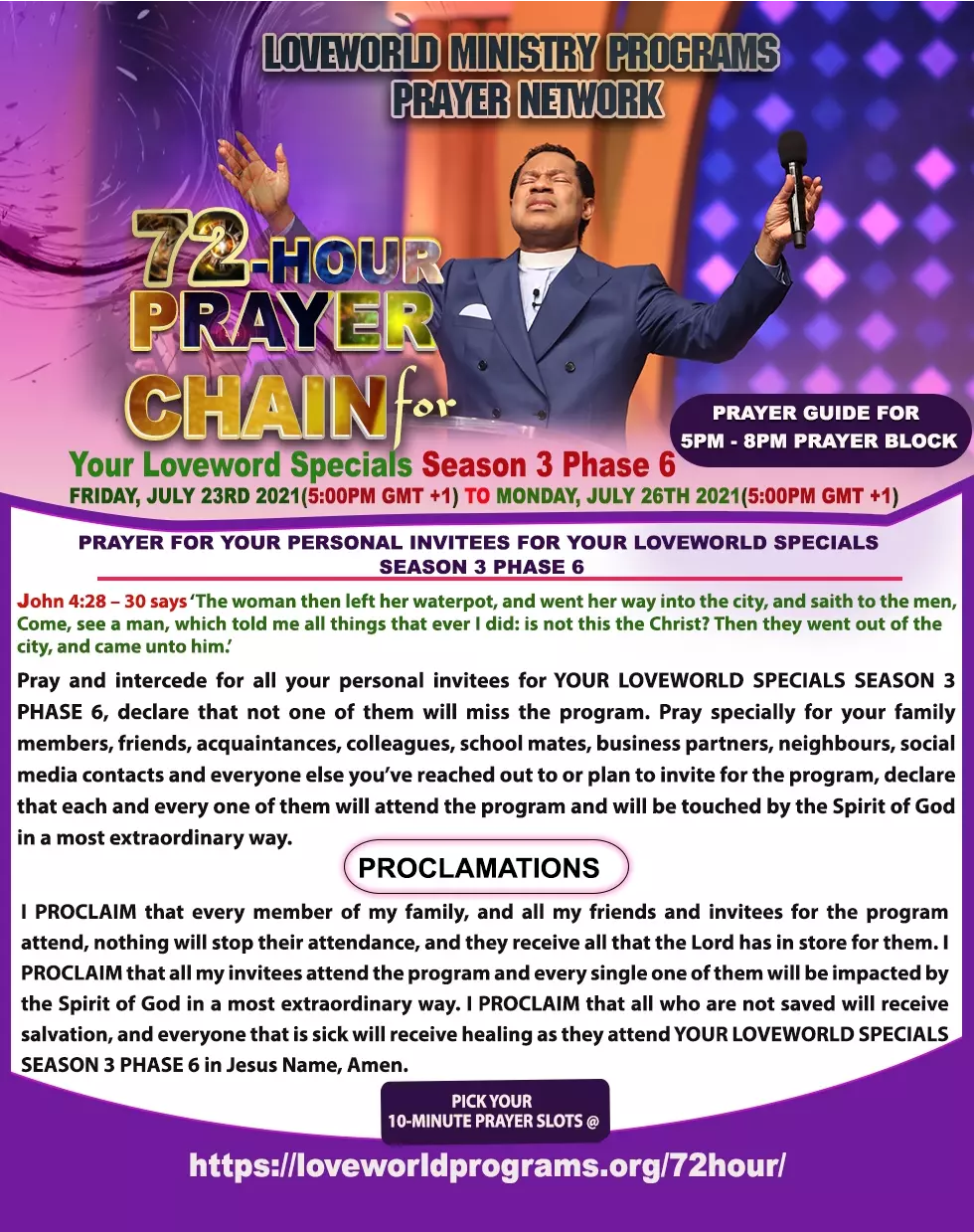 🙏🙏PRAYER LIVE FROM LOVEWORLD PAKISTAN. LOVEWORLD NETWORKS PRAYER CONFERENCE!🌟🌟🌟 Tune in to LoveworldSAT now to participate on the ongoing session of Loveworld Networks Prayer Conference 2021 LIVE on LoveworldSAT. Connect live on www.loveworldsat.org/live-tv #loveworldsat #loveworldnetworks #LWNPC
What are you waiting for if you haven't visited the new media technology experience center in LLA you're missing something. #NMTBOOTCAMP #NMTACCRAGHANA #NMT #KINGSCHATRECOMMENDS #CEACCRAGHANAZONE
It's just 2 days to the epochal Your Loveworld Specials with our dear Man of God, Pastor Chris. Listen Live 👇🏻 www.loveworldradio.fm Download our app on 👇🏻 https://play.google.com/store/apps/details?id=com.internet.loveworldradio&hl=en (Use refcode: LWR) #yourloveworld
#ceugbowogroup #cemidwestzone #LLN #LOVEWORLDLADIESNETWORK
HEALING STREAMS FESTIVAL OF MIRACLES💯 Participate Live on: www.healingstreams.tv We are celebrating with a beautiful rendition from MIRABLE. Are you tuned in? Connect now with your loved ones on www.healingstreams.tv, the Healing School mobile app and on any of the Loveworld Networks. God bless you. #healingstreams #healingstreamstv #festivalofmiracles #healingtothenations #livehealingserviceswithpastorchris
The changes has been made in the place of prayer .
Make the best of your weekend. Recharge data to watch movies, play games, participate in online lectures... #datarecharge #NetAccessInternet
MEGA CELL OUTREACHES Happening On The 31st Of July 2021 EWCAZ3 #TheMegaCellOutreaches #EWCAZ3 #Uganda