Pastor Esther O Wealth : #LGN #LGNRules #LGNGlobal #LGNGlobalConnect on KingsChat Web
#LGN #LGNRules #LGNGlobal #LGNGlobalConnect #LGGCwithPastorChris #CEAZ #CEABUJAZONE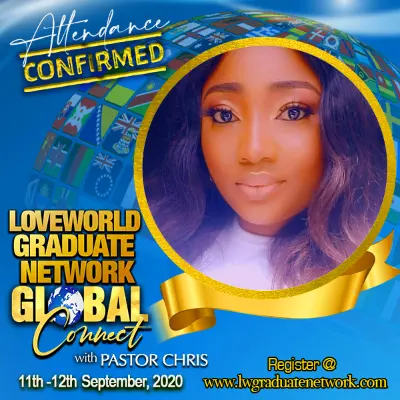 Jacqueline sara
commented:
Hi, My name is Jacqueline I'm from turkey live in US We don't know each other, but let's fix it. Greetings I have a business proposition for you ! If you are interested just give it a shot by sending me a dm 🤝.. Look forward to work together with you.
#sistersweek2020 #teleios #cemidwestzone #cesiluko1 #group 6
#CEBE #PastorNikki #Cecanada #Cebramptoneast #Yearofperfection Glory be to God. Jesus is Lord. Fantastic time of prayer.
Living a life of Impact.... #Campus Ministry #Blwzonej
Best day Ever!!! #LGGC #GlobalConnect #LGNRules #NetworkingSuccess
It's been a glorious time of refreshing as different ministers testified of God's goodness and grace from the last Global Emergency Relief Aid Program. #Fooddrive #EmergencyFoodResponse #Celz1rocks
Thank you Pastor Sir, for giving us the opportinity to be a blessing to others in God's Kingdom. We are helper of the war #Celz1rocks #Fooddrive #emergencyfoodresponse #IkoroduisBIG
💣💣🔥🔥🔥 LESS THAN 10 MINS TO GO! 💃🏾💃🏾💃🏾 💡LIVING A LIFE OF IMPACT!!! 2PM on Ceflix, and on www.Blwzonejvirtualchurch.org Glory!!! #blwzonej #livingalifeofimpact
☀️🎧EXPOSE ON SOUL WINNING☀️🎧 ✨🎁🎉Day 23🎁🎉✨ Msg: HOW TO TAKE POSSESSION OF WHAT BELONGS TO YOU Vol 1 Part 1 Please our unique zonal link here 📱🖥️ 👉👉👉 https://pastorchrisdigitallibrary.org/exposeonsoulwinning/ceukz4 #exposeonsoulwinning #watchpcdltv #CEBRISTOL #UKR2Z4
1 Timothy 1:18 It's Prayer and Prophecy happening this Sunday. Sunday 6th, September 11Am. #CEPORTSMOUTH #UKR2Z4