Kiddies LoveWorld: God's Word For Every Child on KingsChat Web
God's Word For Every Child Children's Day 2019 Give every child a deserving future through the knowledge of God's Word as you sponsor and distribute copies of our Children's Devotionals in celebration of the Fiesta of Lights this Children's Day Date: May 27th – June 30th 2019 For more information, contact: Nigeria: +2348086656497, +2348086656533,+2348086656547 Ghana: +233-0244211623, +233 548951736, +233 548951799, +233 548951800 South Africa: +27 113260971 United Kingdom: +44 1708 556 604, +44 (0) 8001310604 (Free phone) United States: +1 9802195150, +1 281759111, +1 2817596218 #childrensday2019 #lwpm #cdc #celebratingworldsgreatestauthor #fiestaoflights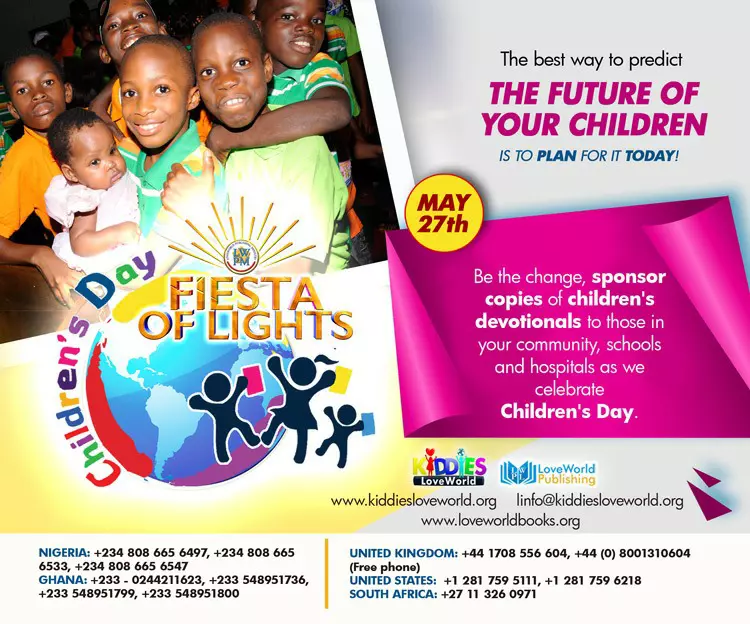 agalupe ◟̆◞̆♡
commented:
Greetings in the Matchless Name of our Lord Jesus Christ, Please, could we have access to purchasing or downloading the most recent Kiddie's Rhapsody? It's been a few months now. I always see Pastor Chris promoting the TeeVo and Early Readers every Communion Service but it's been a challenge in obtaining the precious material given to us by our Man of God. I used to always buy it from Smashwords.com but now they don't have the latest material. Please for my children here - is there anyway we can get access to the powerful teachings made made specifically with them in mind? Thank you so much. Lupe from Christ Embassy Hawaii
I am God's Consumate #superwoman #God'sleadinglady #duchessoflight #empress #celvz #may2 #fulfilledwoman #burning
The next set of quotes are from the ever radiant powerhouse, the Highly Esteemed CEO of the LoveWorld nation, Director of Healing School AND the Zonal Pastor of CE Lagos Zone 5...PASTOR DEOLA PHILLIPS!!! 👏🏽💯 BE FILLED WITH JOY & INSPIRATION AS YOU READ 💎 💕 - - - #JoyousUpdates #LUYWC #LUYW2019 #YourLaughWorld #LWUSA #LWSat #LWTV #LWPlus
#UKZONE2 #BLWESSEXGROUP #BLWNORWICH There was a MAN sent by God to the United kingdom. His Name is Evangelist Doctor Eddy Owase. God has Surely visited us
It was an awesome time yesterday with our zonal director, PYK as she prayed and invoked the blessings of God upon our children at the CELVZ Children"s church. My kids were so blessed and thrilled they refused to wash their hands throughout the day! 😂😇😅
https://www.kingsch.at/p/dlNJdEI
Happy birthday Pastor Nelson. #PNA2705
Thank You Evangelist Doctor Eddy Owase for Teaching us the Word of God. I will Work out my own Salvation! I have Dominion! I will Fight the Good Fight of Faith. I will Finish my Course!